In June '04, we planned a trip with two fellow students to the Aviation Museums in Duxford, England from our base in Kortrijk,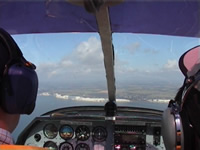 Belgium. It turned out to be a fantastic trip. Don't get me wrong: it was utterly uneventful: everything went well. And exactly that fact makes it a perfect trip.
We choose the Robin DR 400 from my Royal Zoute Aviation Club. We donned our life jackets, and off we went. Of course, we needed the cross the dreaded Channel: a waterway full of dangers such as crossing boats and wet water. We choose the shortest passage with our single engine craft: from Calais to Dover. As soon as we crossed the shoreline in Calais, Lille Info put us to London Information. I have crossed the channel a couple of times now, and every time I get to speak a British controller, it feels like a whole world of professionalism opens up, it feels like crossing the water happens in the safest way. The accent is probably deceiving me, but it's not unpleasant to know you deal with pros.
When the seawater starts appearing under your wing, you almost immediately see the white cliffs of Dover on the other side. It makes you feel that the crossing isn't really that far. And in fact: that's true… it's a short stretch of well guarded and densely navigated water.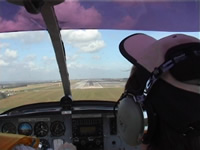 Our first stop was Manston to take care of immigration and customs formalities. My fellow colleague and pilot had arranged for an arrival slot and access number that we quoted on our flight plan with the local FBO TG Aviation, so the arrival went uneventful. Manston is a large chunk of concrete, but oh so quiet. In the good British tradition it features a nice collection of old and new airplanes. There is also a museum, but we didn't take the time to visit it due to more museums planned later that day.
Back in the air and northwestbound we let London and its city airport pass abeam our left and Stansted on our right. We squeezed in tightly between the Stansted and the Luton control zones up to Duxford. All the while, the lovely English countryside passed by and we enjoyed.
We landed on the grass strip in Duxford and got immediately fueled again for the return trip later that day. The first thing we saw was a taxiing Spitfire ! Can it get any better? A huge Vulcan was parked outside waiting for better days to come. He was at the right spot as Duxford is thé airplane restoration center of Europe. While filming the Vulcan, the Spitfire took off and gave us a free air show. A couple of hangars further, a Catalina flying boat was taking a sunbath. Do you get the feeling ?
Check out this small movie on the spitfire in Duxford: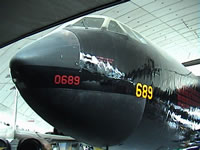 We visited all the museums and the restoration hangars. We admired all the inside airplanes (also featuring a B52: he got there probably with a million brake parachutes), and the outside airplanes, and when the time was there, we returned to our cozy Robin … completely satisfied by looking at old and new airplanes. We took off from Duxford's concrete runway and flew back in one leg.
A truly perfect trip !