After having arrived in Reykjavik, on the second day of our trip to Oshkosh, we checked the weather and we quickly saw that our original plan of flying the second day to Greenland and onwards to Canada, would be impossible. The GRAMET showed in green a persistent icelayer above the Greenland icecap blocking access to the eastern airports of Kangerlussuaq (BGSF), Nuuk (BGGH) and Ilulissat (BGJN). Also Kulusuk (BGKK) in the east and Narsarsuaq (BGBW) in the south did not show pretty forecasts. We did not have the range to skip Greenland entirely and fly all the way to Canada.
We reconfirmed this finding by calling the Greenland aeronautical weather service in Nuuk. They gave us great service !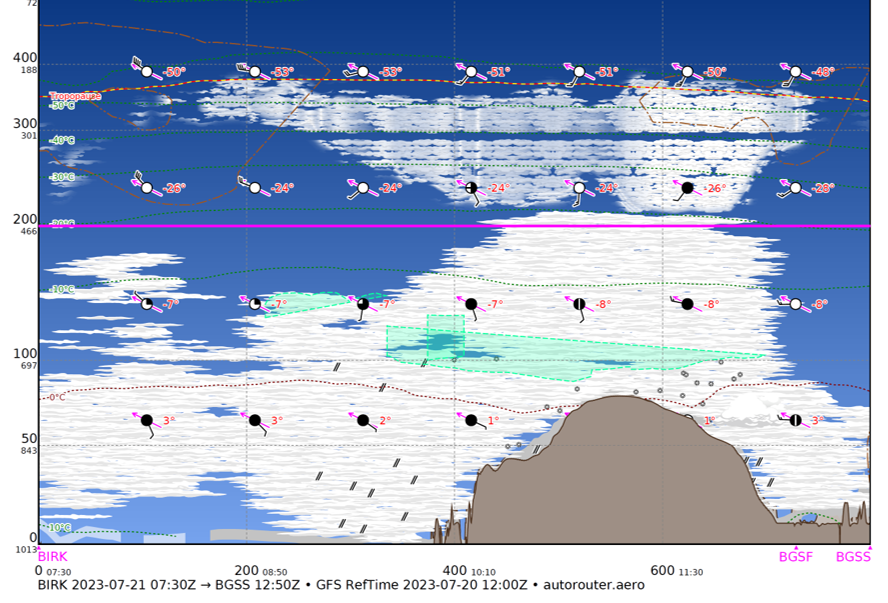 So we were blocked. We also saw that the next day (day 3) would be possible to continue further flying. We decided to make the best of it:
Prepare the further flights
Clean and prepare the airplane
Fly around the volcano
Visit the city of Reykjavik
1. Prepare Further Flights
As soon as this day was over, we knew we had to speed up, so we set out an ambitious set of flights for the coming days:
Next day: from Reykjavik (BIRK) to Kangerlussuaq, Greenland (BGSF) to Iqaluit, Canada (CYFB) to Kuujjuaq (CYVP). We had to inform Greenland of our arrival, and the customs in Canada as well. We also knew that we could only buy a complete barrel of avgas in Iqaluit, Kuujjuaq and Shefferville so we carefully calculated our flights in function of being able to fit those barrels completely in our tanks, and to have enough fuel to our next destinations and their alternates. Weather looked good.
The day after: from Kuujjuaq to Shefferville (CYKL) to Val d'Or (CYVO) to Appleton, USA (KATW), which was a big change to our originally planned routing. I contacted the Customs & Border Protection agent in Appleton and he turned out to be very accommodating & helpful. We also submitted our eAPIS forms for entry in the USA. Also here the weather looked good: it gave us hope & energy to getting to Oshkosh !
We printed out all forms, weather forecasts and pilot logs from Foreflight to accommodate our ambitious flights.
Interestingly, we followed a Icelandair flight from Reykjavik to Kulusuk via Flightradar24. It made three approaches at Kulusuk, Greenland without being able to land, and then returned to Reykjavik: apparantly we had made the right decision not to fly that day !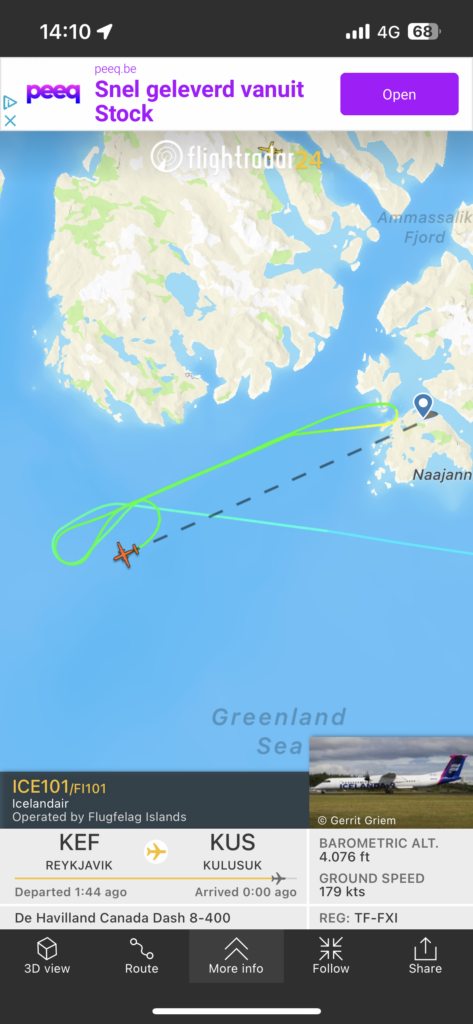 2. Clean & Prepare the Airplane
We went back to the airplane via the FBO to re-arrange our stuff, take our trash and vacuum what we had left behind.
Toby also glued the rubber back onto the right-hand door so to avoid the noise and the cold air: it worked very well ! I was very happy to have brought our repair and maintenance kits along (including glue 😉 ).
While we were working our airplane, we got a visit from a captain from the neighbouring airplane: a gorgeous privately owned Bombardier Global 6000 flying to Riga, Estland. He was charmed with our little Seneca and impressed with our adventure.
We also saw that the German Cheetah had made it to Reykjavik. I communicated with that pilot about the bad weather above Greenland and they also decided to stay over in Reykjavik that day.
We also paid the FBO so not to loose time the day after for our ambitious flight.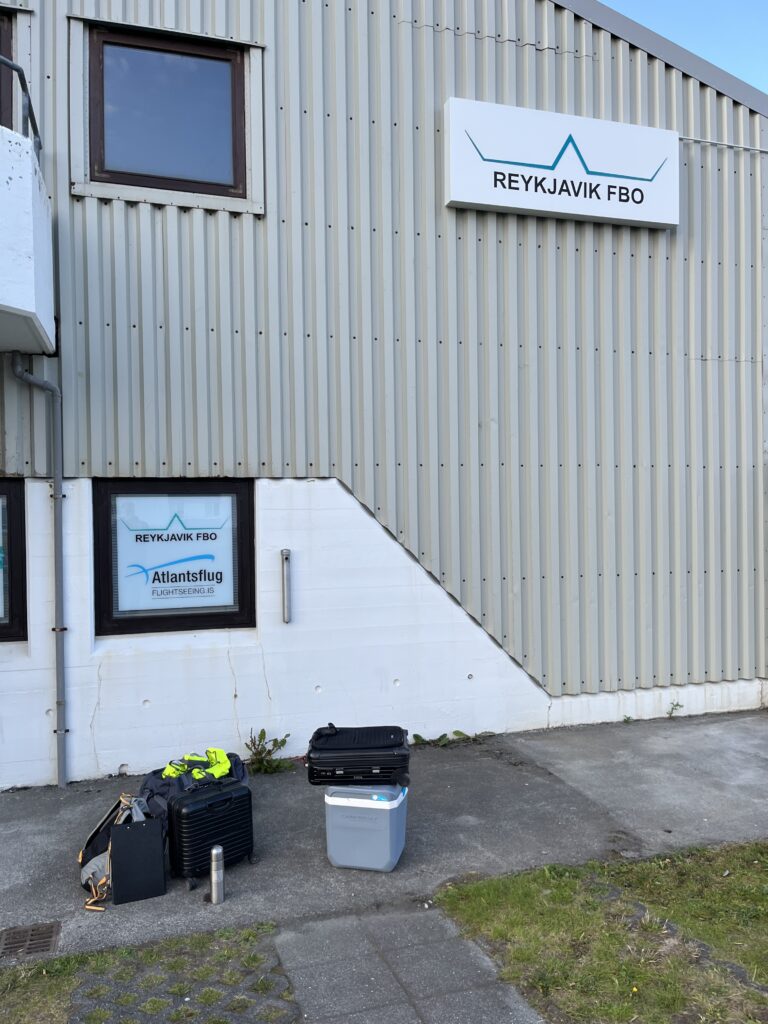 3. Fly Around the Volcano
We can be pretty short about this idea: the visibility was so bad the whole day that we could not take-off, so … no volcano touring this time.
When we were at the FBO paying our invoices, a German tourist who had travelled "all the way from Germany to here just to do a helicopter tour of the volcano" got very upset when she heard that her helicopter flight over the volcano was cancelled … poor girl …
4. Visit the City of Reykjavik
And finally, we also took ample time to visit Reykjavik by foot. First we walked from our hotel to downtown Reykjavik via the Hallgrimskirkja church that dominates the city. There was a motorgang funeral ongoing which blocked us going into the church. We took a look at some tourists shops, continued towards the harbour where we had some good fresh fish. We walked back via some affluent neighbourhoods through this ultra-hip but small city. It was nice. We also bought some extra food for the next days.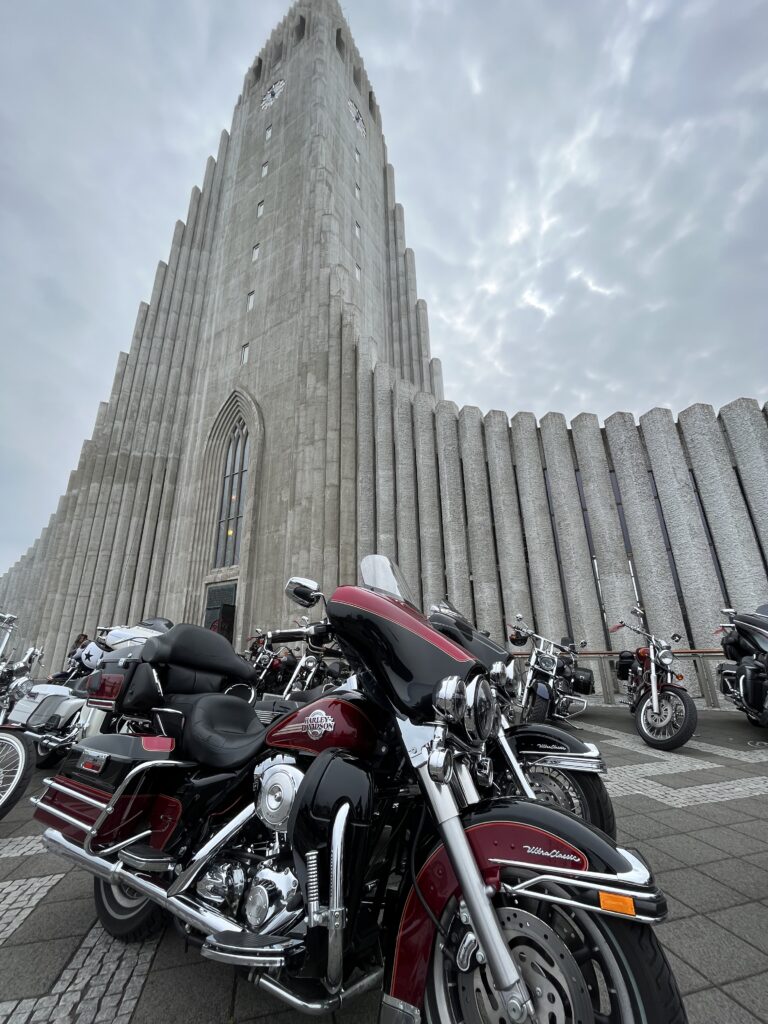 In the late afternoon, we walked up the volcanic hill behind the old airport. On top of the hill, there is a great natural history museum called Perlan, that gives a nice overview of Iceland's nature, history and people. There was a nice imax-style movie about the northern light Aurora, and a deeply frozen gletscher walk-through. really worth-it if you are short of time.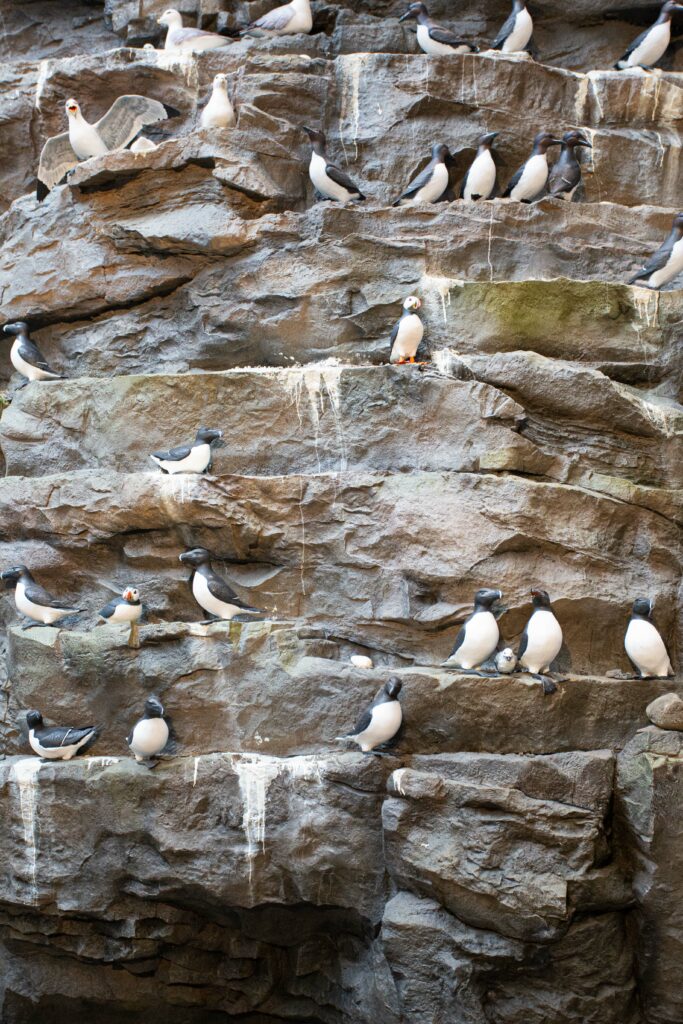 When descending that hill walking back to our hotel, we found some WW2 relics: a fortification and some fuel storage. This was left behind from the English when they occupied Iceland and built that airport.
---
Tomorrow will be a busy day … stay tuned !
---