Flight 7 : Kuujjuaq – Shefferville
After a good night of rest after yesterday's long day, we woke up pretty early in a calmed down Auberge Kuujjuaq. Downstairs we topped up of jug of coffee and paid the hotel. The hotel manager was a friendly guy with Moroccan roots who knew Belgium. He brought us in his battered car to the airport down the road.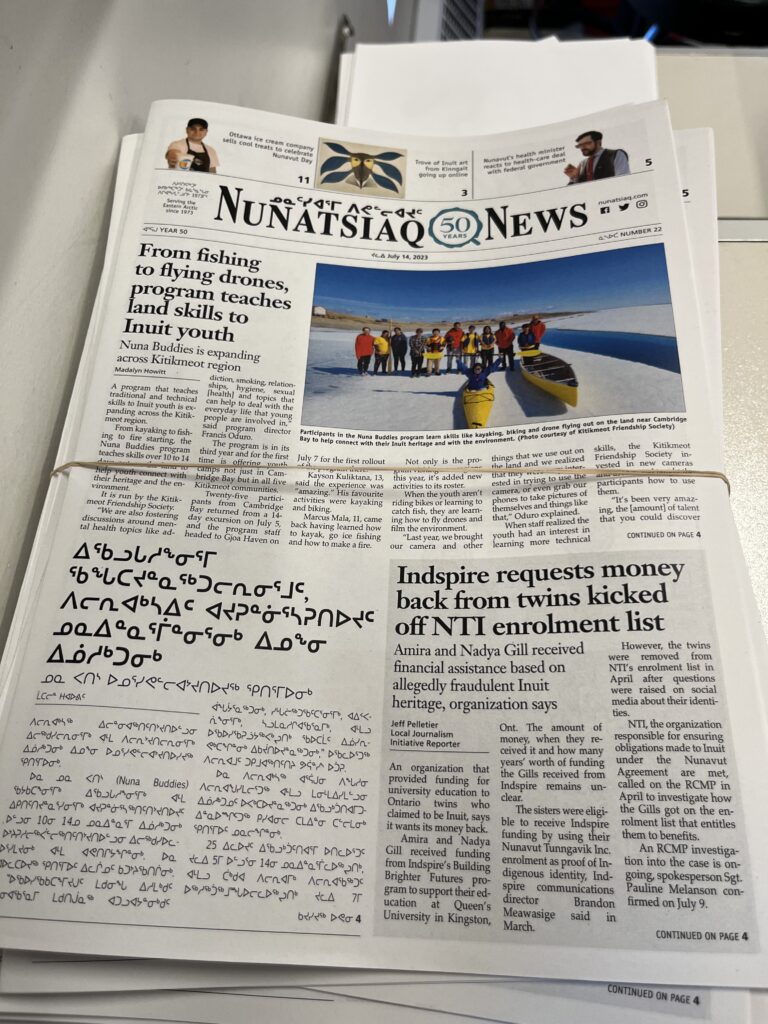 The plan of today was almost equally ambitious as the one of yesterday: three flights ! First from Kuujjuaq (CYVP) to Shefferville (CYKL) to load another barrel of Avgas. Than we continue onwards to Val d'Or (CYVO) in Quebec, followed by the last leg of the day to Appleton, WI, USA next door to Oshkosh to clear US customs.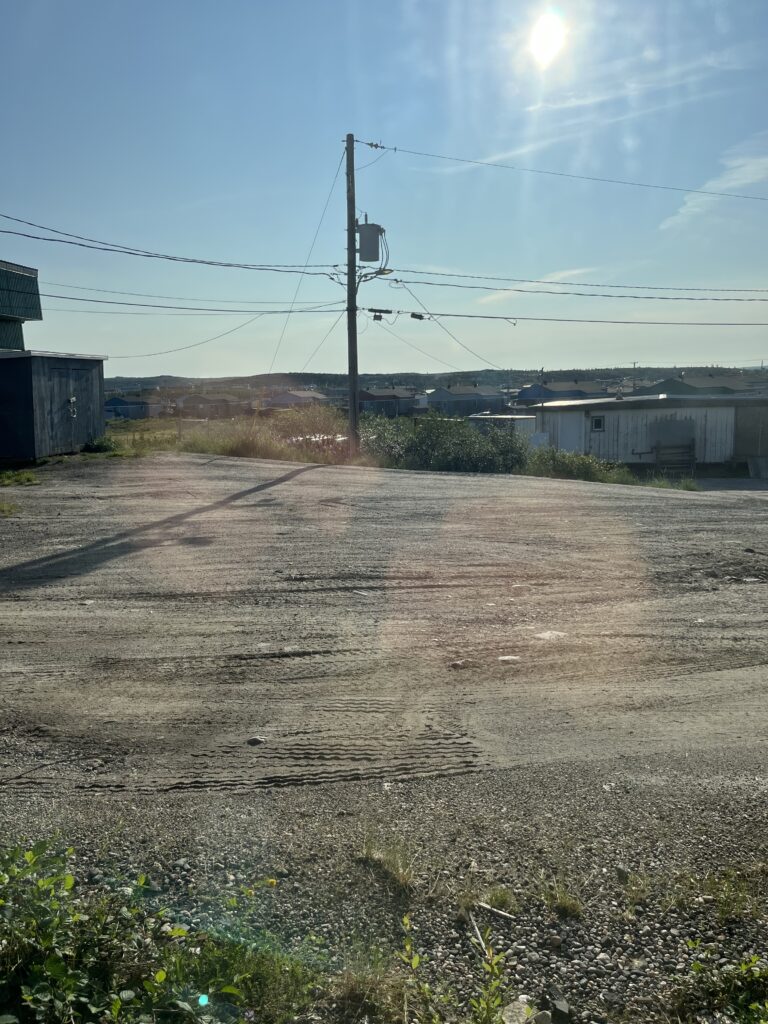 We prepped the airplane. We started up the engine and … nothing … Our left engine didn't want to move a thing… Damned ! Here were we … in the middle of nowhere and that left engine does not start !! My son Toby turned very pale and got worried: staying here in Kuujjuaq for days to wait for parts !? But I was smiling inside… I have had this left engine starting problem before. I thought it was solved, but alas it wasn't… But I knew how to quickly solve it. Luckily we had brought our full toolbox. We opened the cowling and I noticed again that the aluminum electric cable feeding the starter again was loose again. We cleaned the contact with a brass brush, and retightened the cable… I tried to start the starter while Toby watched … and it did start !!! Oef !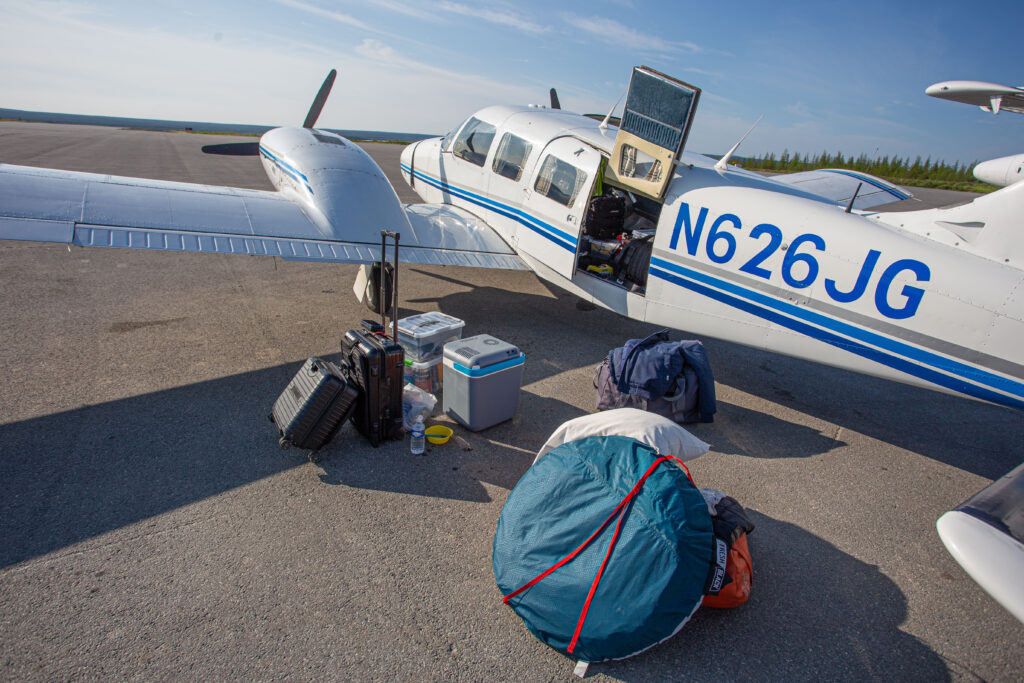 We took off from runway 25 (via backtrack) southbound IFR to Shefferville via DIRECT.
Weather was good along the way but the closer we got to our destination, the worse the weather below. We cruised at 8000 ft. Shefferville is actually just inside the Quebec Provence. This got very clear as the radio was filled with canadian French speaking pilots… still very difficult to understand.
Also during our whole flight, we only saw wilderness: no roads, no cars, no houses, no signs of any human activity. And this would last until Val d'Or !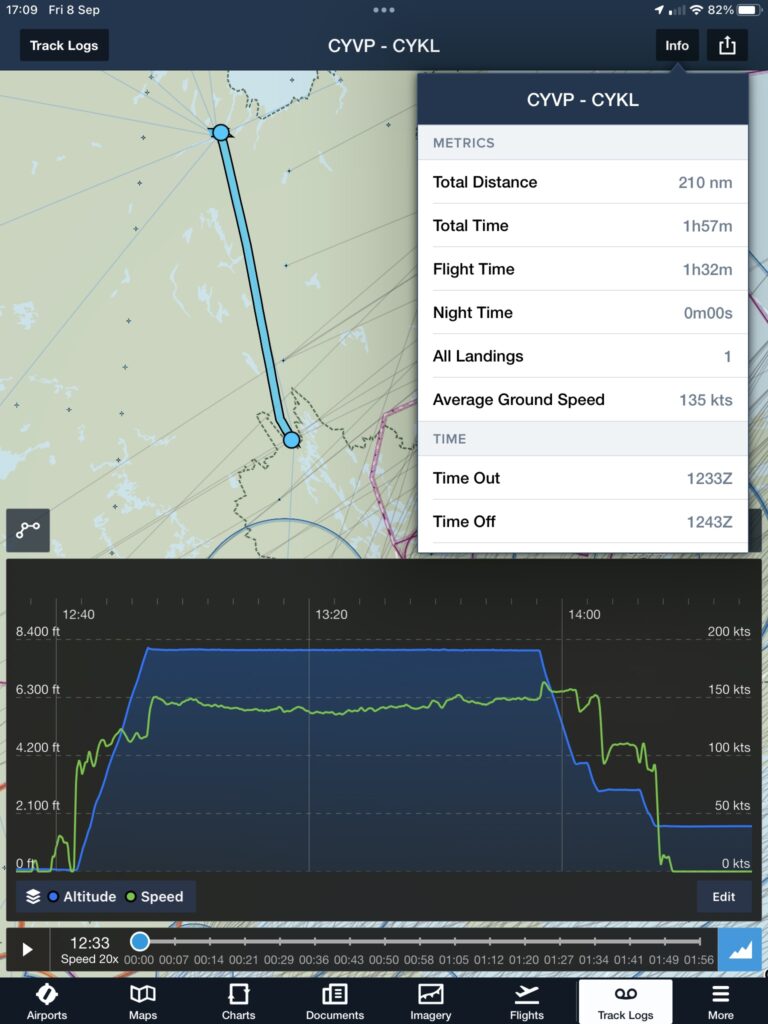 At Shefferville, the weather was really bad in rain and landed via the RNP runway 17… the airport was completely empty ! Almost 2 hours of direct flight.
Flight 8 : Shefferville – Val d'Or
We had called upfront for a barrel of avgas, and the fuel guy was waiting for us in his truck under the rain. This time, he was able to bring his van very close to the airplane so we could fuel partly by gravity directly into the tanks.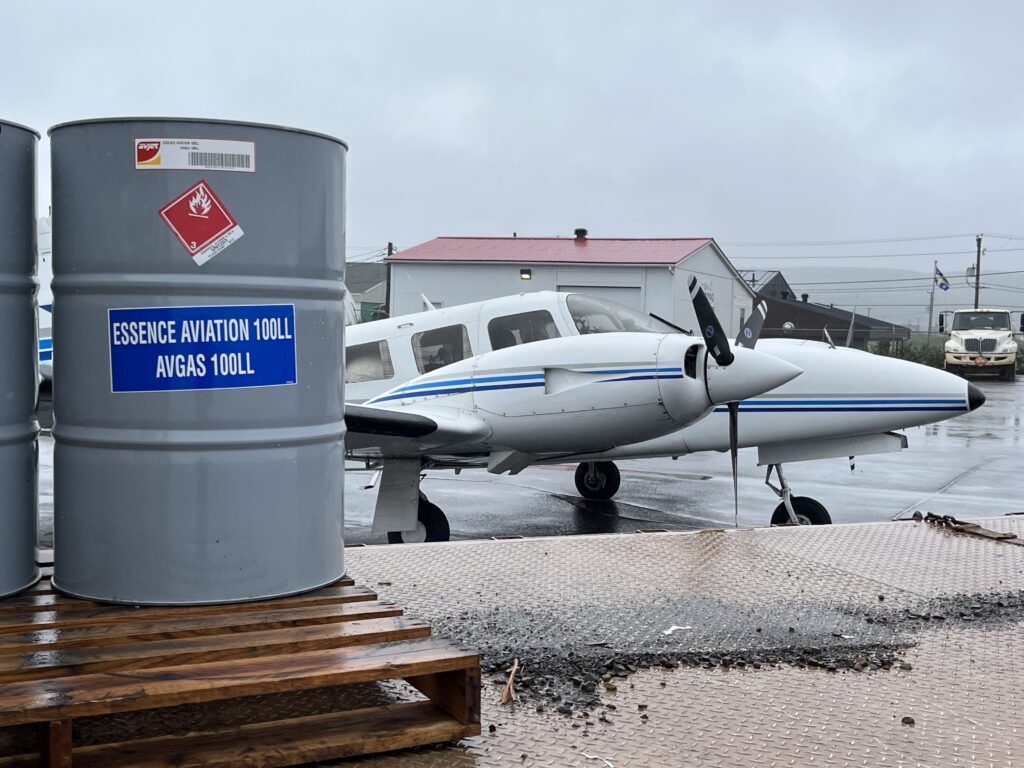 Our fuel pump from Sint-Eloois-Vijve served us again very well. The fuel guy was friendly. Due to our careful calculations and exact performance model, precisely one barrel fit into the tanks!
After a sanitary break, we were quickly again underway to Val d'Or in the west of Quebec.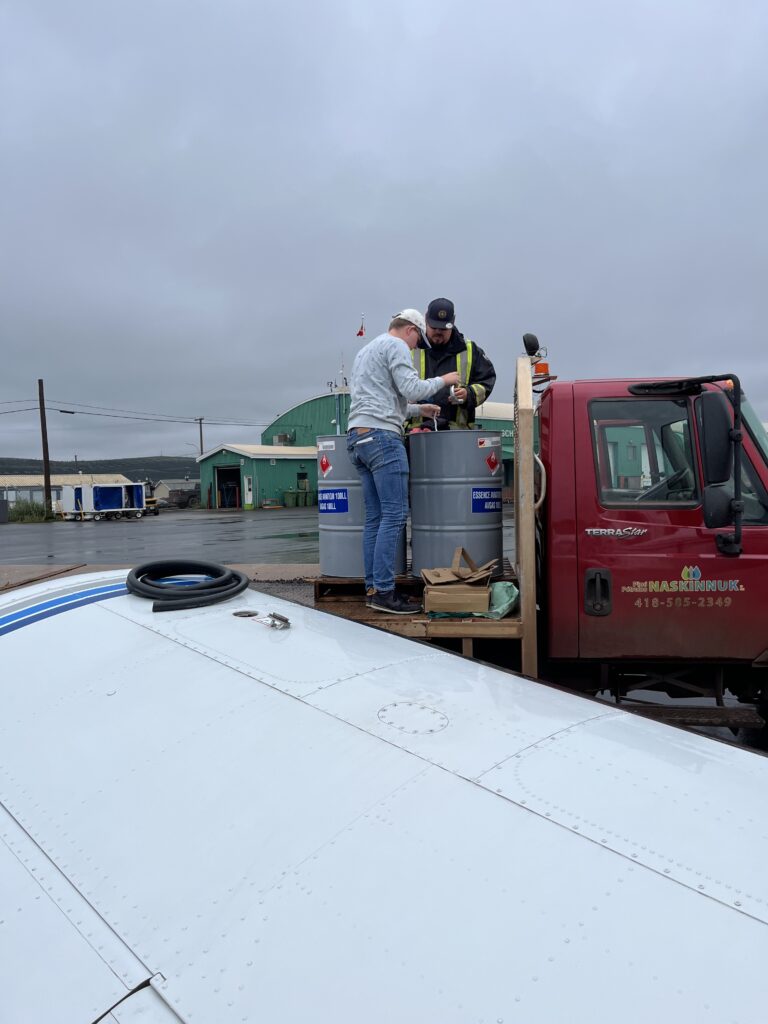 This was the moment we realised that we master this flying: all was running well, our plans worked, our performance was present, weather co-operated and the US was getting closer and closer: we will get there !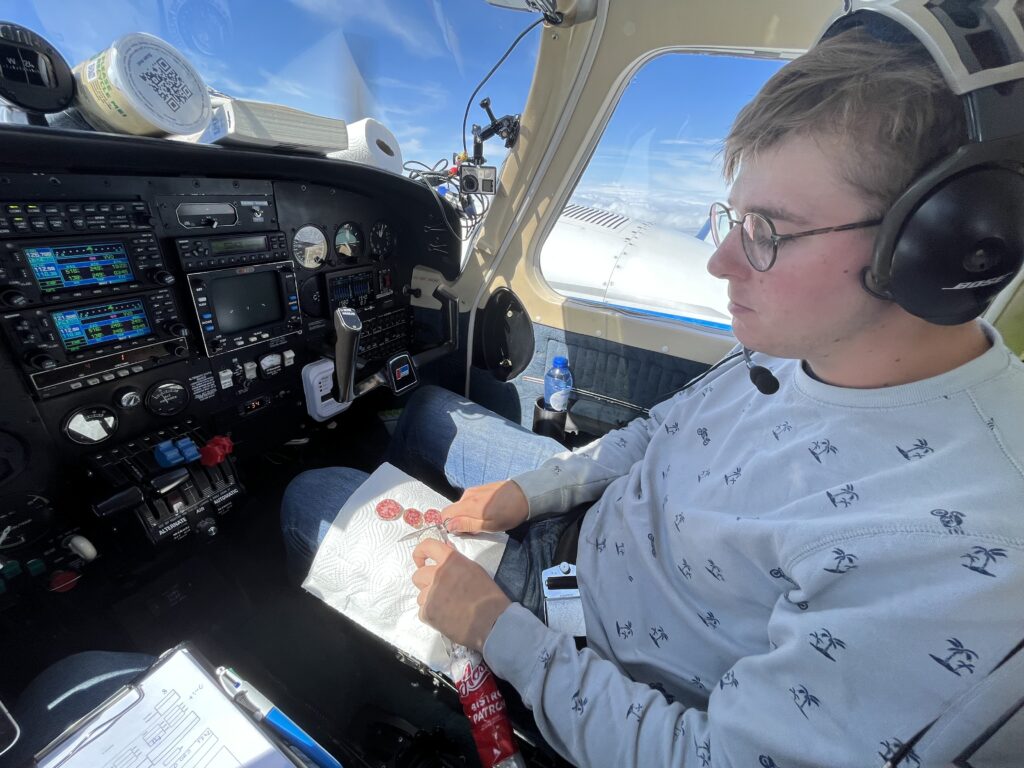 It was a relaxed flight. We did a apéritif with sausage and soda. We read books. We cruised at 9000 ft and when we met some mild convective weather, we decided to climb to 18'000ft on our southwest track. We had no radio coverage, so we switched to the Enroute frequency of 126.7 again.
ATC had briefed us that within 80 NM of Val d'Or we could try talking to Montreal Control on 125.9. However when we had contact with them, they kinda freaked out that we had flown so long at 18'000ft. As the transition altitude sits at 18'000ft, you are not suposed to cruise at this altitude: another learning point !
After a while, and a lot to our surprise, human activity in the form of roads, towns and cars became apparent under our wings.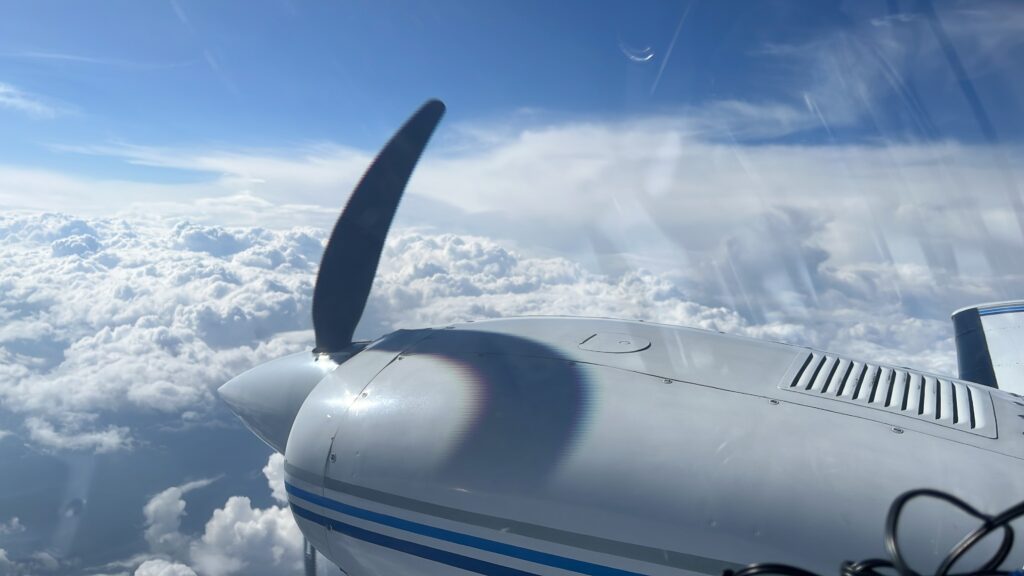 We listened our the ATIS at Val d'Or. ATC assigned runway 18 and landed. 4 hours and 10 minutes of flight. We taxied to the whole other end of the airport to the FBO Hangar Q60 which served avgas.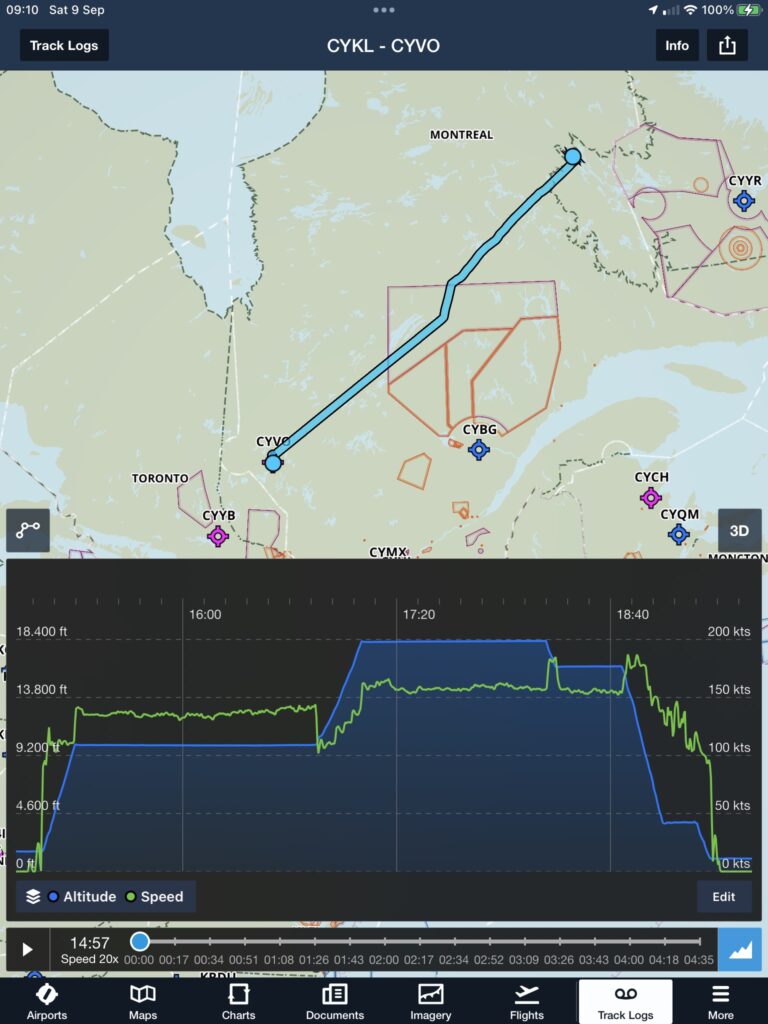 Flight 9 : Val d'Or – Appleton
Fuel got topped up and we paid for it inside where it was colder as outside the temperature was soaring. We spoke a bit with the owner and another local pilot joined the conversation so we switched to French … waw .. that was a challenge : very difficult to follow conversation !
The next flight would bring us into the USA, so we were very excited. We contacted the CPB agent at Appleton to update our arrival time. We also checked the weather and saw that we could expect CBs and thunderstorms along our way.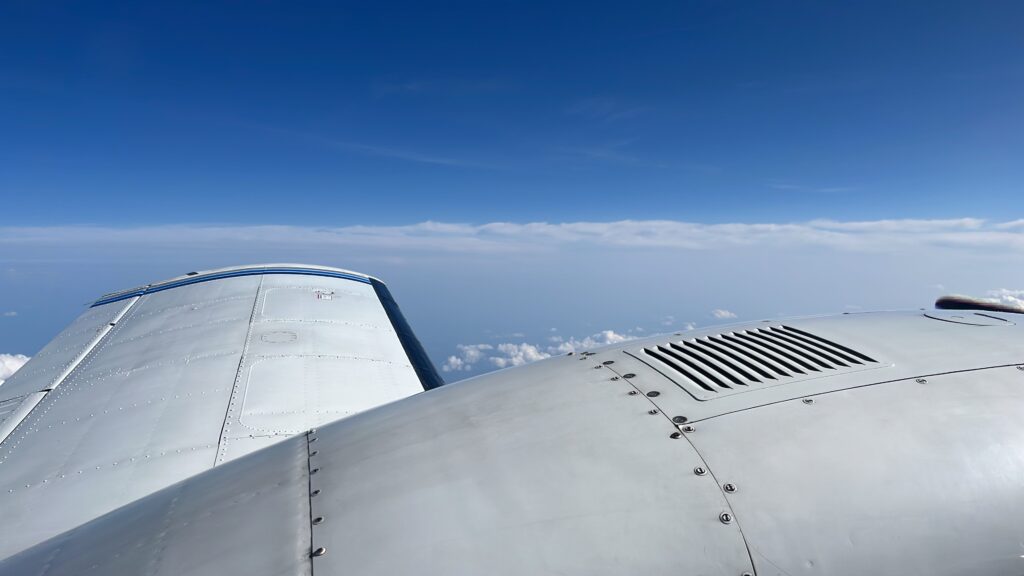 N626JG is cleared to te KATW airport via VALMO, RIBIR, DIRECT. Climb 16'000ft on runway heading 36, squawk 6230

USA here we come !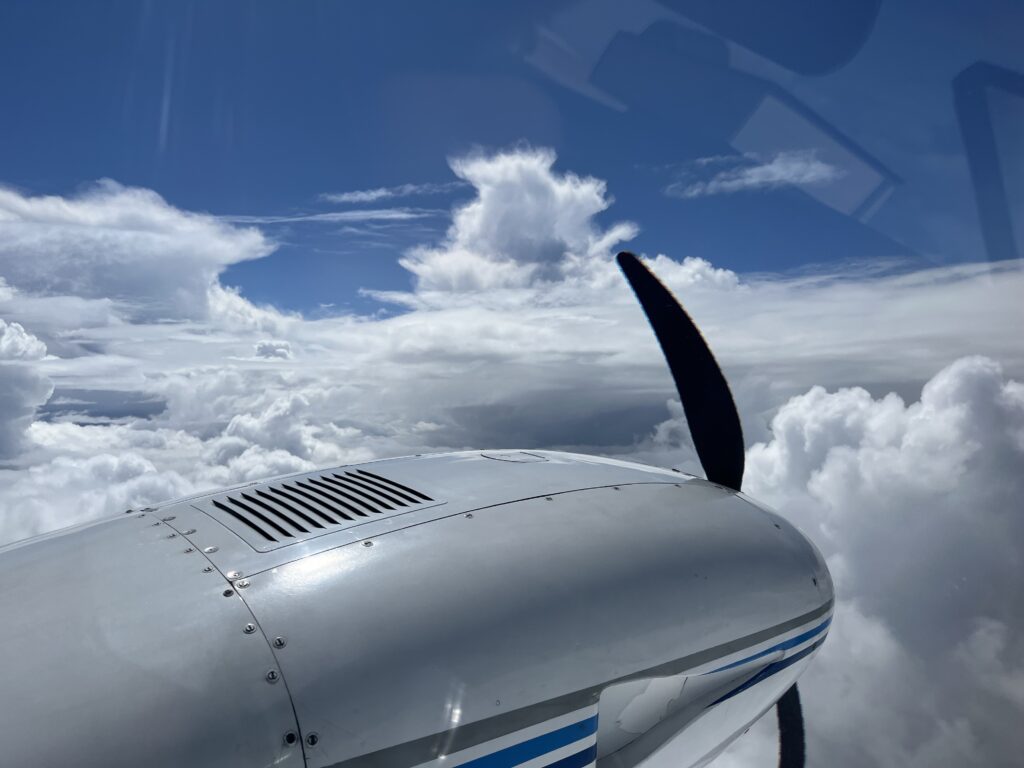 We climbed to 16'000 ft on oxygen and we soon saw the extent of the weather challenge: CBs all around us. We started the game to deviate to the left and the right but after a while nature was winning from us: we could not avoid anymore getting into the clouds which potentially carried ice, turbulence or worse. So we had a choice to make: descend below freezing temperature to avoid icing but get stuck deep into CBs, or outclimb the worse and keep a strategic view on all build-ups. So we choose to climb to FL210 and with further deviations to the left and to the right we stayed in clear air.
I was in contact with many people back home through the Garmin InReach, and one of them, Bart from CAE, saw that we were getting close to convective weather on our route to Appleton. So he started to message us alternative routes to avoid the worse weather: this was fantastic! Next to our own onboard radar, Bart's advise and our own eyes kept us clear of the dangerous convective weather !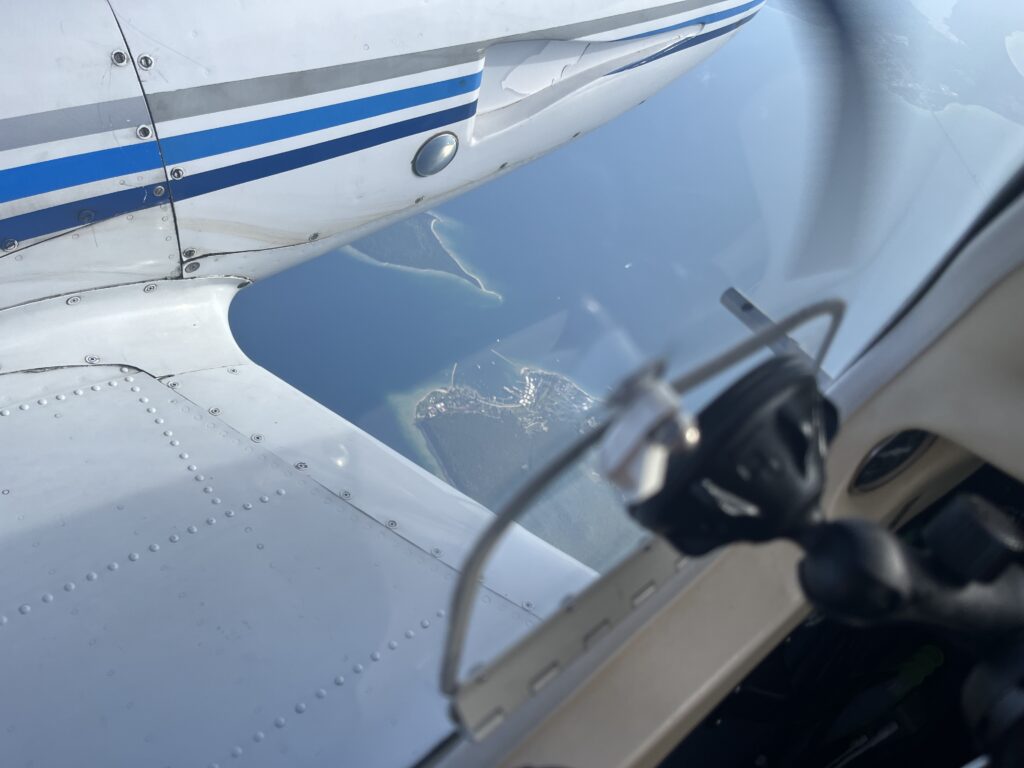 We were getting close to the Canadian-USA border and the north of the Great Lakes Lake Huron and Lake Michigan came in sight with thunderstorms left and right of us. We crossed the border and passed over the island of Mackinac in the Huron Strait in between both great lakes.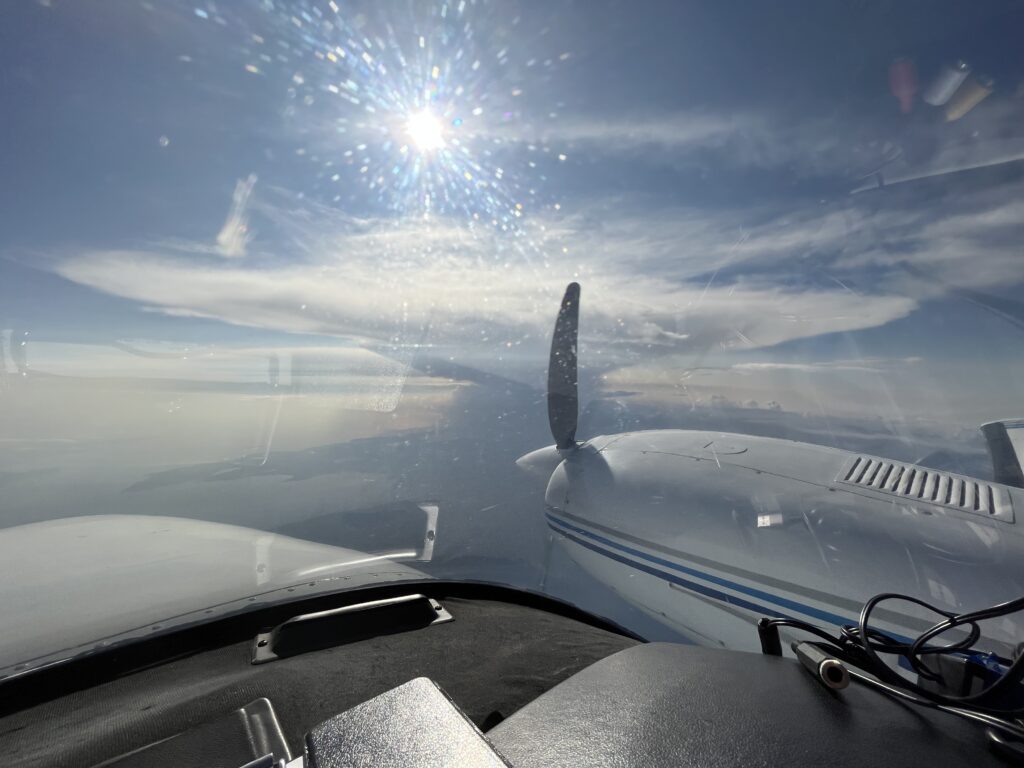 With Bart's advise, we avoided the worst and cruised over Lake Michigan towards our destination. The change of ATC service was remarkable and refreshing.
After some vectoring by Green Bay approach, we were cleared for the RNP runway 30 approach at Appleton. Visibility was not good due to the smoke from bush fires in Canada.
While on final approach, we received for the first time in my flying life a Land-and-hold-short clearance (LAHSO) on runway 30 before runway 21. Once on the ground we taxied to the red square in front of the Customs and Border Patrol where our CBP agent was waiting for our arrival. We had made it to the USA ! 3 hours and 26 minutes of flight.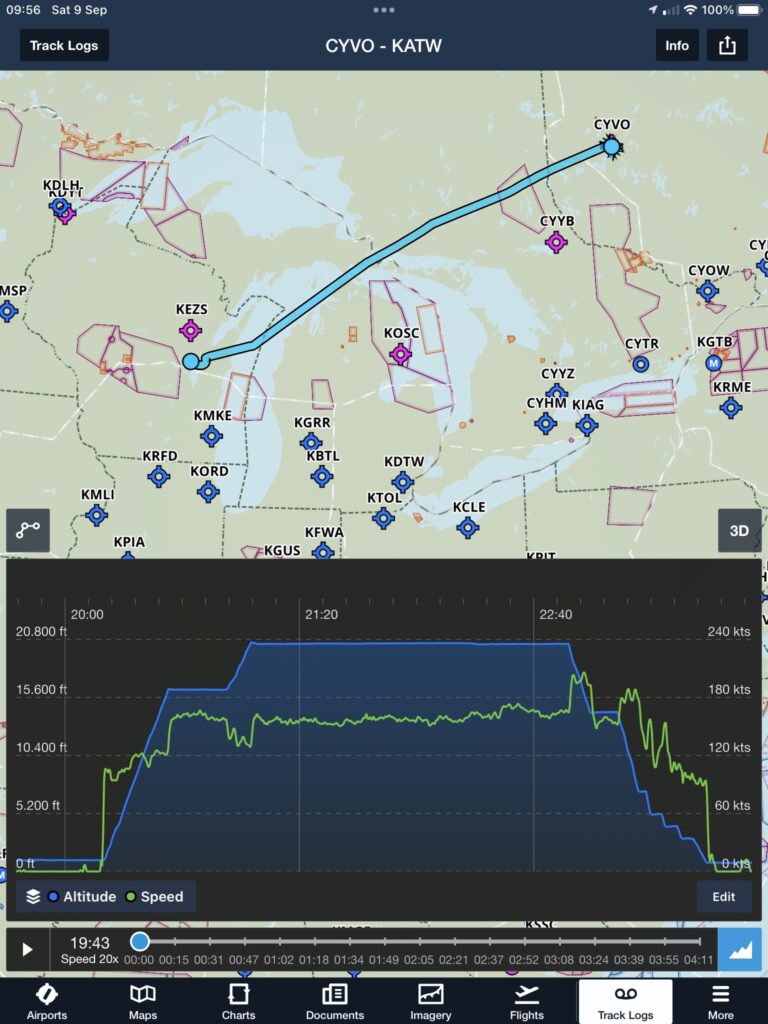 The CBP agent was the most friendly one I ever met (and I met a lot when coming to the US by airline). We were allowed to leave the airplane, visit the much needed restroom and got our passports with our visa stamped. We were his last customers of the day.
We started up again and taxied to the Appleton Flight Center FBO where we saw for the first time the airplane madness of Oshkosh to come: hundreds of airplanes were parked on their apron… and we could just taxi to their door. A very friendly welcome from the FBO staff waited for us. They were amazed with where we came from and offered to take pictures of us.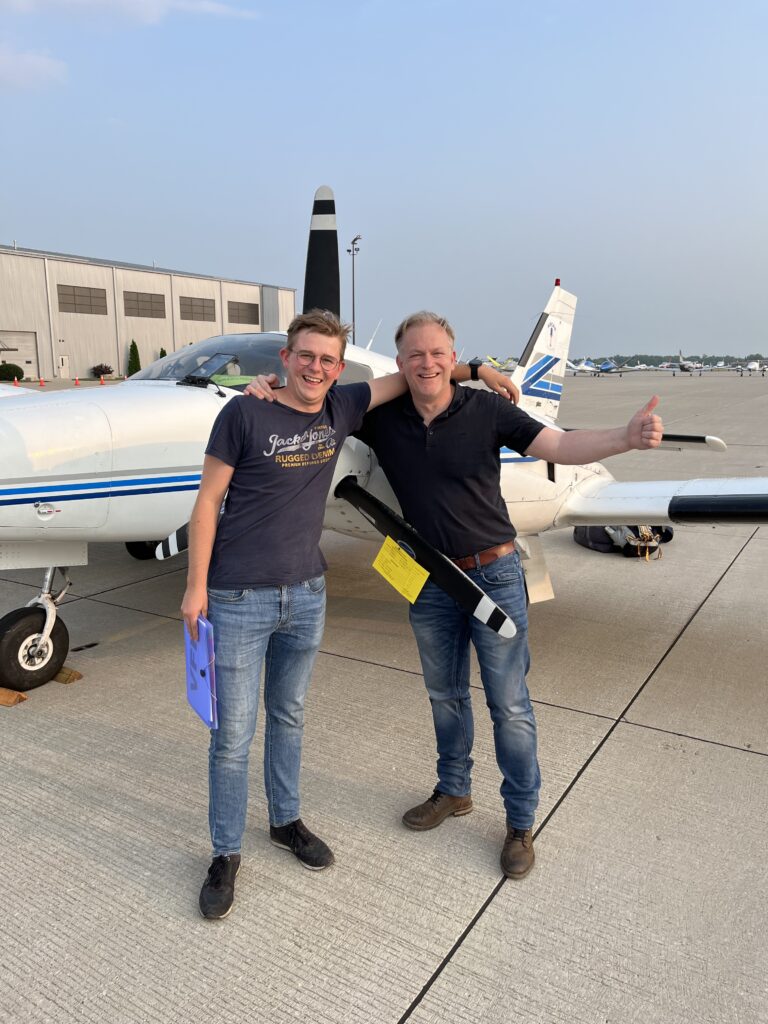 Inside the very nice and luxurious FBO, we waited for our hotel shuttle to pick us up. The warm luxury of the US overcame us a bit after all the wilderness, rough terrain and rough people we had flown through in the past days since Reykjavik.
So we decided to give ourselves a treat: a real good steak at the local Texas Steakhouse !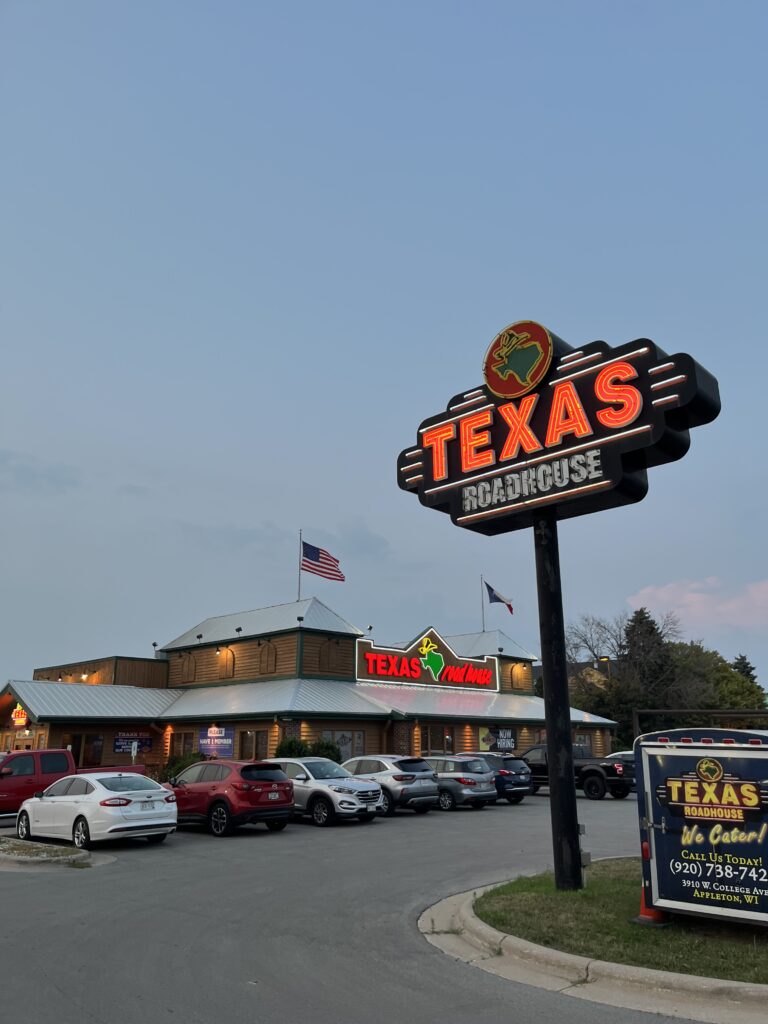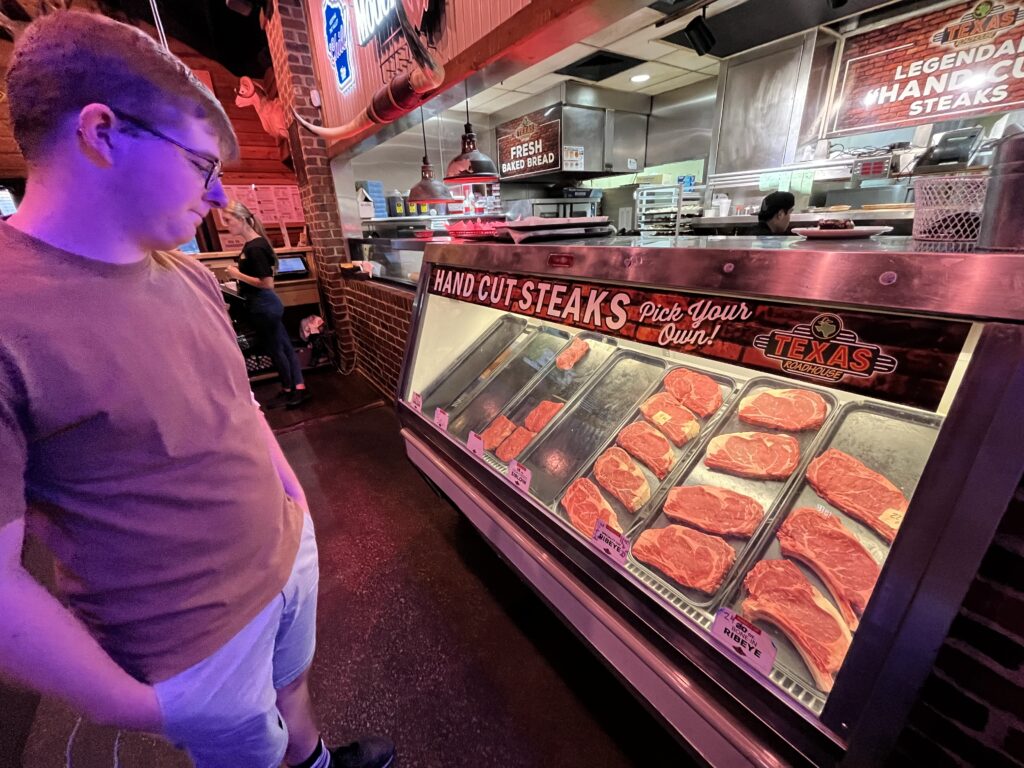 We were all satisfied, tired but very stoked to fly to Oshkosh tomorrow.and charging all our battery operated stuff before hitting the camp grounds there.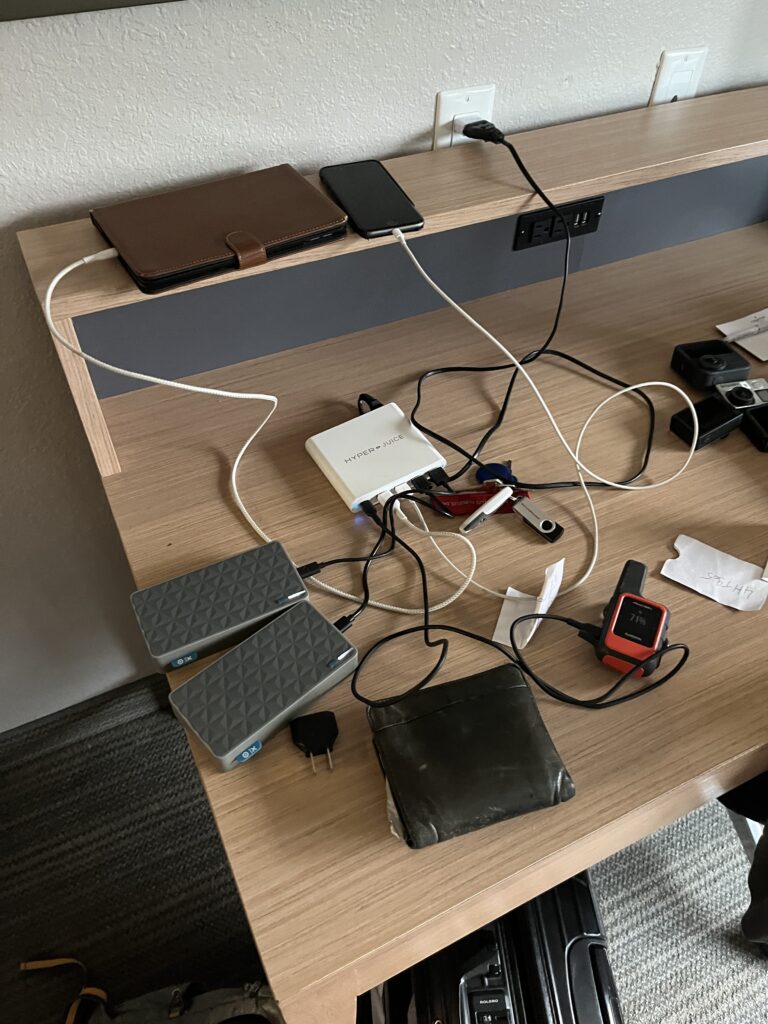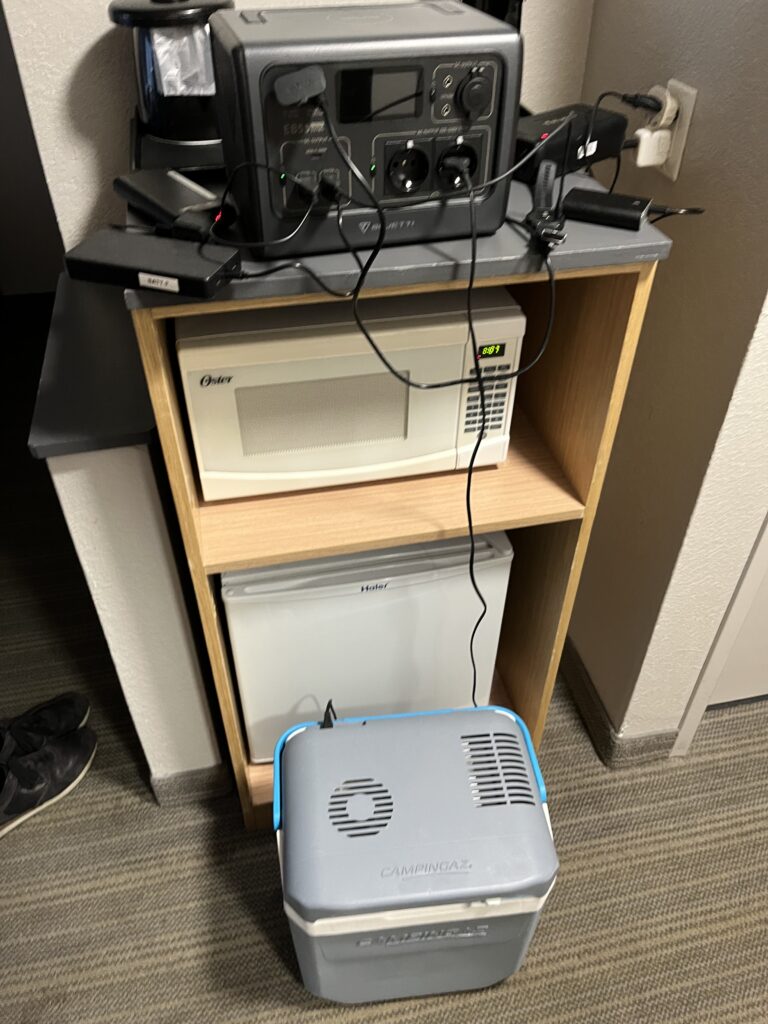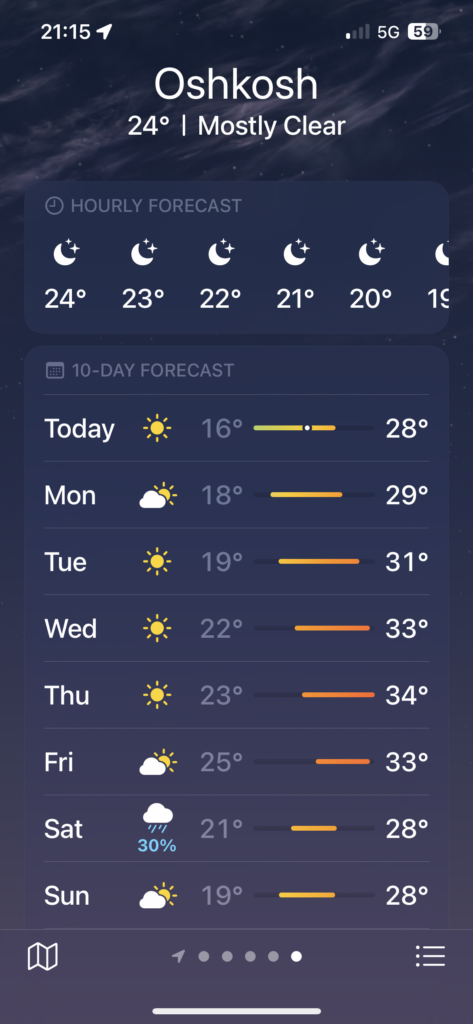 Tomorrow we fly to Oshkosh with a fresh head ! Follow on and let us know your reactions !
---