We were so happy that we had made it to Oshkosh, but in reality we were underprepared and overwhelmed of the actual EAA Airventure show. As we had lost already one day of our original planning as we got stuck in Reykjavik, and judging the stress we had endured in the whole trip so far, we decided that we nevertheless would stay here a full 4 days and not 3 by sticking to our original schedule. It turned out to be a sound decision.
So from here onwards three days at the Oshkosh show were left. This means that we planned to leave the airshow on Friday morning. But we had a restriction: we could not land or depart Greenland on Sunday as all airports in Greenland are closed on Sunday … This means that we had Friday, Saturday and Sunday to get to North Canada in order to cross to Greenland on Monday: that would be a relaxing journey and it would give us a lot of time for some extra sightseeing & tourism beyond Oshkosh. This thought gave us a very relaxed show !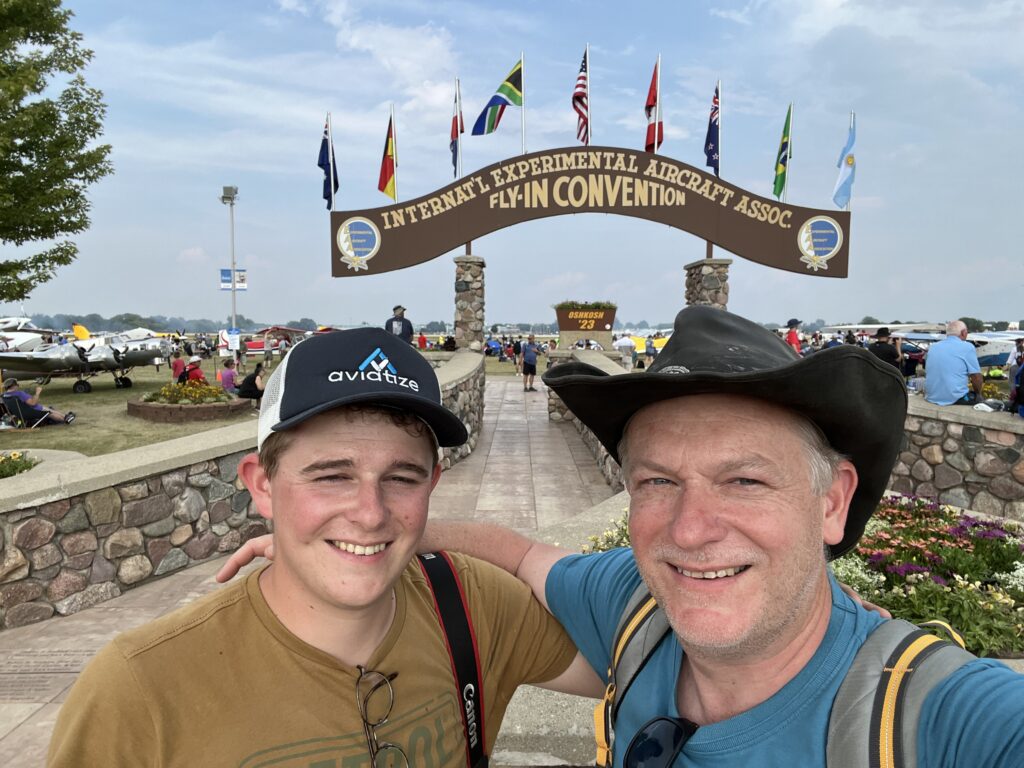 Rather than give you here a chronological account of our days at Oshkosh, please allow me to highlight some themes which made up our remaining three days at Oshkosh.
Hanging out with Mark & Andrew
It was so great to have a friend nearby on the show. Mark, an old colleague from my former company and also a Belgian, flew from Vancouver, Canada to Oshkosh with his Cessna 177 Cardinal together with his friend Andrew and their two little daughters. When we arrived, they were waiting for us at the camping spot and we have been hanging out together till the end of the show.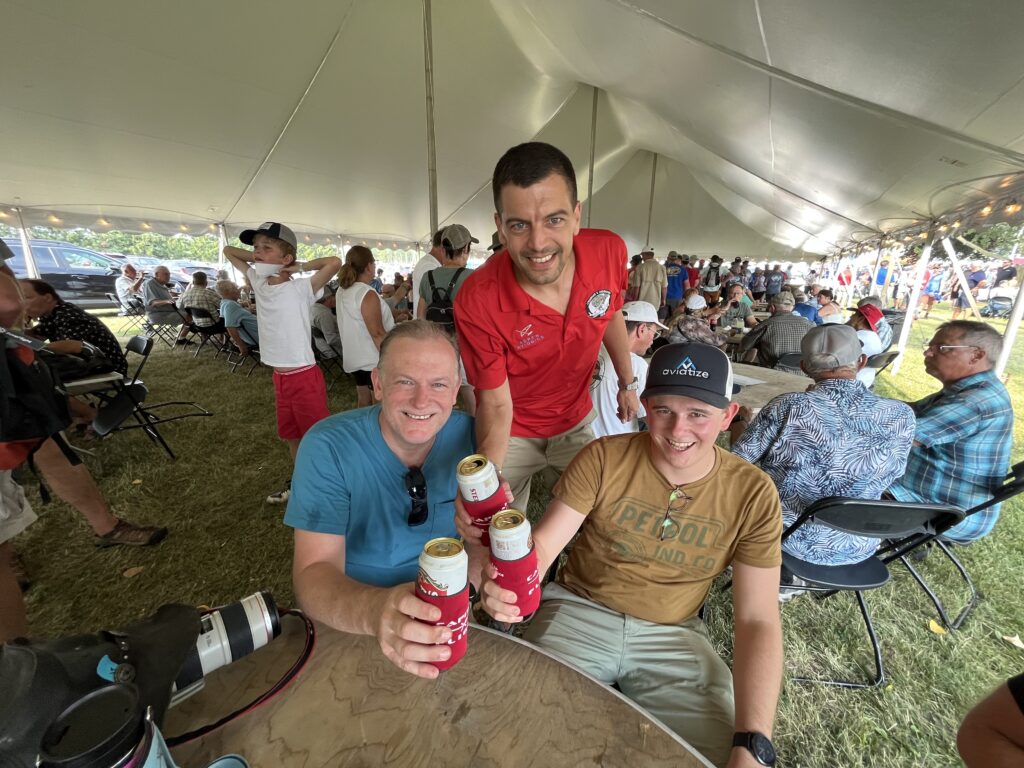 On the second night, Mark invited us to gathering of the Canadian Owners and Pilot Association in which he is an avid member – he is also a director in the British Colombian General Aviation Association. The beers were great after the hot days, and we enjoyed the company of a whole lot of other Canadian pilots who flew in from the west.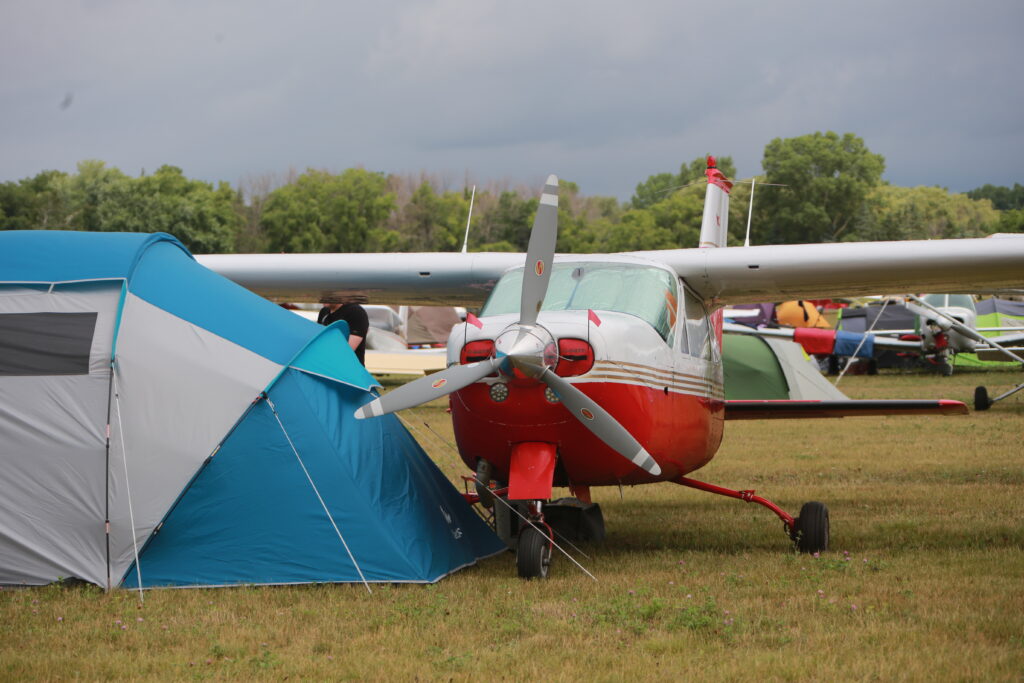 We shared lots of stories, and a similar amount of beers. In particular we enjoyed watching the night Airshow on Wednesday together under the protection of his Cardinal's wing together with the kids. Andrew made a great timelapse of it.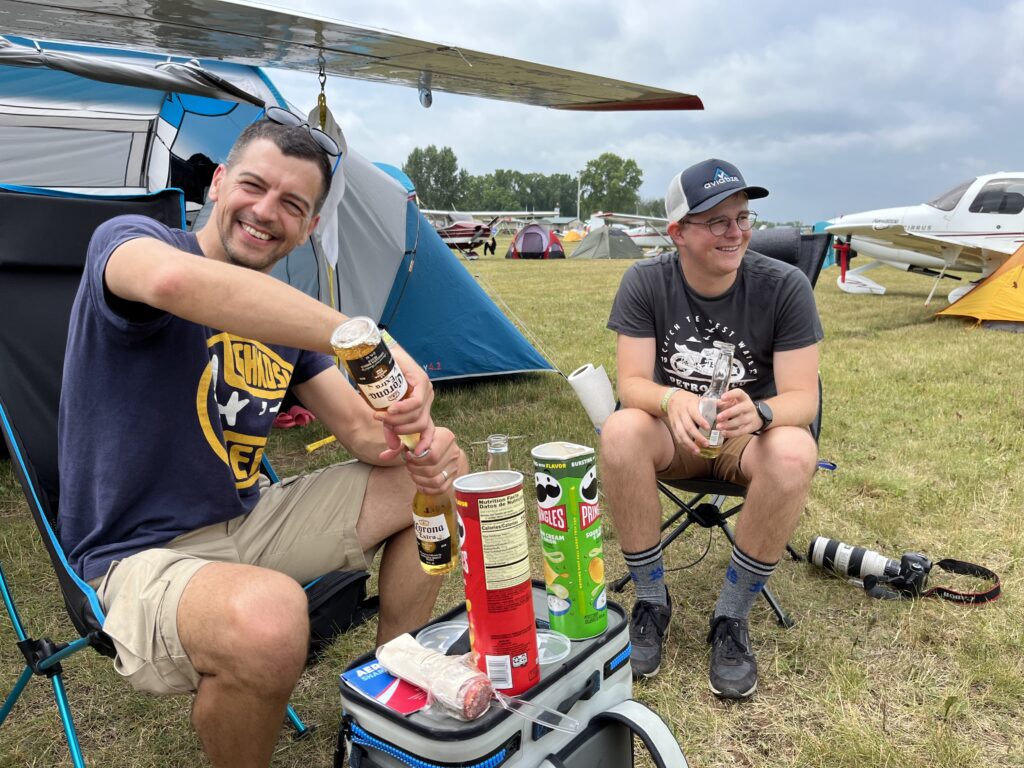 We also had dinner with Filip Lambert from my avionics shop Lambert Aircraft in Kortrijk. He was there on his annual shopping spree and was happy to have dinner with some Belgium-Canadian friends. Andrew showed himself to be the perfect host. It was lovely to have these friends making the Oshkosh experience even better !
Shopping !
For the pilots amongst us: remember the first time that you visited a real pilot shop !? Well: take that feeling and multiply it a thousand times ! Oshkosh is a real shopping paradise … for pilots: you can find everything and all companies there. 4 large halls with your favourite obscure brands: from avionics to engines, from pilot sunglasses to the latest app. And of course oil: we bought 12 extra liters of engine oil. We bought a blue/yellow taxi light (see the logo of this website), a pilot bag (for a friend), oxygen masks, an ipad cooler (yes, that exists), T-shirts and other Piper merchandise … Gorgeous !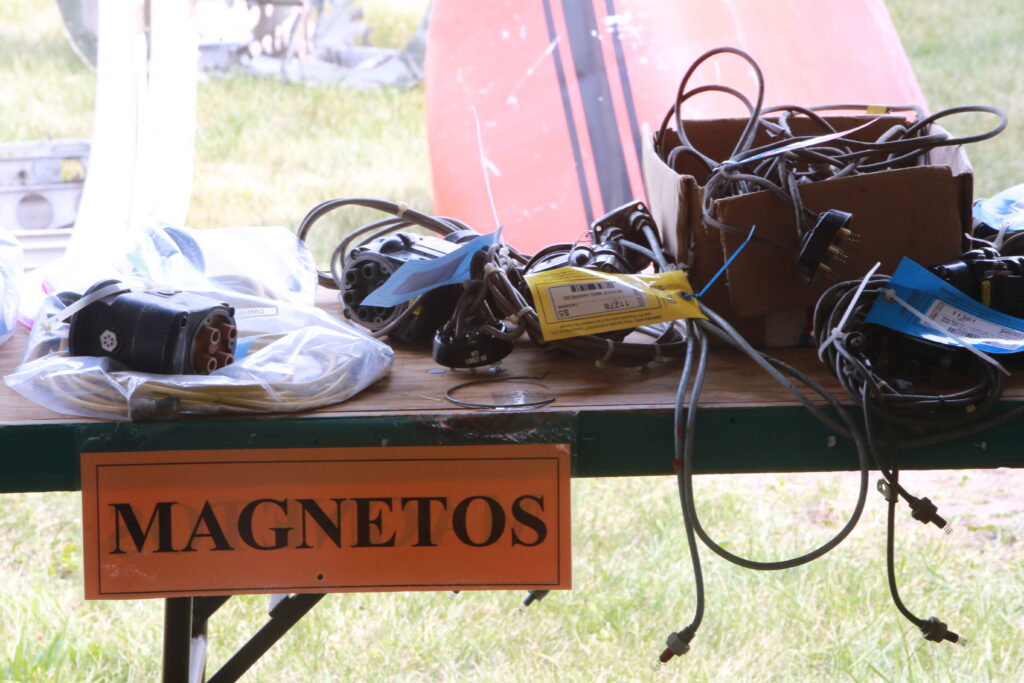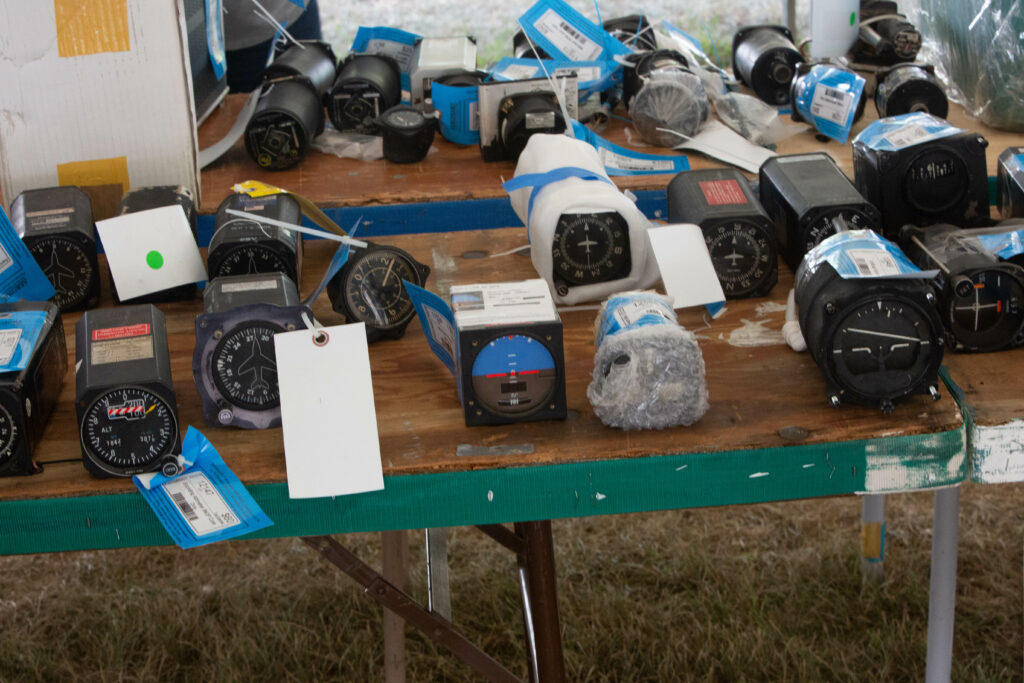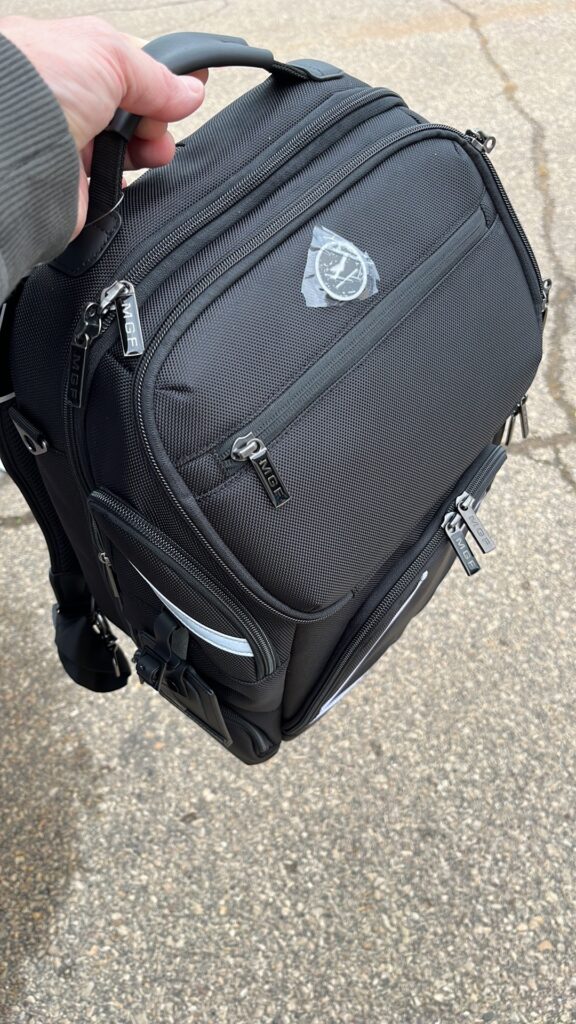 The only problem with shopping is that you must return with your heavy goods to your airplane in the campground… so in Oshkosh everything is super-organised: you take the tram, you take the bus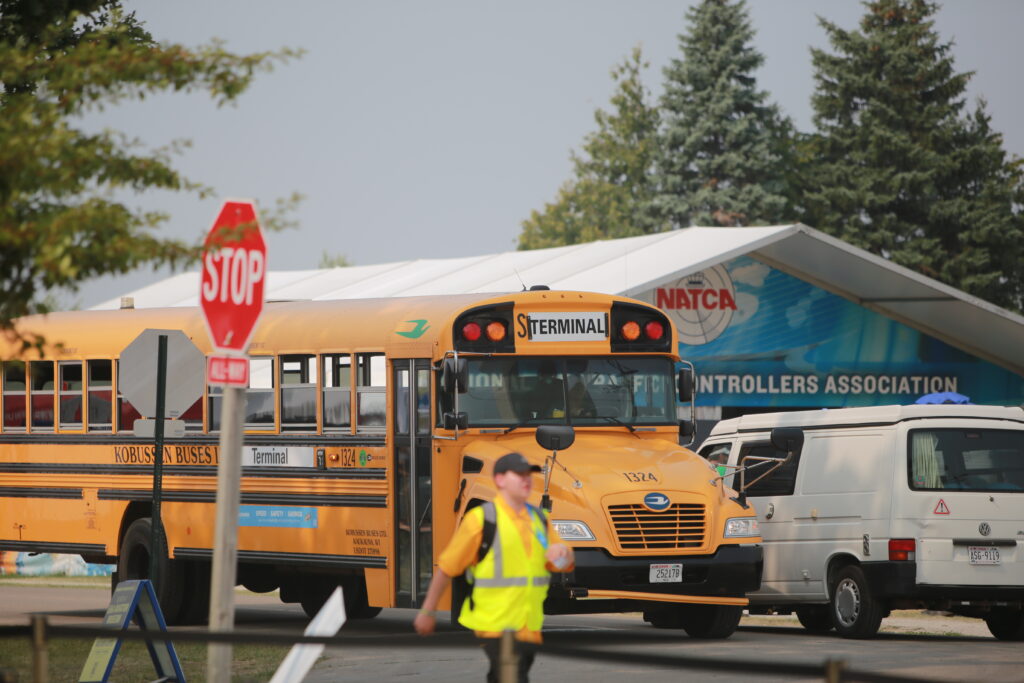 Watching the Airshow !
In the afternoon, they close the airport for arrivals and departures, and then the real fun begins: the Airshow !
There is a continuous show: military aircraft, acrobatics, warbirds, gliders, tribute flights etc … Here is a sample: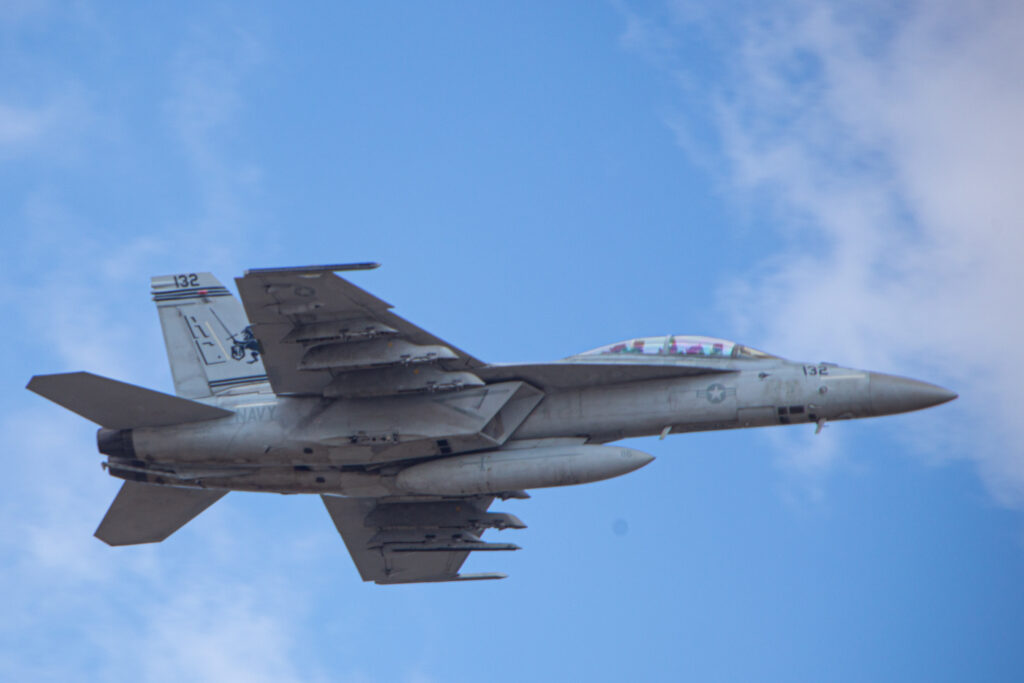 In the afternoon we installed ourselves on our plastic chairs. Sometimes we looked for some shadow, but in general we got cooked every afternoon by the sun: what a delight !
Walking the Statics Display and the Flight Line
Apart from sitting down and watching the show, there is also a lot of walking to do: from Boeing plaza with the latest and greatest civil and military hardware, to visiting the Vintage area, the Homebuilt gathering … or the best: Warbird field !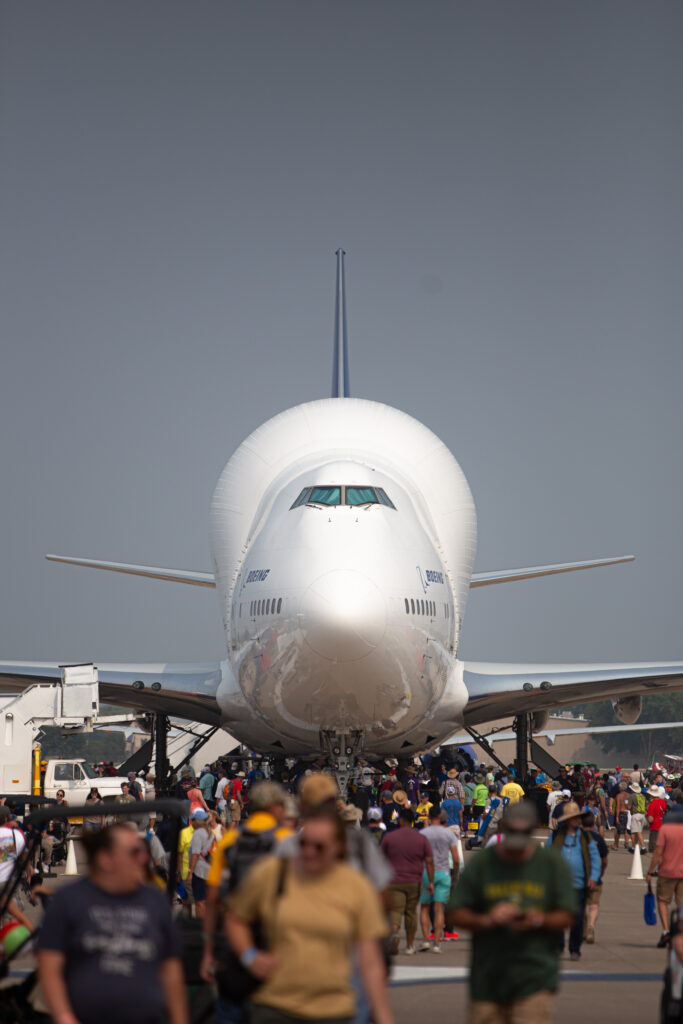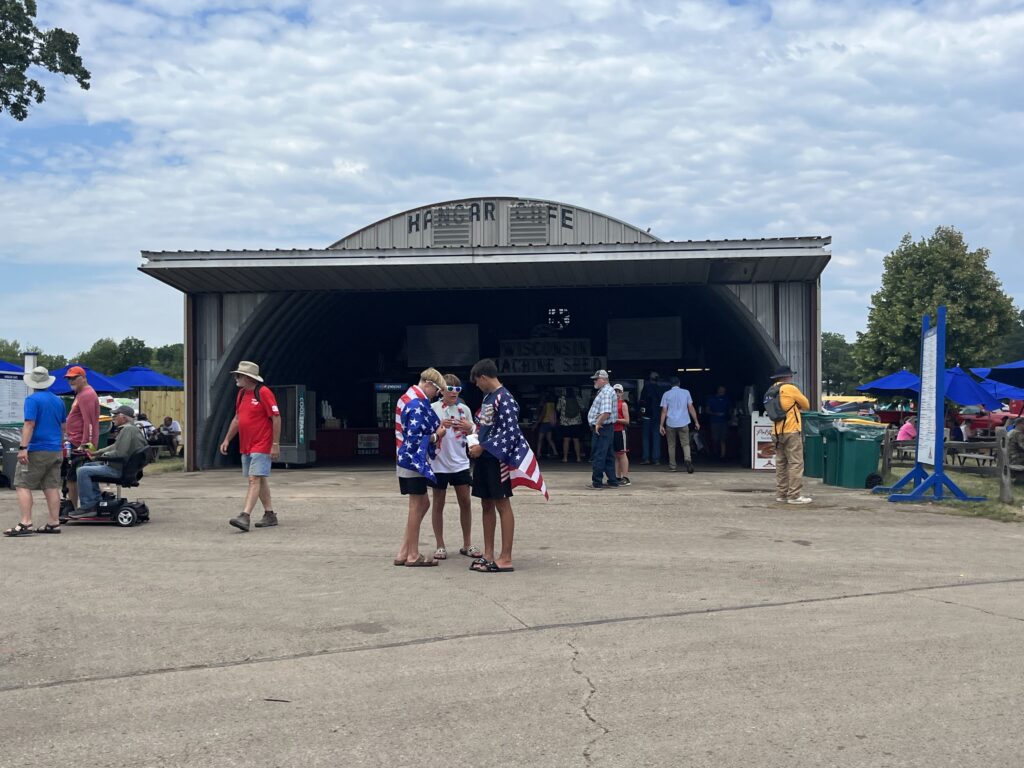 Camp Life
There are several ways to visit the EAA Airventure Oshkosh: you can come by car, by camper or by airplane ! You can stay in a local hotel, or bring you own camping gear and stay on the holy grounds themselves. So we went for the full experience and brought our camping gear all the way from Belgium: tent, air mattrasses, sleeping bags, cooking gear, food, fridge etc.
It was a great and definitely easy experience: the campground are well organised with shops, showers, toilets and charging stations.
Toby decided to tick off one of his bucket list items: he would sleep in the airplane. So I had the tent to myself. We soon settled in a lazy routine of camp life.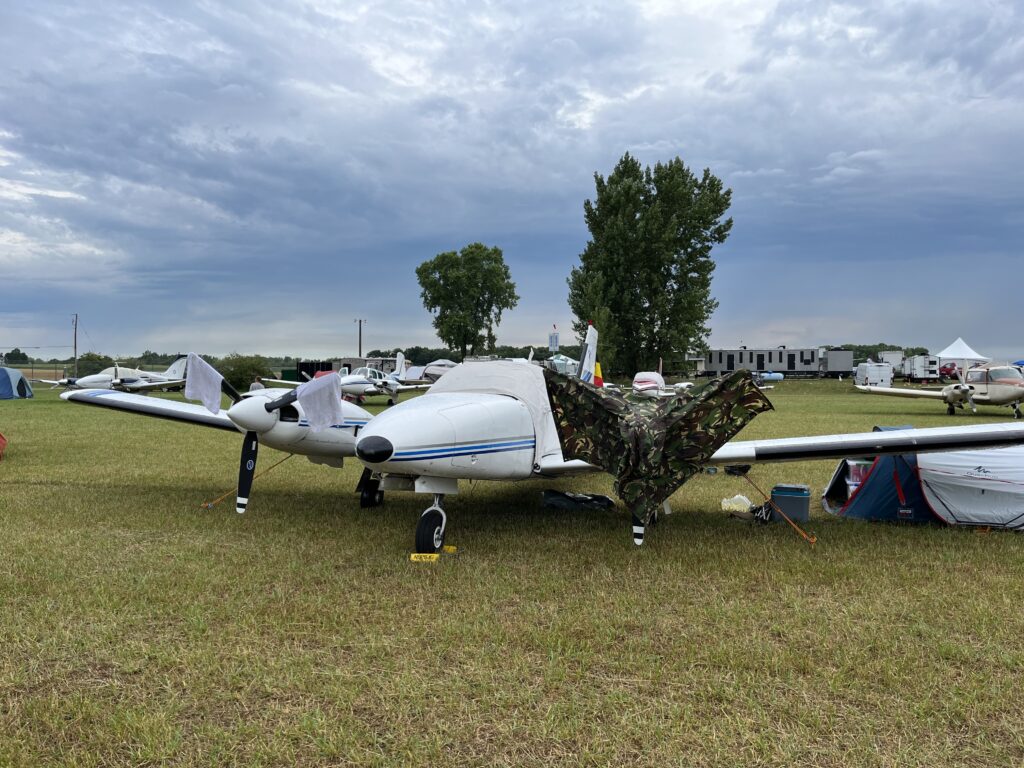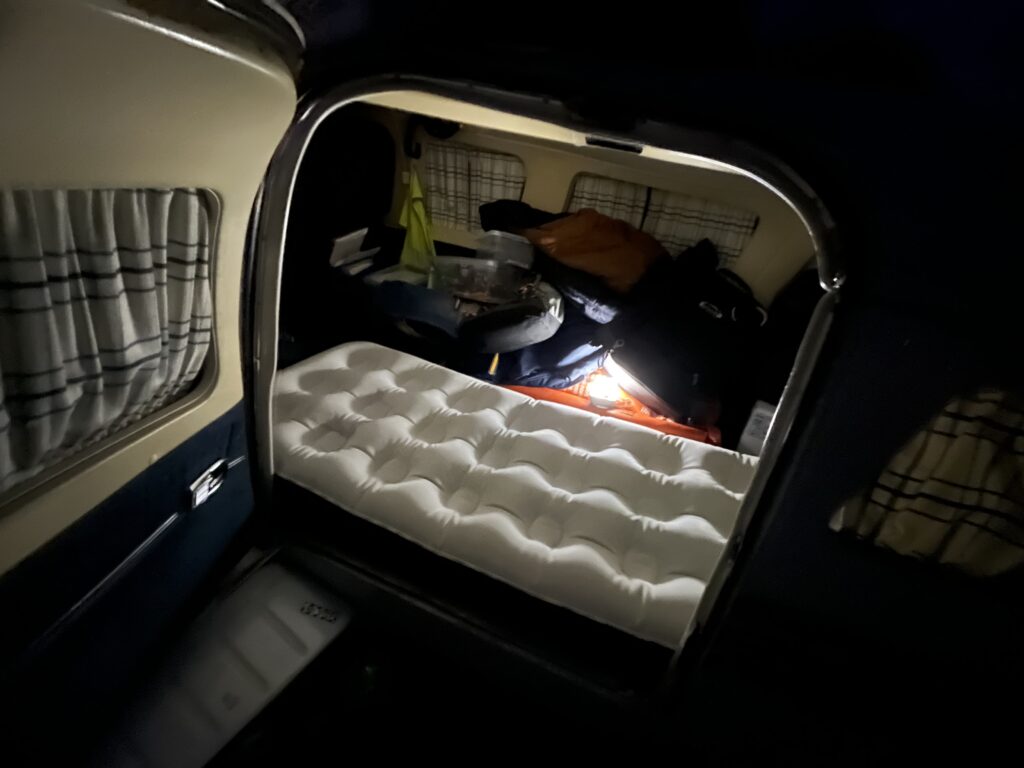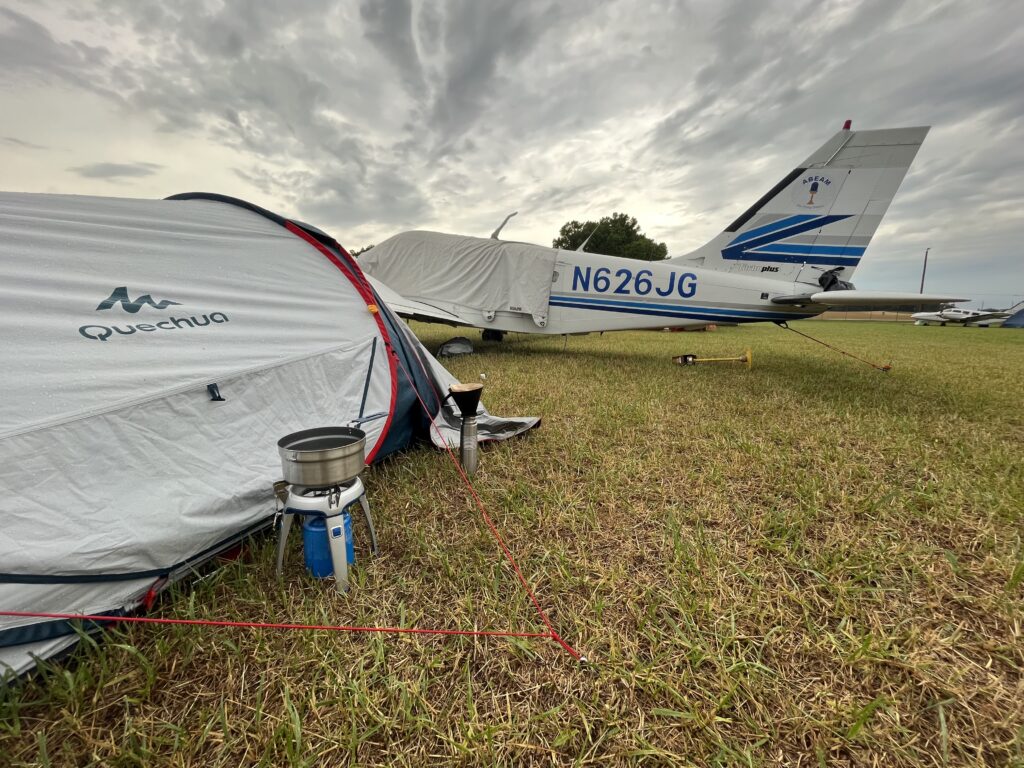 On Wednesday night, we were woken up by loudspeakers warning us of approaching thunderstorms. That got our sleepy attention very fast. This is how it looked like: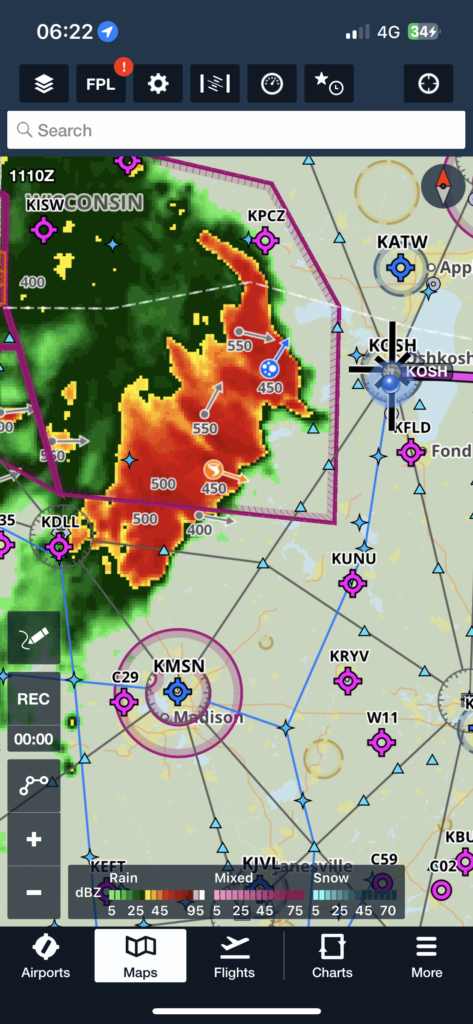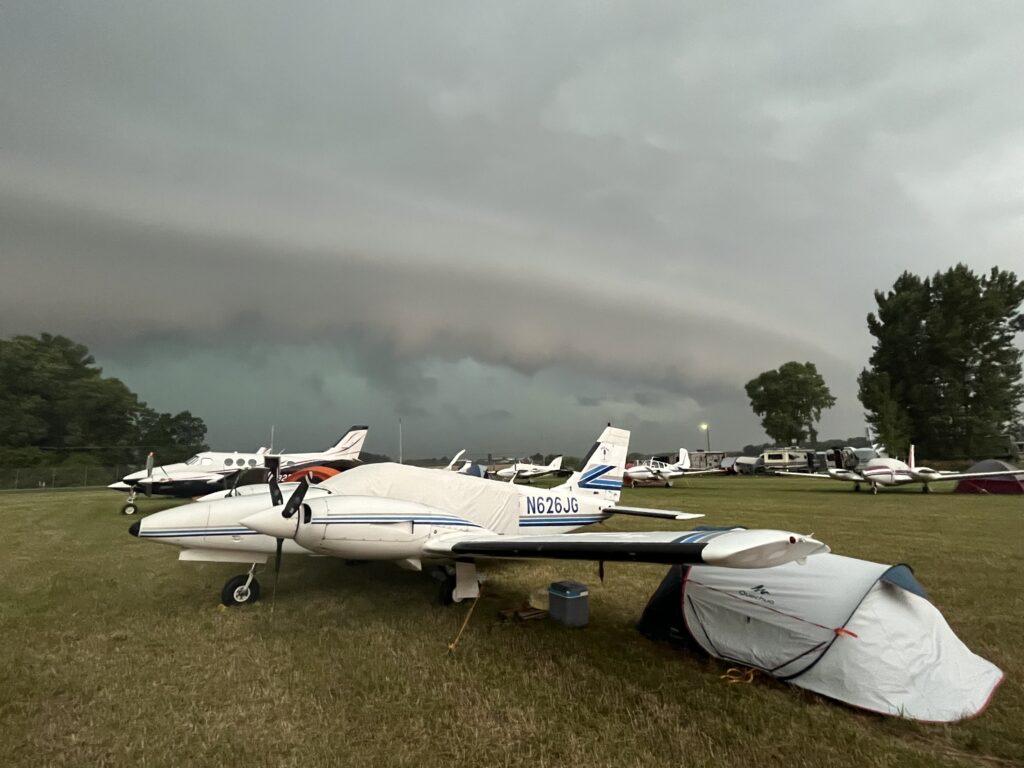 The camping instruction are clear: "All aircraft must be tied down. "Dog leash" tiedowns are prohibited. " … now we understand why. I had bought heavy duty steel pins and brought a strong hammer.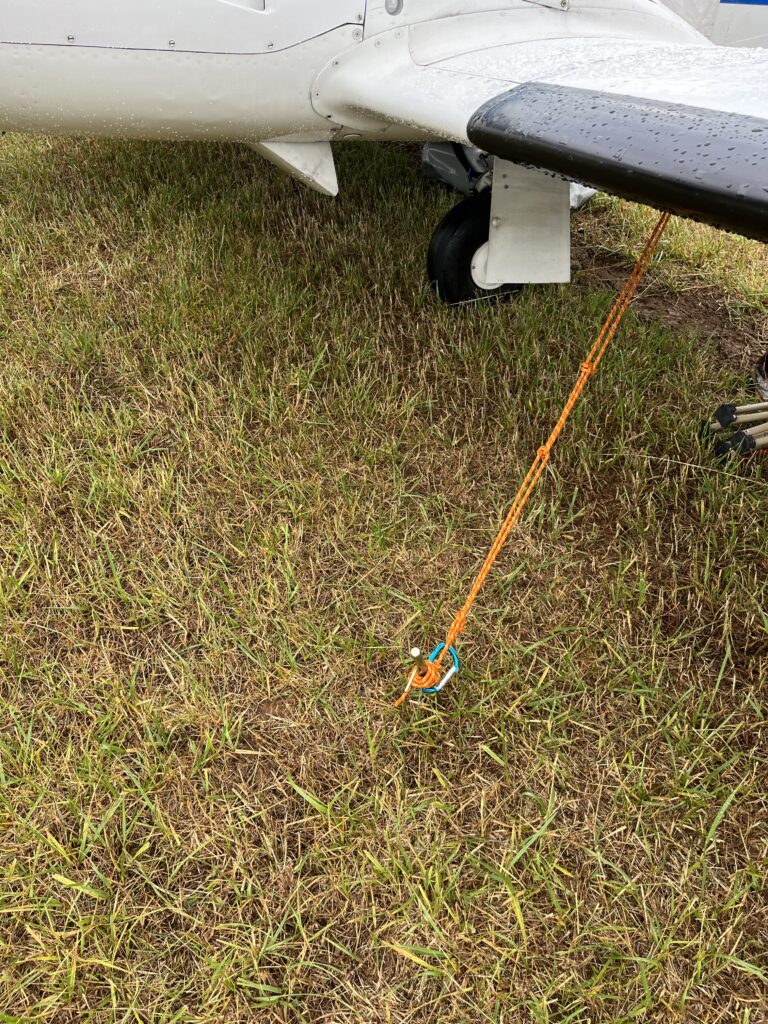 Airplane Celebs
Oshkosh is thé world attraction for all things flying, so there were a lot of special guests, call them Airplane Celebs on the showground. Many of them I follow on YouTube or listen to their podcasts.
The self-built Sling from JP Shulze, aka the Candourist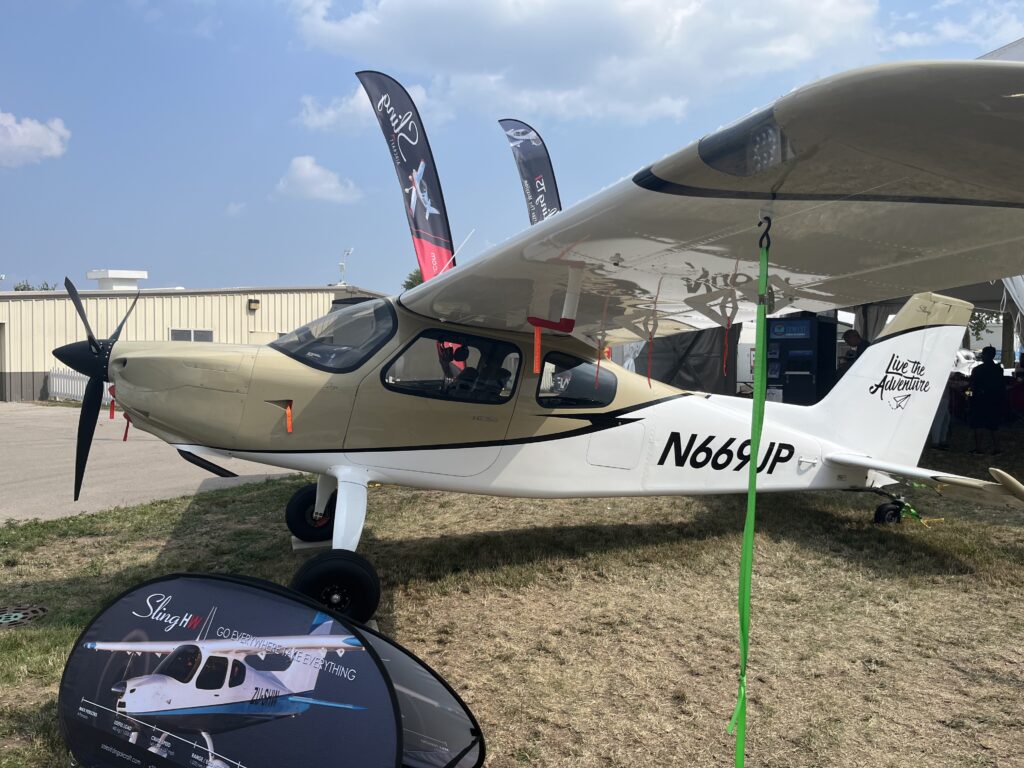 The Cub that was landed on the helipad of the hotel in Dubai. This airplane was heavily adapted by Mike Patey.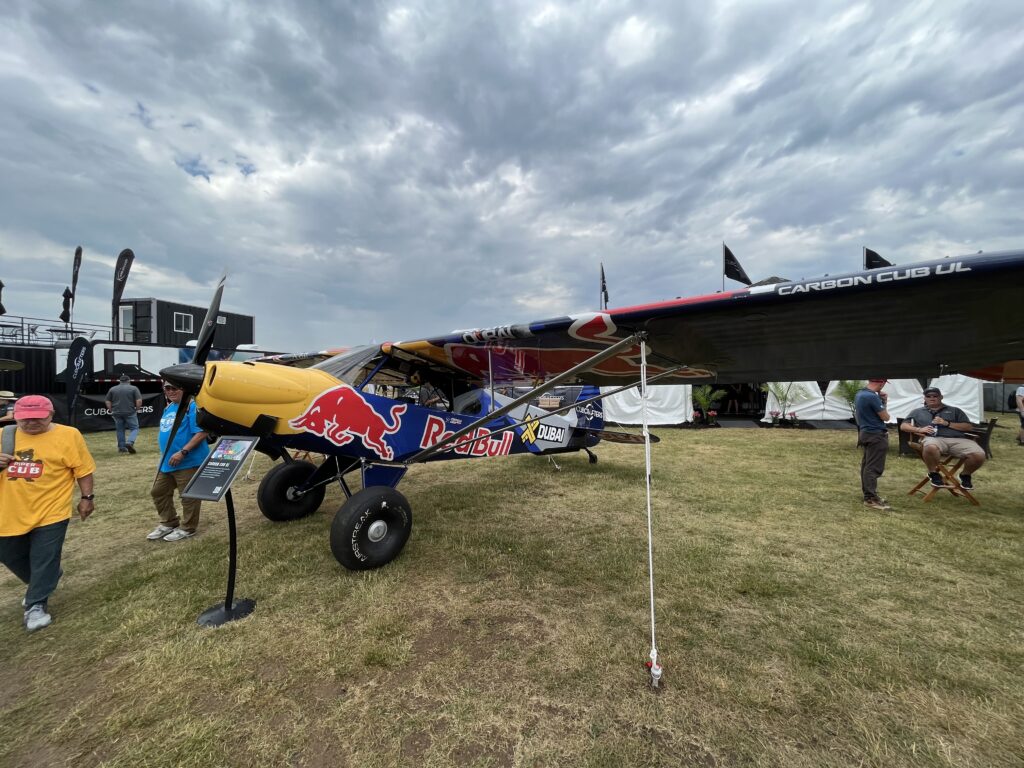 This stone was laid in honour of Dave Higdon from the Uncontrolled Airspace podcast, my favourite passtime when cutting my grass: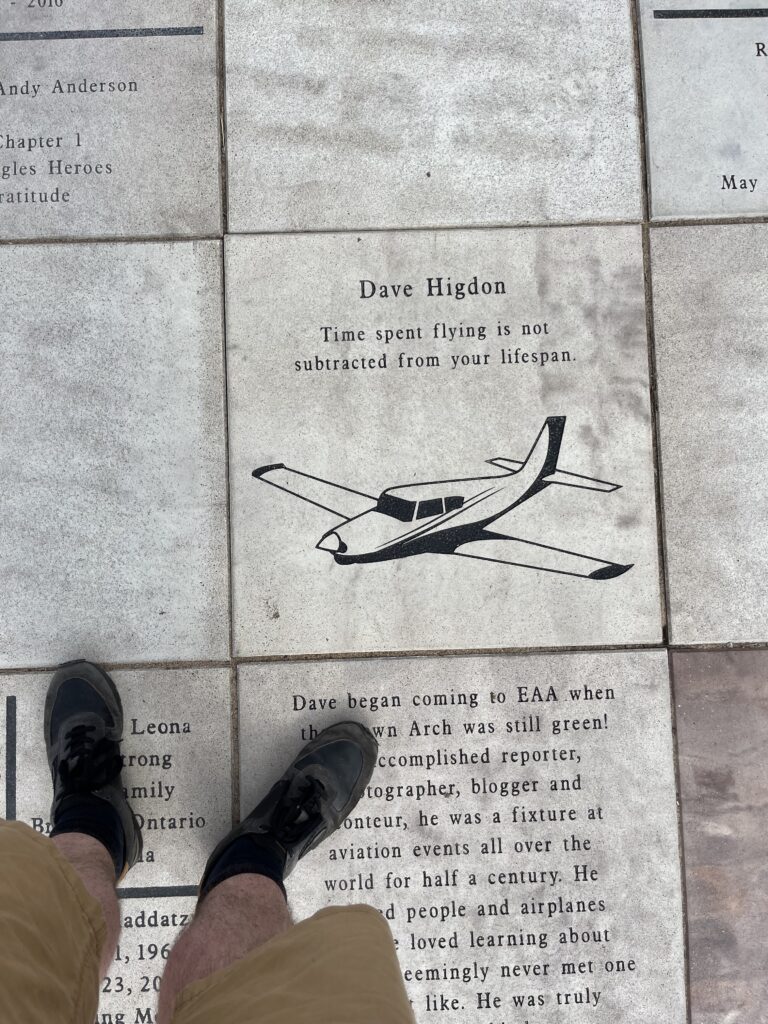 And of course there were many more.
Visiting the EAA Museum
At the entry of the Oshkosh airport, the EAA has built a very nice museum and Pioneer airfield, bringing together a nice overview of what hobby flying has been and should be. The focus of the museum is this time not on military, air transport, supersonic, world wars, but on what we do as a hobby: from simple self-build flying to $100 hamburgers and the like… it was like coming home !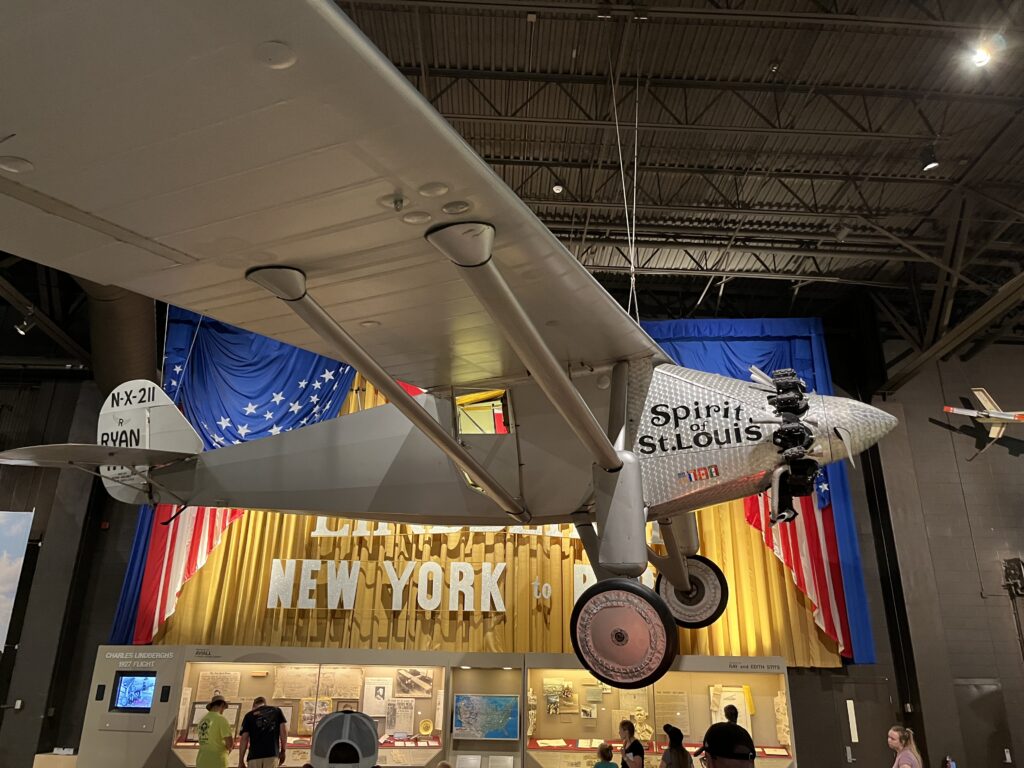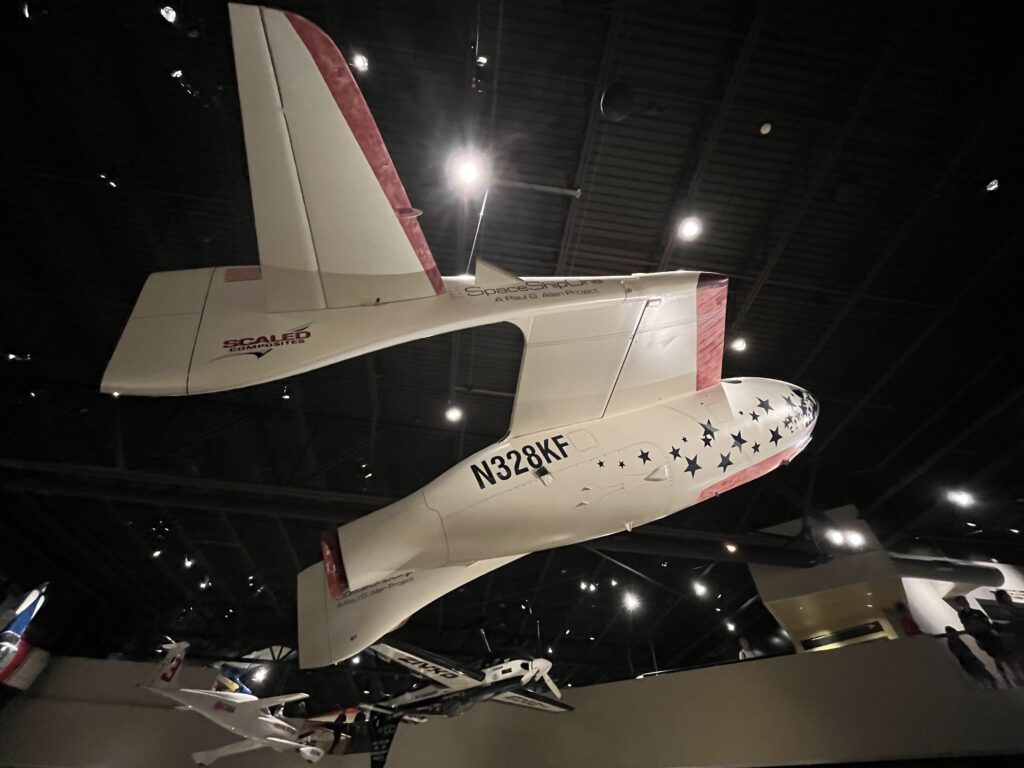 Goodbye Oshkosh !
After four days of impressions, hot weather, thunderstorms, millions of airplanes, good vibes with Mark & Andrew, it was time to pack up camp and plan the flying back home. As explained above, we would take our time heading north so we were very relaxed.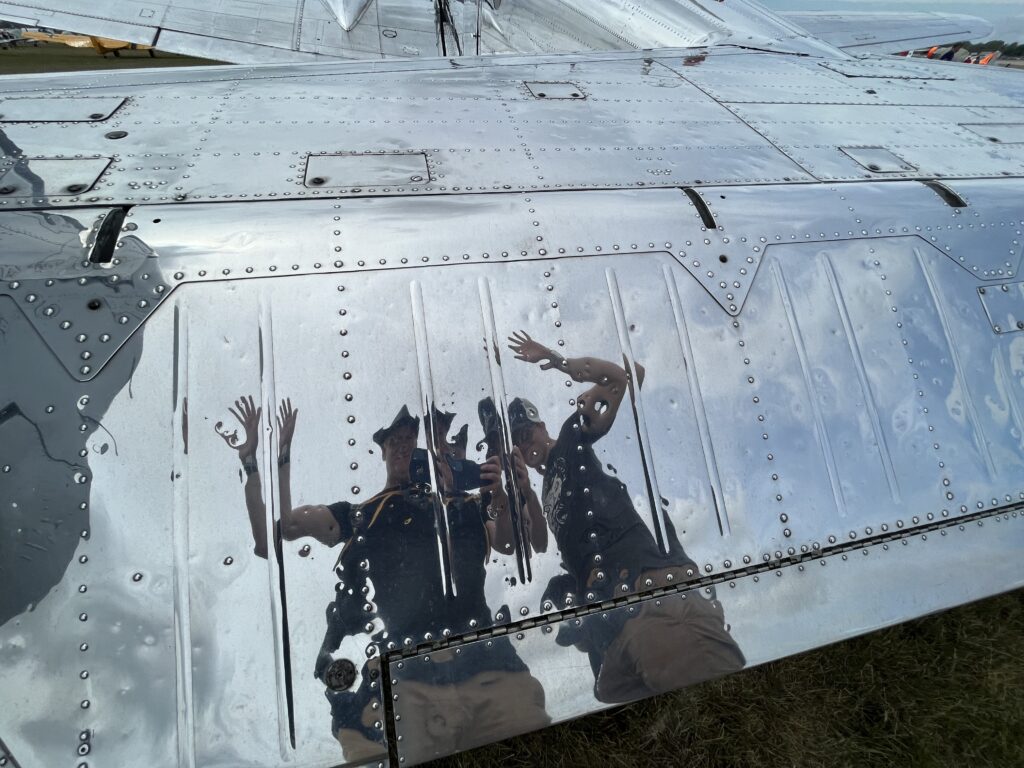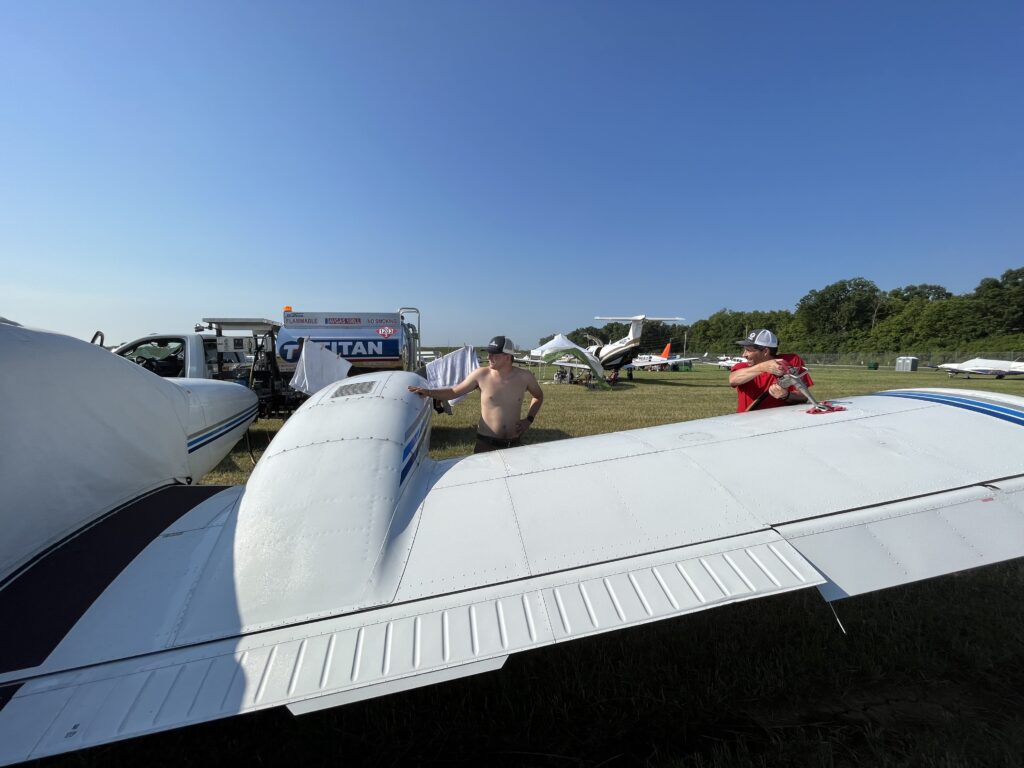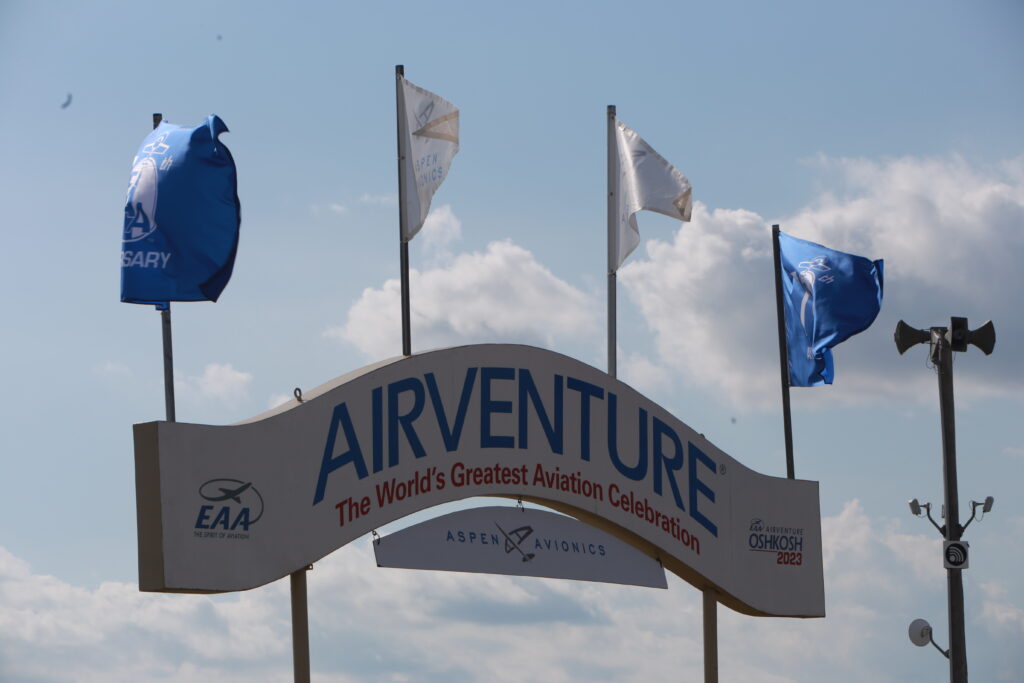 Goodbye Oshkosk … you were fantastic: all expectations exceeded.
See you next time !
---