Every year, my father drives to the Ardennes in the south of Belgium to fetch a truck-load full of firewood. An every year, his two sons are summoned to help him out to load and unload the truck with the wood. Last year, my brother and I were pretty bored and we checked out the nearby airfield of Saint Hubert (EBSH). We swore to come the next year by airplane !
So there we were on a Saturday morning in May, preflighting our beloved OO-WVS Cessna 172. As I wanted to incorporate this flight into my Instrument Rating training, I asked BelFlyer to join me on this trip as safety pilot so I could fly under the hood so the flying hours counted as intrument flying (albeit it simulated). There were a couple of challenges. First of all, Saint Hubert , being a grass airfield, does not have an instrument approach, so we needed to be able to descend to safety altitude while being in VMC. Secondly, there were sizeable clouds that morning !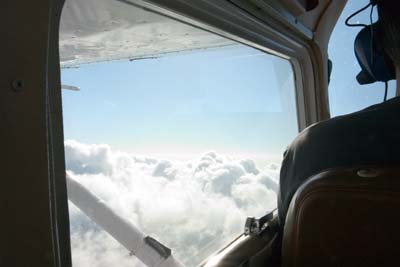 We took off and dial in a direct course to Chievres VOR. We climbed in between some clouds to above the scattered cloud layer. While I concentrated on the instruments, my brother, sitting in the back, was the photographer in charge. He spotted the Ship Lift of Strépy.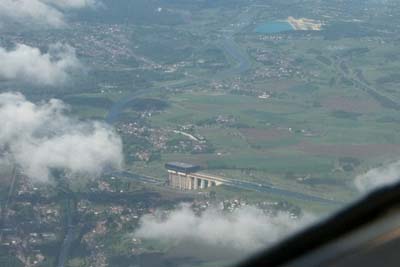 And he spotted the Inclined Plane of Ronquières. These are two of the major constructions in the south of Belgium.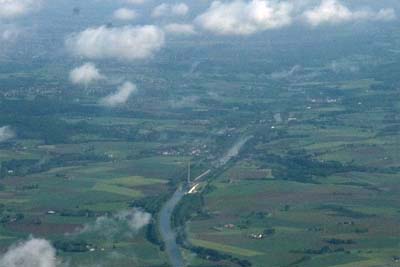 From Chievres VOR, we set course to Gosly VOR, which is set onto the Charleroi (Brussels South) airport. We passed overhead EBCI at FL55.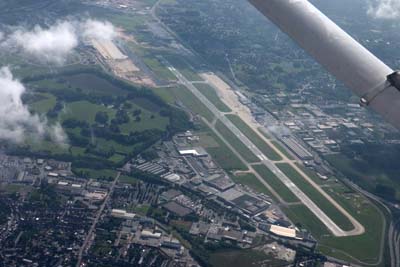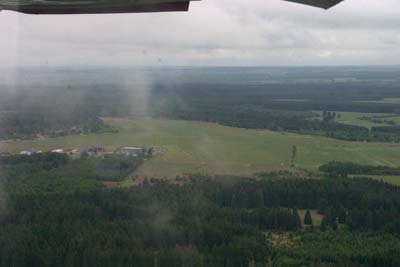 As we had a decent tailwind, pushed by the typical westerly winds that day, we arrived at Saint Hubert airfield ahead of schedule. When we got below the cloud layer, we spotted the field immediately to our left. Check out this video, all shot by BelFlyer (thanks!), of our approach and downwind join.
And soon we landed in the soft & sweet grass of runway 23.
We had agreed with my father to meet him there … and as we were ahead of schedule, I was able to capture his arrival by truck on the below photo : so far so good, our little adventure worked as planned.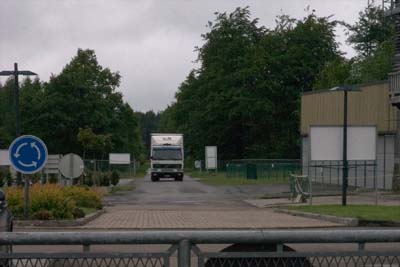 My brother is an addicted motorbike enthusiast. The evening before, he had loaded his powerful bike in the back of the truck. The idea was to drive the bike back home, while I flew back by airlpane and my father drove back by loaded truck … Crazy Family, not?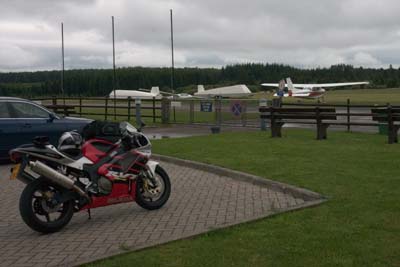 My father drove Belflyer and myself to the loading place for the wood, while my brother gave us a private escort (call it motorcade?)…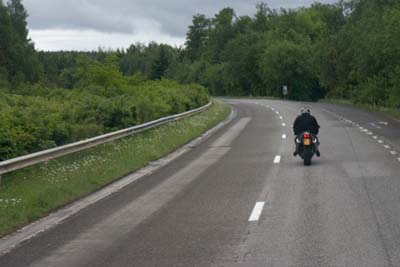 And loading wood onto a truck goes twenty times easier, knowing that you can fly back home, at last being able to making useful use of your pilot license !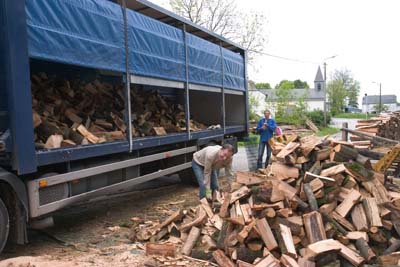 Once the truck was loaded, my brother departed for his private tourist motorbike trip, while my father dropped Belflyer and myself off at the airfield. We took off again ahead of schedule, cut through the scattered clouds again and contacted Brussels Information on 126.9 MHz. At that time, I requested a practise ILS approach at Charleroi Airport, which got quickly granted… thanks Belgium ATC ! I covered my vacuum instruments for some partial panel practise until close to Charleroi.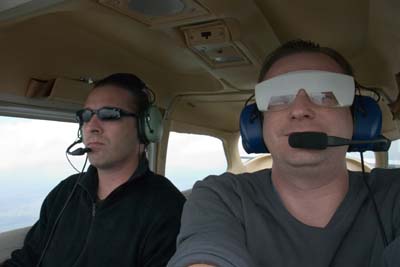 I did a full ILS rwy 25 practise approach at cruise speed, which was an interesting experience ! In the video below, I was under the hood doing my banana-approach until approx. 200 ft AGL. At Decision Height, BelFlyer announced a missed approach, and off we went full speed towards the east.
We passed overhead the miltary airport of Chievres (EBCV), whose main runway was undergoing some refurbishing it seems.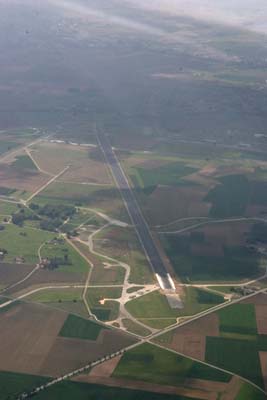 I did another full practise approach at Kortrijk (EBKT), this time their Localiser-NDB-DME-rwy 24 approach …
After having landed, we looked back at a very interesting experience to add in the logbook … and a crazy family adventure to remember… and by the way … my brother had a lovely bike tour, my father arrived well with the truck, but I was first !!!