I had to do some handywork in the south of France, and just like last year, I opted to use the airplane to fly from Belgium to the Aveyron – of course … The Aveyron is a department squeezed in between the Lot and the Languedoc region. A beautiful area, not very well known amongst tourists, yet that's what it makes it even more attractive.
The weather was perfect for this VFR flight. I took the classic route down via the east of Paris: Kortrijk – Cambrai – Reims – Troyes – Moulins – Clermont-Ferrand – Aurillac – Villefranche. I planned for a fuel stop in Aurillac in the Auvergne, and then onwards to Villefranche-de-Rouergue, my destination airfield. This was a solo flight.
Of course, I opted again for the venerable yet perfect Cessna 172 OO-WVS ! Take-off on a nice Friday morning, setting course towards Reims. And who says Reims, says champagne area ! The grapes were growing sweeter and sweeter in the season.
I climbed to flight level 105: 10'500 feet, or more than 3 km high. Air was thin yet very breathable there. No traffic, smooth weather: perfect cruising.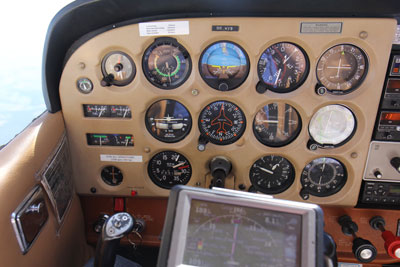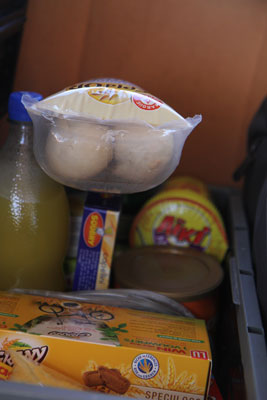 After Reims, I set course further south, passing the airport of Vatry (LFOK), home to many Ryanair flights. All the while, French air traffic control again offered a perfect service !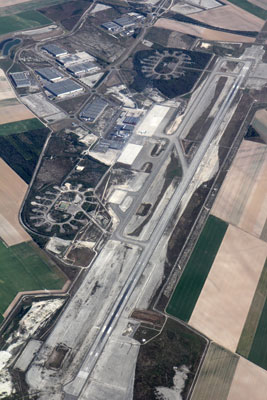 With the Central Massif nearing south of me and the Alps passing on my far left, I saw the Vichy airport (LFLV) passing under me.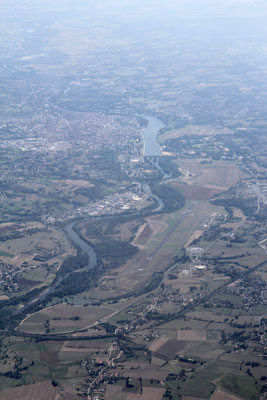 After Vichy I contacted Clermont-Ferrand approach, and I was cleared to pass their area. On my right, the Puy-de-Dôme was peaking into the hazy sky. Soon I found myself overflying the old vulcans of the Massif Central.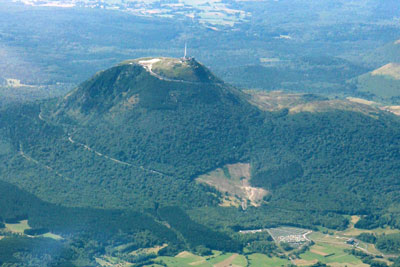 And amidst all the voilent display of terrain, the city of Aurillas is settled. The airport sits somewhat south on a flat area. Weather was CAVOK all the way, and soon I was cleared to landon runway 33. I do have a french Air Total fuel card and that serves me very well when having to top-up fuel in France. Almost all airports feature a Toatl fuel station, and so does Aurillac. I fueled up, paid the always moderate landings fees in the tower. Behind me a beautiful blue Pilatus PC-12 took off.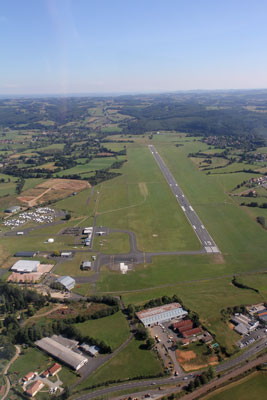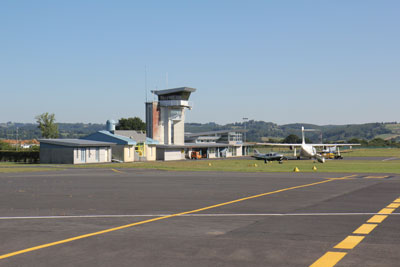 I setlled at 4500 feet, contacted Rodez Approach, avoided the Rodez TMA and overflew the beautiful Lot river into the north of the Aveyron departement. Peyrusse-le-Roc is a magical medieval place with an old ruin and a village being restored. Definetly worth a visit, but this time I just took a picture from the air.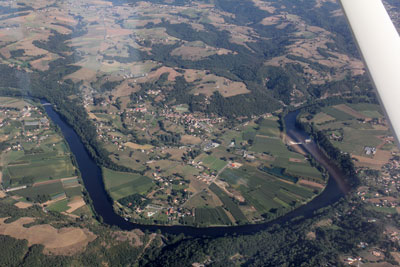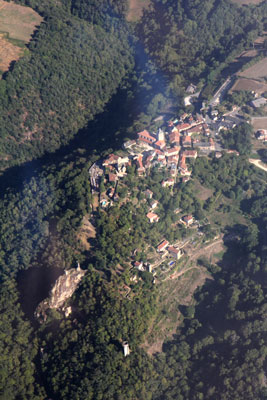 After 20 minutes of flight, I approached the grass airport strip of Villefranche-de-Rouergue (LFCV). This aerodrome sits higher than the city itself, and the approach towards the upwards sloping runway is rather spectacular.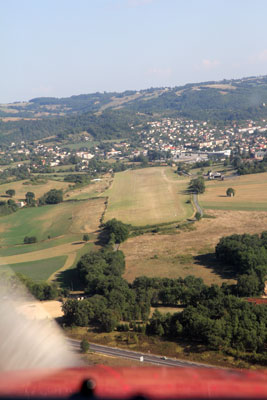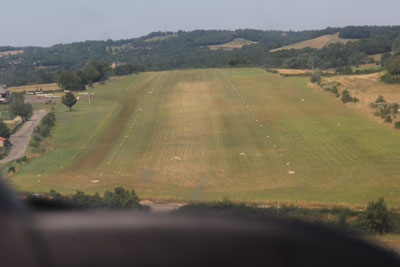 I parked the Cessna in the soft grass, blocked the wheels and let it sleep for the two days I wouldn't use my flying machine anymore. I had booked a taxi to bring me, my gear and my food towards my destination.
Two days later, the weather hadn't changed much. Maybe somewhat more hazy, but not in a disturbing matter. I had communicated with my friend who was in the Languedoc region near the airfield of Bédarieux (LFNX). I invited myself for lunch and planned a flight from Villefranche de Rouergue towards Bédarieux: from the Aveyron departement towards the Hérault departement.
This is how Villefranche de Rouergue looks like from the sky just after takeoff: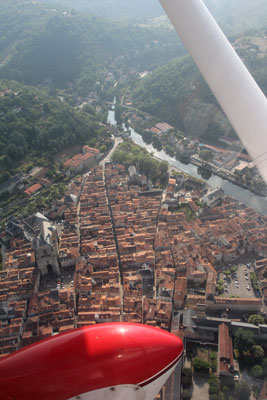 It was a hazy but beautiful flight towards Bédarieux airfield: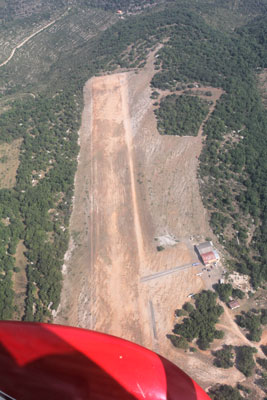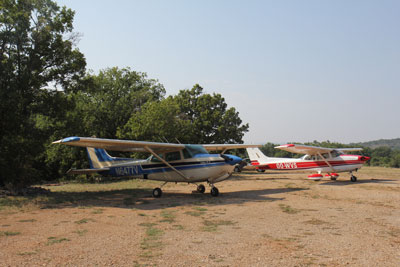 It was extremely funny to park my Cessna's next to N6477V where I learned some IFR flying in years ago !
Lunch was perfect: talking about flying and many other things. But soon, time was pressing and I still needed to fly all the way back north, including a fuel stop ! The plan was to fly from Bédarieux to Mende, Clermont-Ferrand and Vichy for a fuel stop in Moulins.
South of Millau I passed the airport of Larzac (LFCM), and soon the majestic bridge of Millau came in full sight on my left: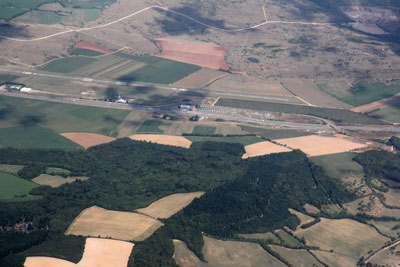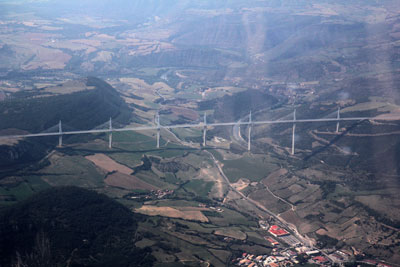 After that I passed the well-known iron railway bridge of Garabit, designed by Eiffel – the same architect as the Paris tower: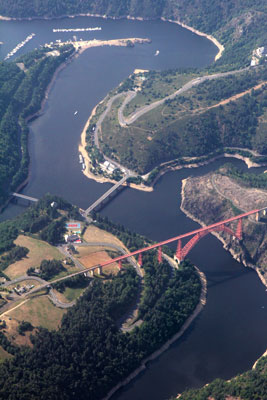 Next passage was the airport fo Clermont-Ferrand (LFLC) where an Air France flight was vectored to land under me.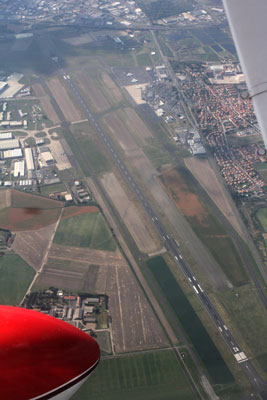 After Clermont, I started my descend into Moulins. I kept as high as i could, and I heard a Piper on the radio behind me, trying to pass under me, but he ddin't have enough speed in his wings to make it happen: I landed first 🙂 !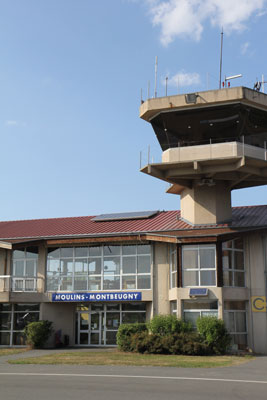 A quick fuel stop and the traditional visit to the tower to pay the fees. I think I performed a textbook Ryanair turn-around ! I was pressured for time as I needed to arrive in Kortrijk before sundown.
Back into the air, I passed Chablis, known for its fantastically smooth white wines. And the grass airport of Epernay-Plivot, holding some promise for a future trip. I already know the theme: "Champagne Run" 🙂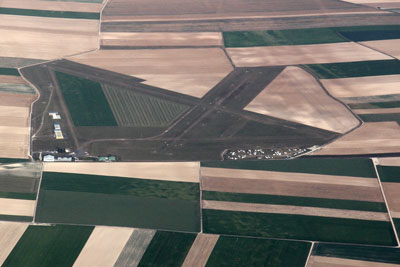 During these flights, I succesfully experimented with listening to music while flying: by just squeezing my ipod earbuds into the earcups of my headset, I could listen to music, while still listening and talking to ATC ! A nice way to entertain yourself. These flights amounted to almost nett 10 hrs of flying !
At the end of the flight, I passed Lille airport, northbound across the border into Belgium. I landed happily in Kortrijk in the sun: another satisfying long flight performed safely !