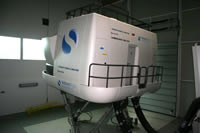 We were so lucky to have been invited to Sabena Flight Academy in Steenokkerzeel for two hours on a couple of full level D simulators. My colleague and me choose the Airbus A320 simulator on which I had trained before in FS2004.
First we had a professional briefing by an almost-pilot-being-instructor who was finalizing his required number of hours on such machines. After the briefing, we were allowed to enter the Holiest of Holies. The beast was amazingly roomy (more roomy than its real-world counterpart up front). Our instructor initially set us up for a Cat II approach on runway 25L in Brussels. After vectors to Flora VOR, we made two almost-flawless instrument approaches, followed by nice landings albeit with a little help from the right hand of the instructor. Upon landing we were being magically transferred to Funchal airport on the island of Madeira. This airport has a dramatic visual approach, followed by a landing on a too short runway. We got to make a couple of visual approaches, and I came in too fast too high. The resulting landing can be experienced on the below video.
Check out this small movie on landing the A320 sim in Madeira:
Next, we were set up for an approach towards Kränebitten airport in Innsbrück, Austria. The approach is pretty dramatic in between the Alpes mountains. Also the missed approach section is pretty interesting as it is featured close to some granite walls. The airport has an offset localizer approach from the Rattenberg NDB. It was great fun, completely realistic and no: we didn't crash the thing as pilots, even if they are not professional, shouldn't do.
If you ever have the chance to fly a real simulator, don't let the chance pass by. It let's you taste of what professional pilots have to go through. There you learn how a thing that hardly moves and never leaves the ground can create a breathtaking, sweat-inducing experience. And oh yes: it doesn't cost as much as flying its real-flying brother.