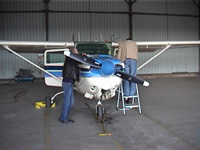 A friend of mine owns a Cessna 172 RG (with retractable gear). The plane also features a 180 HP engine, variable prop and cowl flaps, putting it into the 'complex' category of airplanes as per FAA. It cruises at 130 knots which makes it a truely fine traveling machine. What is even finer: the cockpit has been spoiled with various nice and modern add-ons such as a Garmin 530 GPS with moving map, a Sandel Electronic HSI , three (yes 3) radios and other assorted stuff which renders this already fine machine into a more safe machine perfectly fit for IFR touring.
One problem has not been solved: the thing consumes fuel. In order to suppress costs, the owner is flying from time to time to Southend in the UK as the fuel is much cheaper there then on the Continent. I was honored to have been invited on one of such fuel trips. He did the leg towards the UK, and I could fly back to the Continent … all of it in utterly legal IFR as our IR instructor flew along with us in the right hand seat.
From the way point TRACA near Calais, we were given a direct to DVR and then onwards to SND NDB on the Southend airport. Normally the SID into Southend calls for a long and tedious procedure which puts you almost north of London before you can turn east again towards Southend. With the 'direct' we all saved that. A couple of miles south of SND, we were vectored on the downwind, and later base for intercepting the ILS towards runway 24.
When we landed in Southend, the first thing we saw was a Boeing 707 in old Qantas Australia colors being placed there for maintenance. We first thought that John Travolta himself had landed there, but then it turned out that the venerable craft was here for long term maintenance. John Travolta only flies immaculate 707s…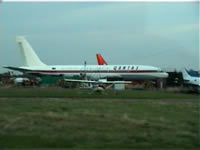 For the return leg, I had the honor of the left seat. Before I noticed I was back on the Continent, performing an ILS approach in the dark. Nice trip to the fuel pump !