It has become a tradition to go on holidays with our friends every so often years. This year we had chosen to rent a nice villa in Arezzo in Tuscany, Italy. In fact, this year, my mind was not set on flying at all. Five years ago, I had taken my friends aloft, so I did not think of doing it again as our time together was limited. However, when I arrived at the villa, and looked outside from the terras, the first thing I saw was a Pilatus PC-6 Porter taking off from an airfield down below: Arezzo's local airport (LIQB) … in full view from our villa … At that very moment, my obsession took part of me, and I knew I was lost: I had to go flying again !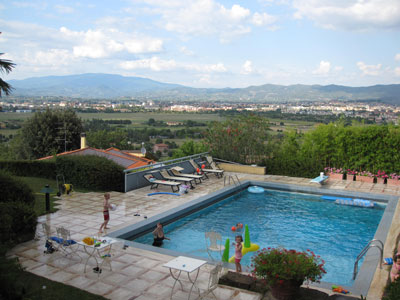 The PC-6 Porter was bringing parachutists to 14'000 ft. There was a continuous flow of parachutes and the way the Porter pilot performed his chore was quite impressive.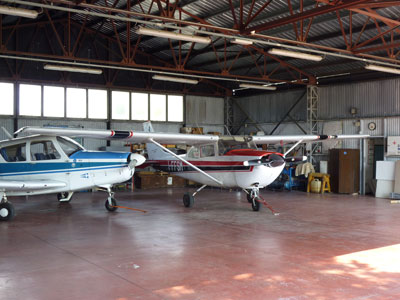 That same day, I could not resist to go check out the airfield: the busy parachutist operation (Skydive Toscana), and next to that the laid-back Aero Club Arezzo. A tandem jump sets you back 220 EUR (including the flight with the Porter, which in fact interests me more). A flight with the local old Reims Rocket (Cessna 172 with a 210 HP engine) was price: "ah we will see about that"…
With the 'instructor' riding along, I could take two passengers per flight. I gathered my friends for two afternoon flights so I planned to take 4 friends up: one western flight to the historical city Siena, and another southern flight along Cortona to Lake Trasimeno. Headsets ? Ah, we don't need them: "you hear the engine better without" …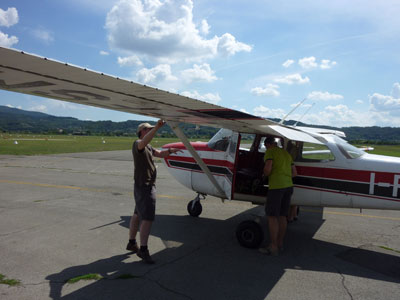 I-FFSM was a venerable Reims Rocket with adequate instrumentation, of which we did NOT make ample use …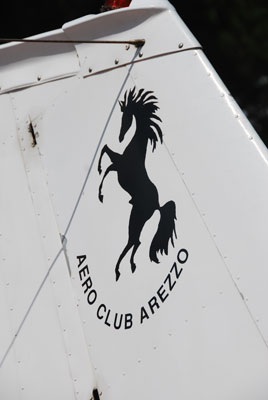 The 'instructor' joined me inside the cockpit. He spoke half English, half Italian. I spoke half English (level 6 though !), half spano-french-italian. Most of my remarks or questions were met with "ah, we don't use that here". It applied to landing lights, checklists, headsets and prime.
I took the first two passengers on a flight to Siena, a beautiful historic place, about 20 minutes flight southwest from Arezzo.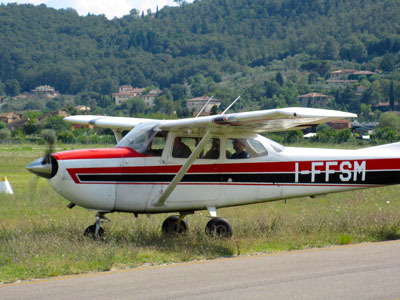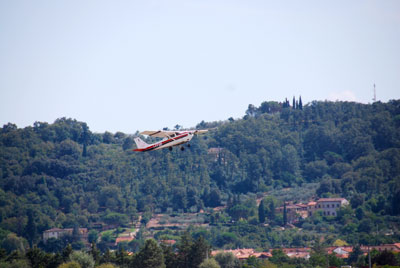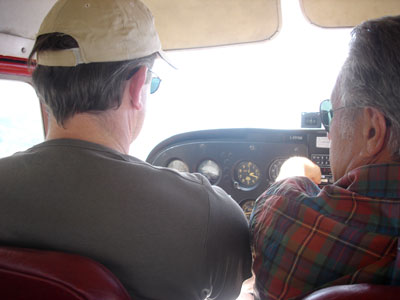 The 'instructor' preferred to fly the main altimeter on QFE (reads zero ft when on the airfield). That confused the heck out of me until I discovered the second altimeter which i drove on QNH. When flying 3000 ft on QNH, the QFE altimeter read 2200 ft, and the difference is the altitude of the Arezzo airfield … ah the math worked at least…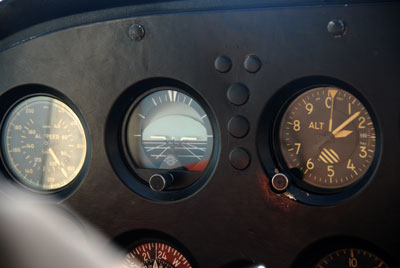 We did a couple of 360-ies under command of Siena Tower. They spoke Italian with the instructor of which I did bot understand a single word. But handlanguage and other bodily signs helped to improve the communication… I assumed.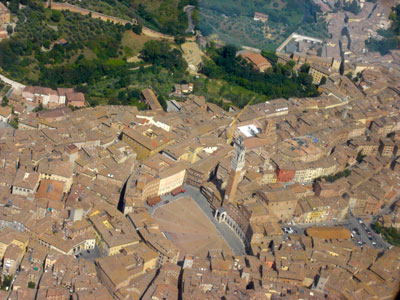 The second flight took us southbound via the beautiful hill-preched village of Cortona to Lake Trasimeno and back to Arezzo.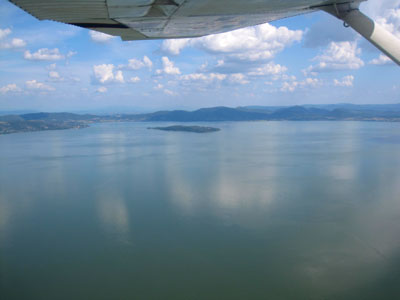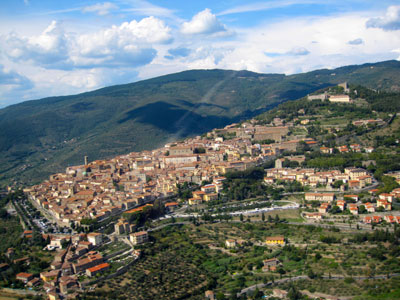 The landing was bad. When one meter above the runway, the stall horn came on, and the 'instructor' pushed the wheel down. We landed heave on one main tire, bumped back up and came down again. I simply hate it when two persons perform a landing at the same time. My landing was under control, his nerves were not…
Anyway, it's a beautiful country, flying is great. Their operational procedures were not up to my standard.
Thanks to my friends: passengers & photographers.