It is almost becoming a yearly practise now: whenever I am in Las Vegas for business, I feel the urge to rent an aircraft and fly eastbound toward the largest marvel in the world: the Grand Canyon. I was flying there before in 2008 and in 2010. This time I had promised this flight to a colleague of mine, so I set out renting again a trusted Diamond Star DA-40 at Mojave Aviation / Monarch Sky at Henderson airport, south of Vegas.
We had taken a day off and we wanted to use the full-full day to get as much as flying into it as possible. Remember: flying is cheap and well organised here in the USA : flying heaven ! So we got up very early and had made rendez-vous at Jean airport (0L7), a small field 45 minutes south of Vegas where the instructor and the aircraft were waiting at 6am. Well … it was very empty there and on the tarmac there was no Diamond Star waiting. So we returned to Henderson airport where we found somebody after another hour of waiting.
The Check-out
I did the proverbial quiz and we set out with the instructor to check me out with some airwork: the classic stalls, steep turns and touch-and-goes. We landed the Diamond Star DA-40 N165PS at Jean and dropped off the instructor and we were set free like birds! We fueled, filed a flight plan to Grand Canyon West airport (1G4) and took off. We programmed the G1000 system first over the Hoover dam near Boulder City, and then onwards to the east towards the Canyon. Over the Hoover Dam we did a 360 for some pics and some movies.
Grand Canyon West airport is owned and operated by the Hualapai tribe of native Americans. It's the nearest canyon airport to Vegas and is very well know for its helicopter tours inside the Canyon and for its Skywalk, a piece of sturdy glass protruding over the canyon. We were warned that landing at the airport attracted an unusual high landing fee … but it could be waivered as long as you took the 'tour'.
We flew from Hoover Dam south of Lake Mead to the airport. I had to avoid penetrating the forbidden zone low over the Canyon, but there was a hole in that airspace that allowed me to maneuver towards Grand Canyon West airport. And of course, that hole showed nicely on the MFD. As soon as I got on their frequency, I heard a lot of buzzing from chopper traffic bringing tourists into the canyon … man it was busy there with choppers ! The airport lies literally at the rim of the canyon: a fantastic approach ensued !
We landed, taxied, shut down … and guess what: we took the tour. A bus shuttle brings you to two points of interest: Eagle Point and Guano Point.
Eagle Point
At Eagle Point you will find the Skywalk, but just walking up to the canyon rim and standing there gives you as much tickles and itchiness as the expensive glass bridge. There was basically no secuity, nor any fence, so for those interested in taking a plunge down for a couple of seconds: nobody would stop you ! It was simply beautiful: the full expanse of the west side of the Grand Canyon at your feet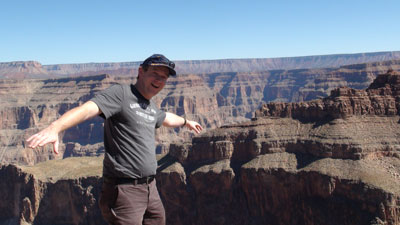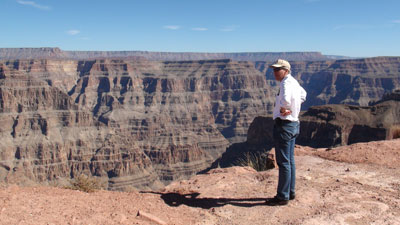 We had lunch and watched some native American 'performers'. We took the shuttle bus to the next stop.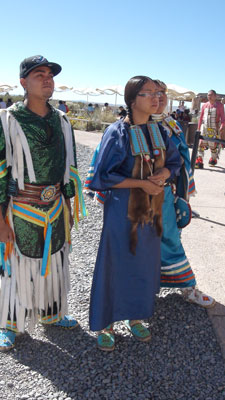 Guano Point
A bus stop further lies Guano Point as it was the place where a cable car was built that brought up bird poo ('guano') from a cave inside the canyon. The guano is a powerful fertiliser. The cable car is long gone, but the construction remains, and the Canyon of course, is as breath-taking as ever.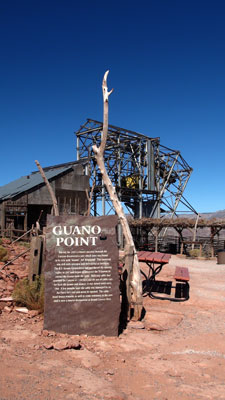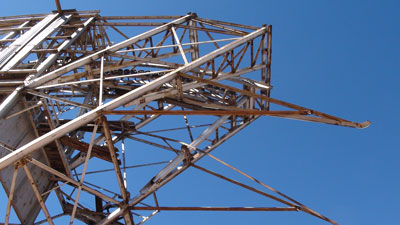 We strolled towards the construction and peeked again inside the Canyon. A green blinking Colorado River down below! And a constant stream of tourist helicopter whizzing by: how fantastic can life be !?
Then we returned to the airport to continue our flight over the Canyon … at least … that's what we expected !?
Battery problem !
We boarded our beautiful Diamond Star again and set out to program a couple of waypoints into the G1000. In order to safe some money, I did not start-up the engine yet, so we consumed about 10-15 minutes of valuable battery time while trying to put the necessary waypoints in the G1000. When we were ready, I started up and the only thing that happened was: CLUNK! No rotating prop, just a little movement, and then nothing … I tried a couple of things more, checked the Pilot Operating Handbook, but nothing helped: we had a dead battery !
To make it worse, we were in the middle of a desert, on a privately operated airport, far from any decent civilisation, let apart an airplane mechanic. I had read in the POH that the airplane was equipped with a external power receptable, and it operated on 28V. So we got out with a double plan: 1. check if we can find a mechanic and/or a fitting generator, and 2. call Monarch Sky and ask what to do. While I was still looking for the telephone number, my colleague set out to handle plan 1. After 2 minutes he returned with a big smile and a big thumbs up: he had found a guy with a generator on wheels, offering 28V on a classic airplane power plug: this was our lucky day!
Despite our luck that day, I was cautious on how to start up with the generator as the power plug was located dangerously close to the propeller. So I instructed the generator man (I tipped him first) and my colleague what to expect and how to behave close to a whizzing prop. We started up, it all went well, and soon we were taking off again eastbound towards the Canyon.
Flight over the Canyon
First we had to climb again to 8000 ft so we could fly over the Canyon as per the local charted instructions. At 8000ft we headed west: the beautiful vast scenery opened up to us. It was breathtaking as ever! We flew like half an hour east into the Dragon Corridor, and with a reall sorry feeling we returned west. Weather was gorgeous, the Colorado River deep below up kept surprising us. The red, browns, yellows and greens of the myriad of Canyons kept our wandering eyes busy.
We have it all on video, and in due time I will stitch it properly together so you can enjoy with us.
We returned via Lake Mead towards Henderson: my third time over the Canyon was again perfect … except for the battery…