Dassault, the French manufacturer of the Rafale fighters and the Falcon business jets, was so kind to invite some industrials to their factory in Bordeaux, France. As I had just obtained my EASA instrument ticket, I thought it would be a perfect trip to fly down to Bordeaux instead of taking the commercial flight, or drive there from Belgium.
Flight Preparation
So I booked the Piper Warrior III OO-JAB from Propeller for those days of the visit and launched into preparing the route. I made extensive use of RocketRoute, Jepp charts, SIA, Olivia, Belgocontrol, meteo.fr, … After checking the weather, it looked like this trip was doable.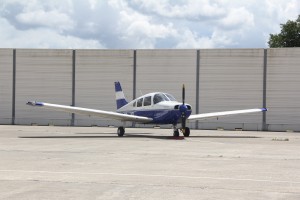 I also should add that I had bought an oxygen set after reading reviews on Euroga.org. The oxygen allows you to climber higher then say 10'000ft, so you can fly above the weather when needed. It just increases your safety margin a little when flying IFR in single engine piston airplanes. It is basically common sense when real-IFR flying. The oxygen system I had chosen comes from Mountain High Oxygen, and it comes with a oxygen providing system that only gives a puff when inhaling. It uses a cannula that goes into the nose, not unlike a medical system. It leaves plenty of flexibility to do the necessary work in the cockpit. I bought it from MH's dealer Glider-equipment in Holland from whom I received good service. I filled the oxygen bottle at a local diving shop: no issues!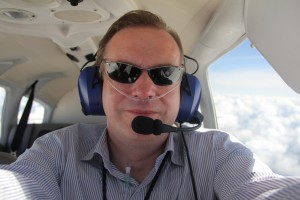 Flight planning called for a fuel stop (and a sanitary break) halfway between Kortrijk (EBKT) and Bordeaux (LFBD). I chose Le Mans (LFRM) due to its availability of Total avgas, from whom I have a fuel card.
Going leg: Kortrijk – Le Mans – Bordeaux
I started up early in the morning, donned my oxygen system and obtained my IFR clearance from Kortrijk Radio. From there I flew south into France, while switching over to Lille Approach. I continued onwards to Abbeville, Dieppe and Rouen. I had filed Flight Level (FL) 120 or 12'000 feet. At 5000 ft predictably the oxygen system started working: giving me a puff of oxygen at every inhalation.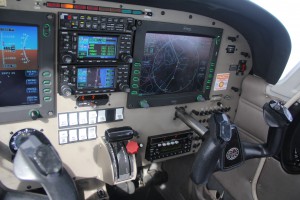 The aircraft out climbed every cloud towards 12'000 ft. I was happy with the oxygen system. The sun came down on me, and I was hand-flying the aircraft the whole time (no autopilot). After Rouen, it was a short flight to Le Mans. French ATC cleared my descend and I performed the GPS approach to runway 02.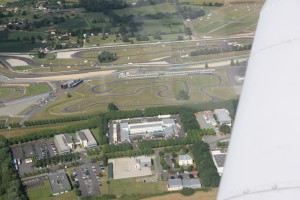 It was nice to overfly the well-known car circuit of Le Mans, very near to the airport. I taxied to the fuel pump and topped her off.
I paid my moderate landing fees, went for the sanitary stop, and in no time, I was into the air for another IFR flight from Le Mans to Bordeaux-Mérignac. At that time, temperatures were rising and clouds were beginning to form below.
I flew via Aigle, Poitiers towards the Cognac VOR. All went extremely uneventful. IFR flying is as always very convenient. Bordeaux Approach announced my descend. I could come down to 4000ft. ATIS called for some rain in the area, a leftover of a weak lingering front that came in from the Atlantic ocean the days before.
I could expect the ILS to runway 23 with vectors to final. An Easyjet was doing the approach before me. Of course OO-JAB was much slower. When locking onto the Localiser, the rivers of Dordogne and Garonne were flowing under me, including all of the high quality vineyards that make the Bordeaux wines.
After a while, runway 23 and the whole Mérignac airport came into sight.
After the landing, I taxied via the taxiway adjacent to the terminal towards the Dassault factory.
I had asked Dassault permission to park at their factory, and a follow-me car was waiting for my humble Piper at their entrance gate.
So far mission accomplished!
I spend the next day and a half with business meetings and visiting the extremely impressive factory. The Rafales and Falcon (5X, 7X and a mysterious bigger one (8X !)) were a true sight to behold. We even saw a brand-new Rafale leaving the factory in style: with full afterburner from runway 23 up towards the French airforce!
Return Flight: Bordeaux – Le Mans – Lille – Kortrijk
After all the visits, time had come to fly back. My pilot- en business-friend, who had come with a commercial flight from Lille, wanted to come along. So I had good company for the return flight.
We preflighted OO-JAB, and donned the oxygen system. We had filed again for 12'000ft, but weather called for some more convective activity so, we could go higher if needed with the oxygen on board. Ceiling of the aircraft is 14'000 ft.
We had some trouble getting refueled, but we managed that after all. We got our IFR clearance and took off from runway 23 again.
We climbed to 12'000 in and out of clouds and were cleared to Poitiers VOR. We noticed that the clouds below were getting higher and higher, and closer and closer to our altitude. The convective activity was happening below us, and we figured that it wouldn't take long to be in clouds at FL120. Temperature at that altitude was -3°. So I suspected that convective cloud + negative temperatures could imply airframe icing. My humble Piper is anything but de-iceable. Up till now I was in VMC, so I had an escape plan if needed.
Somewhere near Poitiers, I entered the cloud at FL120. Almost immediately I heard water or ice pellets hitting the windscreen, which quickly took a small layer of ice (click photos below to see effect). As planned, I started my 180° turn at rate 1 back to the clear. At that moment, ATC was talking to someone else, so I could not tell them immediately about my turn. But I figured that I was very alone at FL120. I manage to get my call in, told them about my turn and requested descend to FL060 "because of icing". That last notice turned the controller into a very co-operative mode. I must say that they were very accommodating and happy to clear me down.
The icing was very minimal, but very real. If I had continued into that cloud (or any cloud in that area), complete icing was gonna happen fast. A lesson learned, and the plan worked. We continued the flight at FL060, above the freezing level.
We flew towards Le Mans where we refueled again. From the ground we saw a rainstorm looming over our flightpath, so we waited 20 minutes to let that pass by, following the culprit on the rain shower radar through internet. When clear, we departed northbound.
We didn't venture high this time. We settle in between FL60 and 4000 ft, keeping us clear of the convective activity around us. This turned the trip into a quasi-VFR trip, although we were continuously under IFR. Low IFR outside established airways works in France.
It was beautiful! Rainbows and rivers demonstrated the privilege of flying to us.
As my flying companion had left his car in Lille, we diverted to Lille airport for a quick stop. ATC accommodated the diversion nicely.
Just before Lille, we entered full IMC again.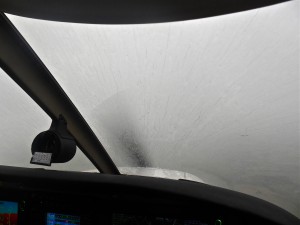 We landed and dropped him off at the GA terminal. I quickly filed online a new plan through Rocketroute from Lille back to Kortrijk, where I happily landed again after this two-day trip to Bordeaux.
My god, why is this hobby so beautiful and so addictive ?