Planning
Atlanta called me in for work again, and I had again another weekend there to waste. I had sweet memories of flying to the east, so I checked again if I could do another flight towards the east. In view of this trip and also because I tend to fly in various places in the US, I had done the OpenAirplane checkout the night before. After that, I had the airplane (a well equipped Cessna 172 SP N375SP) for me for the whole weekend.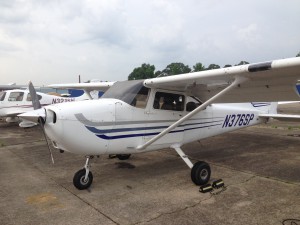 There were a couple of things I wanted to do:
Do a lot of real-world IFR flying as a preparation to my planned EASA IFR rating conversion. Idea was many hours and many approaches as a thorough training.
Fly into Asheville, North-Carolina (KAVL). Why ? I donno… I guess this airport had always attracted me as it sits in the Appelachian mountains.
Visit my IFR exam location again in Raleigh-Durham. Why? Because I did get my FAA IFR rating there.
Fly to the coast towards a typical US beach vacation place. Why? Just because I had time to burn.
So my plan became:
from Peachtree-Dekalb (KPDK) to Lawrenceville, GA (KLZU) to buy some the necessary charts and maps at the local pilot shop there
from Lawrenceville, GA (KLZU) to Asheville, NC (KAVL) so I could see the Appalachian scenery form the air
from Asheville, NC (KAVL) to Raleigh-Durham, NC (KRDU) to say hello to the local FBO where I did my IFR flight test
from Raleigh-Durham, NC (KRDU) to North Myrtle Beach, SC (KCRE) to smell the local beach scenery and sleep
from North Myrtle Beach, SC (KMYR) back to Peachtree-Dekalb (KPDK) the next day
My preparation tools were as usual in the USA: Duats and Airnav, with Foreflight on the iPhone, but I didn't use it (backup…).
From Peachtree-Dekalb to Lawrenceville
This was a short hop, and the controller didn't understand why I wanted to do this in IFR. But you know, I wanted IFR hours and IFR approaches … A short climb to 3000ft, followed by a vectored ILS approach onto runway 25.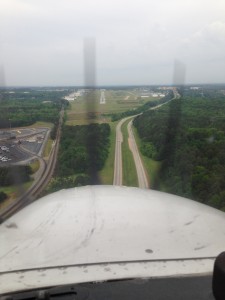 I visited the local pilot shop to buy the necessary charts & maps for my long trip. That training center was catering for PPL and IR conversions for some Singaporean military pilots.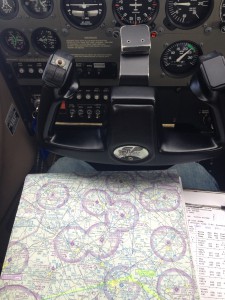 From Lawrenceville to Asheville
Next was the trip to Asheville. Flightplanned for about an hour via WOMAC V222 FREEZ at 7000 ft. This was a nice trip in and out of benign clouds. Good to get to learn the aircraft, its GPS, MFD and Strikefinder.
On the approach, I was assigned the ILS onto runway 34. When being vectored, I flew through the final approach course, and the controller nicely pointed it out to me. It turned out that I had not switched the CDI indication from GPS to VLOC. The classic mistake, and an important learning point.
I quickly switched it over and was able to do the approach as it should be. Landed and taxied to a random location where I could find an entrance and hurried to a toilet :).
From Asheville to Raleigh-Durham
This turned out one of the more memorable trips of my flying career. One that I remember clearly as "challenging". Problem was that I although I had checked the weather, I got surprised by a unexpected large stormcell. Let me explain how things happened.
Video of going into benign cloud
I filed for KAVL SUG V20 V310 CHAPL KRDU at 9000 ft (1h30m), but Asheville approach cleared me direct to Barret's Mountain VOR (BZM). Subsequently they warned me that a storm cell was developing over that very VOR and they advised me to avoid. I asked for a southern deviation as this would shorten my route, but they told me that Charlotte was doing plenty of approaches. So turning north was my only option. This lengthened my route and pushed me closer to mountainous terrain east of Asheville.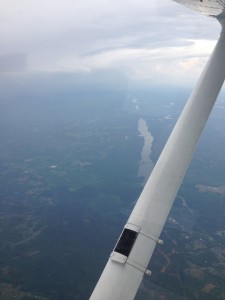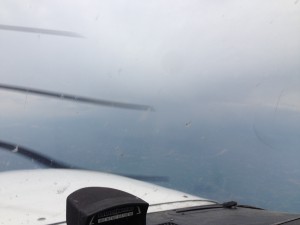 After a couple of minutes, I saw the cell looming large on my right hand side. I stayed nicely clear of it. The Strikefinder didn't find any strikes, consistent with the growing nature of the storm.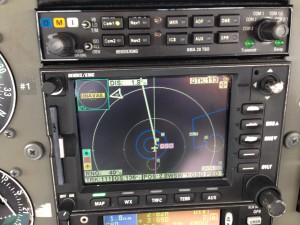 After a while, the controller asked if I had passed the cell because that's how it looked mike on his screen. In front of me, I saw some clearings in the clouds of the cell, so I said that I had passed the worst. He cleared me back on course to the right.
I entered the clouds of the storm rapidly and within seconds water came pouring down, entering my cockpit. Turbulence was moderate, and I left the autopilot on but helped it bu nudging the wings straight. My altitude swung up and down with a hundred feet. I was a bit scared. The Strikefinder was showing lighting flashes ahead of me now, so I decided to fly to the left again to avoid the worst part. I heard thunder close by. The controller approved, and after a couple of hair-raising minutes, I came clear on the other side of the storm. Rain and turbulence stopped as if nothing had happened. I took a deep breath. The controller came on asking how my ride had been. I said moderate turbulence and rain.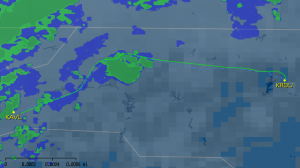 I continued on course to Raleigh-Durham and passed familiar terrain of Greensboro.
Soon I was vectored to where I trained for my IFR flight test: Raleigh-Durham airport.
I parked on my usual spot and walked to Flightgest, where I did my IFR flight test.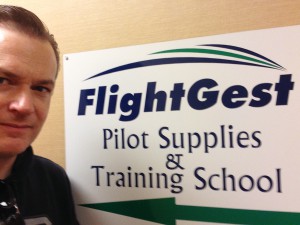 Of course, nobody knew me there anymore as it was about seven years ago, but it was nice to be back.
From Raleigh-Durham to North Myrtle Beach
I asked TacAir, the local FBO, to refuel my plane. I filed for the next leg to North Myrtle Beach, hung around and had a little drink and a snack.
Weather was much better now. I got into the air and received almost immediately a "direct to destination": great! Sun came through and the whole flight became a relaxed breeze, much unlike the flight before.
After a while, the coastline of the Atlantic Ocean came into view, followed by the outlines of the Grand Strand airport at  North Myrtle Beach.
I got vectored for the ILS of runway 23, I landed and taxied up to the local FBO. They arranged for a hotel and for a taxi. I had made it to the east coast again! Soon I drove towards the beach.
Stay at Myrtle Beach
I had a relaxed time. I scrolled the beach, had a beer, enjoyed the music at the bar, I went for a hamburger. Life is simple when you have a good time. I didn't know, but that week was "Biker's Week". It was full of Harleys there, including the older guys with the appropriate biker clothing and parafernalia …
From North Myrtle Beach back to Peachtree-Dekalb, Atlanta
Next morning, utterly fresh, I took the cab back to the closeby airport, and my beloved Cessna N375SP was waiting impatiently for me. It had been fueled and was ready to go.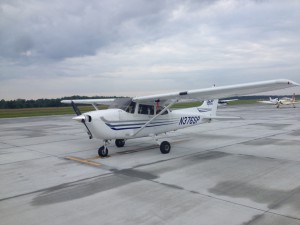 The flight was very relaxed again. The skies were very empty, weather was benign. I stayed reasonably low at 4000 ft and I followed the flight on the sectional charts.
After a while some clouds were forming below me, and I even was surprised of the ILS approach in full IMC back at Peachtree-Dekalb airport in Atlanta.
I arrived on runway 21L in sequence.
Well: did I do a lot of IFR on this flight! Both severe and benign. I logged 5 approaches, dogded a real storm and had a hell of a time !