As Belflyer has left for the States to become commercial and instructional, he kindly introduced me to his friend Dr. Feelgood with whom he has been flying in the past. Dr. Feelgood is a nice energetic retired medical practioner, private pilot and aircraft owner. He likes the presence of a safety pilot next to him when he goes flying. This is sensible and safety conscious as Dr. Feelgood is past 75 years already! Next to that, he likes company for a good chat, laugh and meal.
He invited me for a short flight from Kortrijk (EBKT) to & from Ostend (EBOS) on a lazy Sunday. Weather was forecast to be good, although hazy at start, but it turned out to be misty and rainy the whole day. Probably the grayest day of the year …
Cycling season was starting and on the Kortrijk apron three helicopters were eagerly waiting to get airborne to cover the race from the air: two choppers responsible for the radio connections from the ground to Brussels, and one with a stabilised camera mounted on the nose for the shots from the air (see below). There was a NOTAM out that called their airspace unaccessible up to 1300 ft AGL. Their airspace started from the beginnning of the race, till the end, marked by two cars with triangles on their roofs … try to spot that from the air … !?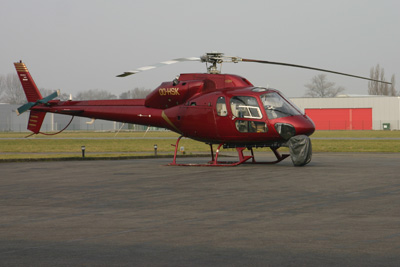 Dr. Feelgood owns a beautiful T-tail Piper PA28-201RT Arrow IV. Well maintained, well equipped and a true graceful lady in the sky. Rock steady and without vices. The plane is equipped with a 200 HP engine, retractable gear and a constant speed prop, very much like the Mooney or the Cessna 172 Cutlass from Lille. I have trained on these two recently and have been signed off. On top, for this gracious T-tail I had been trained by Belflyer and Dr. Feelgood, and was flight checked and signed off by an examiner a couple of weeks ago. So I can state that I am current on complex 200 HP aircraft.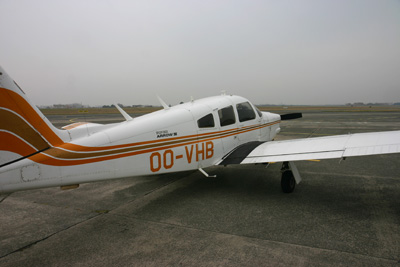 The Lady is parked on one of the most exclusive spots of Kortrijk airport behind a sturdy metal sliding door. I had preflighted the airplane before the Docter's arrival. Also I had repaired the broken intercom so we could use my headsets for the first time!
The airplane started easily. We topped of the fuel tanks (its 'cheap' fuel now: 1.85 EUR/litre …). We taxied to runway 06 and took off with a left turn out to the North to avoid the active Moorsele (EBMO) paradropping area. Once that was behind us, we turned left heading 330 direct ONO NDB, and I switched on the single axis autopilot. Visibility was bad, albeit VFR legal: not in clouds, in view of the ground and about 5 km visibility. We stayed low at 1500 ft and called Ostend Approach at 120.6 MHz for an early request to enter their TMA. We got a Special VFR clearance.
It was silent on the frequency. Nobody was flying, and it would stay that way.
We spotted the runway in Ostend and joined the righthand downwind for runway 08 immediately. There was some crosswind, but the Lady handled it fine.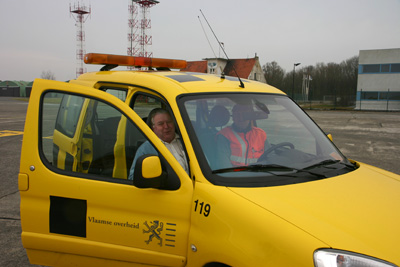 The courtesy car / follow-me van picked us up at apron 3 for the usual ride to the main terminal. This time we received a security card tio be able to pass security again when returning to our craft. As always, there were plenty of old cargo aircraft around in Ostend. The DC-8 below serves merely as a scare-crow for birds …. and not being good at it.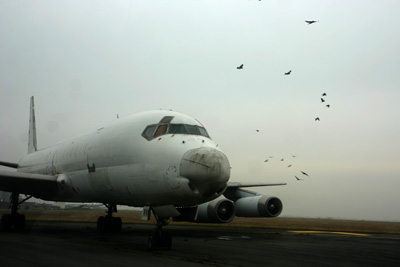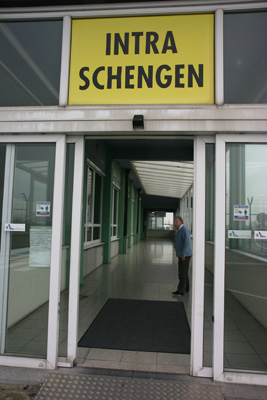 Never, ever have I been in Ostend where I saw actual passengers … The baggage hall was empty…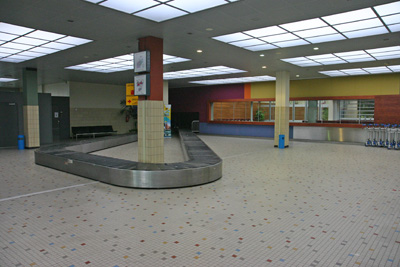 … the customs were empty …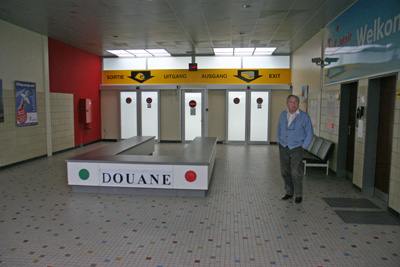 … and the check-in area was empty !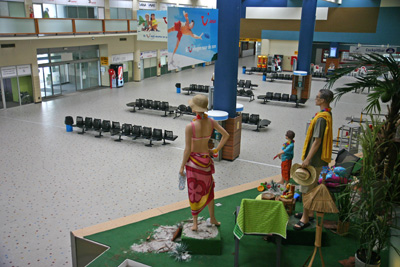 Everything very clean and well maintained … but empty … except for the restaurant ! When we entered, we were the first, but there was only one table left which was not reserved. And indeed, after a while, the place was packed. We thought that the people came to watch planes and eat a bit as the restaurant features a nice view onto the tarmac and runway. But during the time we were there there was only one aircraft, a Warrior, performing an engine failure after take-off … pretty scary to see really, but the guy/girl did a good job.
Anyway, we had a good meal … a good piece of meat as the Doctor put it !
We were a bit disappointed for not seeing our aircraft listed on the monitor. Next time, we expect this service for the ~29 EUR of landing rights we owed the airport !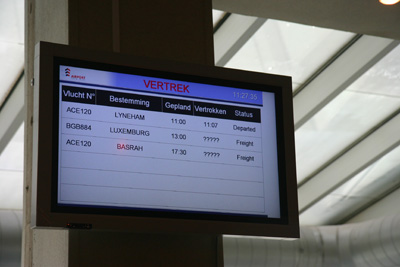 Despite the lack of GA trafiic due to the low visibility that day, there was a lot of cargo activity. We saw boxes, boxes, boxes of flowers grown in Uganda and vegetables from Tanzania being handled here. Really amazing !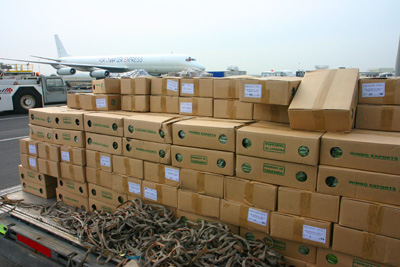 Flying back was as uneventful as the coming. We requested and received a Special VFR clearance to take off. The cyclist race hadn't begun yet, we were the only ones in the air that afternoon. A lefthand downwind brought us back to runway 06 in Kortrijk, and almost a straight taxi in the hangar … great day, great flying , great fun, great company !
OO-VHB was our Ostend Queen for the day … and still the only one that made it to Ostend.