My brother and me have a family party coming up, of which one of the major requirements is to have ample of spirits available. It was time to stocking up on wine, champagne and all the other similar necessities for a party. We happen to live on a three hour drive from the Champagne region in Northeast France: the area full of golden grapes between Reims and Epernay.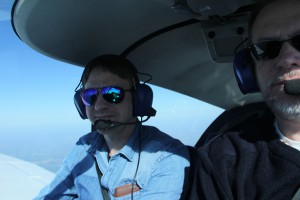 That requirement begged for another important decision: shall we drive down to buy Champagne, or is flying there deemed an acceptable form of decadence? This was a tough call, but after a short exchange of ideas, we settled on flying there ourselves and ditch the notion of decadence. Even better: my brother knew a good address to buy the Bubbles from, a local viticulteur whose winery is only 5km away from the Epernay aerodrome. And it turned out, that person is very good at his job too ! Check out Dhondt-Grellet. We called upfront and the viticulteur was willing to come to pick us up at the aerodrome for the short drive back to his degustation cellar.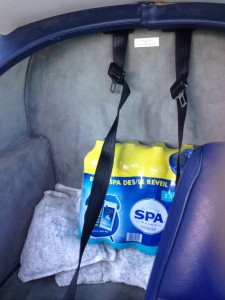 But it all started with water… You have to know that fetching a mature number of champagne bottles by airplane does really require a careful weight & balance calculation. One bottle (full) weighs about 1,8 kg. A box of six weighs 11 kg gross. And our requirement called for eight boxes, or 88 kg cargo … about the weight of a healthy adult who does not shy away from the wines. Leaving empty with full fuel, and adding the cargo without topping up the fuel worked out to be feasible. However, I did come accross another W&B challenge: with full fuel and two adults upfront, we were too nose-heavy in the chosen Robin 3000 from Propeller (see also this aeroplane also featured in "Breaking Altitude Record") ! The solution was to add about 20 kg of ballast on the tail baggage station. I did find it appropriate to choose eight two-liter water bottles  to balance. It would also appropriately balance the alcohol on board with water in the return flight, albeit only symbolically.
We were off the blocks at around 9am, making us the early birds on the apron. The IFR flightplan called out for a eastward leg to FERDI first, followed by following Y50 all the way south of Reims VOR, just like last month. We took off from runway 06 in Kortrijk, in beautiful spring weather. VFR would have done the job equally well. The flight was totally uneventful, except for some turbulence when descending from Reims into Epernay (LFSW). I also had to accept again to fly through uncontrolled airspace above Reims … starting to become a non-issue habit.
Epernay aerodrome is uncontrolled, VFR only and consists of two crossing grass runways, cast in the flat area surrounded by hills. It is on those hills that the Chardonnay and Pinot Noir vines are growing fully exposed to the sun.
We made a visual approach to runway 10 and landed on that 1000m long strip with a tad of crosswind from the northeast. While I called ATC to close the IFR flightplan, my brother called up the viticulteur to pick us up. It kinda reminded me of the spirit of my old "Crazy Family" blogpost.
It was not the viticulteur himself who showed up very promptly, but his friendly wife. She chauffeured us in her black BMW 535 towards their cave: That, ladies and gentlemen, is travelling in private jet style (on the cheap: without a jet or paying for a limo 😉 ).
At the tasting cave, we tasted … well: my brother tasted properly while I had to do with looking, smelling, drooling and spitting. As the Dhondt-Grellet vines are mostly Chardonnay, they make a very nice Sélection Blanc de Blancs Premier Cru, purely made with Chardonnay grapes. And that's what we settled on. 48 bottles we bought.
While 'tasting', another Belgian couple came in, tasted and chatted with us and the wife. In chatting with the viticulteur's wife, we learned that her husband also had a keen interest in all matters aviation! In fact, she told us that they had their private strip and ULM airplane in their hangar … Really ? Yes ! Really !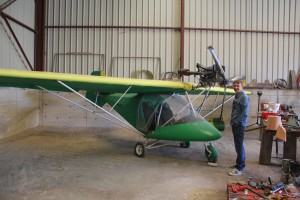 So she invited us to visit their hangar and soon we were admiring this green ULM airplane. The viticulteur joined the conversation and explained us how he loves to depart from his own strip. But he also admitted to having been scared a couple of time in heavy wind, and especially when he encountered some Mirage fighters bringing him in trouble with the drafts they created when flying too close to the poor ULM.
What a coincidence ! A wine farmer who is flying himself and who caters towards pilots… Fellow pilots: if you ever need a good excuse for a trip: contact Dhondt-Grellet, fly to Epernay and ask them to pick you up for wine-tasting: these guys deserve our business !
We were driven back with the trunk full of wine to the Epernay aerodrome, and we unloaded the 8 cartons inside the Robin. The eight bottles of water (from the ballast) met up with the forty-eight bottles of champagne and ensured a balanced aircraft.
We soon left the grass pistes of Epernay behind us, and climbed towards the North to Reims. We picked up our IFR clearance along the way from Seine Control.The flight back was again uneventful, and we received multiple 'directs' so the route was shorter then planned.
After a little over an hour, we landed back in Kortrijk after a visual approach and a righthand base into runway 06. We unloaded the bottles and started the afternoon. Mission accomplished !