We started the day full of good ambitious plans: we were the first at breakfast in our Medina hotel, we had ordered a taxi, and he showed up in time, we easily passed immigration and police at the Marrakesh airport … and then the shit hit the fan …
The night before, Fred and me had prepared our VFR flightplan to fly from Marrakesh all the way to Castellon, a small city at the Spanish east coast between Valencia and Barcelona. We planned to cross the Strait of Gibraltar between Al Hoceima and Almeria: an hour flight over water, but a nice shortcut. The Maroccan part was nicely planned follwoing the required VFR routes as indicated on our VFR maps. We had everything also programmed in our flight navigators (AirNavPro and SkyDemon), and we briefed weather and NOTAMs along the route. I filed the VFR flight plan via the Aeroplus app. We thought we were good …
This was our planned routing:
DCT TAMALELT DCT BEZOU DCT SOUK ES SEBT DCT BML DCT KHENIFRA DCT IFRANE DCT SEFROU DCT ISBAAINE DCT TISSA DCT TAHAR SOUK DCT ARBAO DE TAOURIRT DCT GMTA DCT BERUM DCT AMR DCT NARGO DCT VLC DCT
So that morning we entered the "C" office, and the officer immediately showed us a NOTAM on how closed the airspace around Casablanca was. No worries, we thought: we go northeast, and not northwest towards Casablanca. Then he told us there was something wrong with our flightplan. Good news was that they had the flightplan. Bad news was: not only was Casablanca closed, so was Rabat and so was about all military airspace north of Marrakesh, blocking us completely. It took them 30 minutes and 5 phone calls with the colonel to get it explained to us.
On top, they told us that we were not two pilots, but one pilot and one passenger, implying that we had to pay more landing taxes. We argued about that all the while we tried to argue with the colonel about his precious airspace…
At that moment, some magic happened: they started helping us. Another 30 minutes passed before we had a new plan with lots of detours and the plan to leave Marocco via Tanger (northwest) and not via Al Hoceima (northeast). That put our fuel plan to Castellon in jeopardy, so we decided to only fly to Jerez in southwest Spain and decide what to do later.
At that stage, Fred paid for the taxes (1 pilot, NO passengers 🙂 ). We paid the whopping fee of 66 Dirham, or 6.6 euro.
The flightplan got submitted and we were good to go.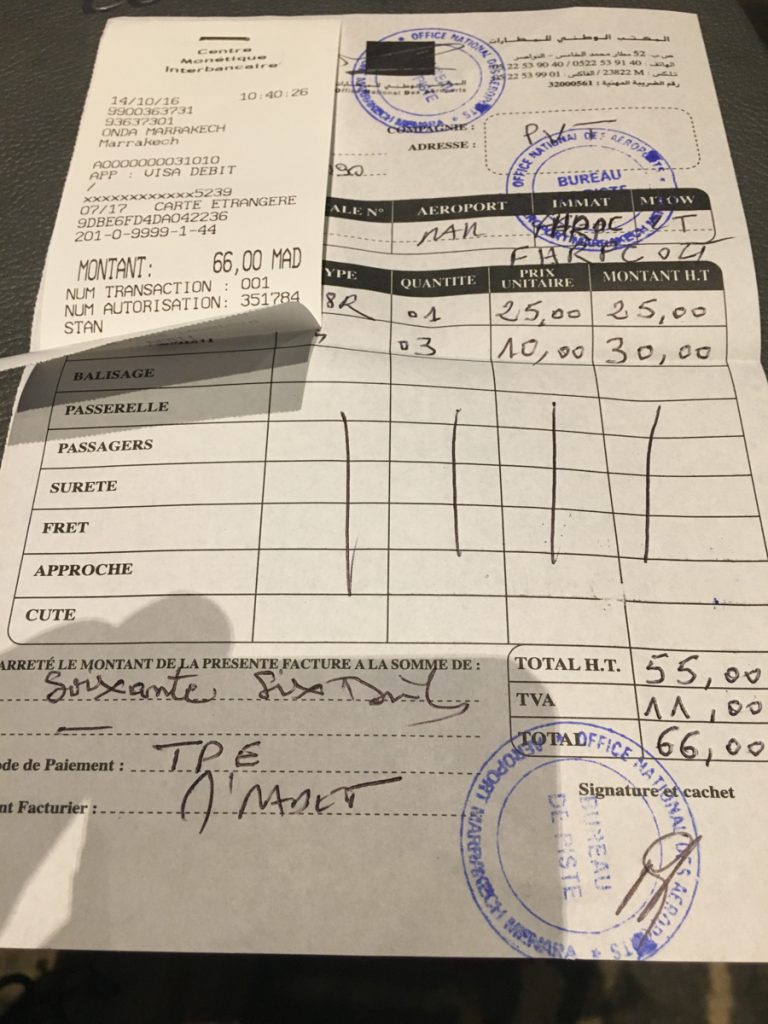 We saw that Papa Charlie received a lot of company over the two days we had not flow with him.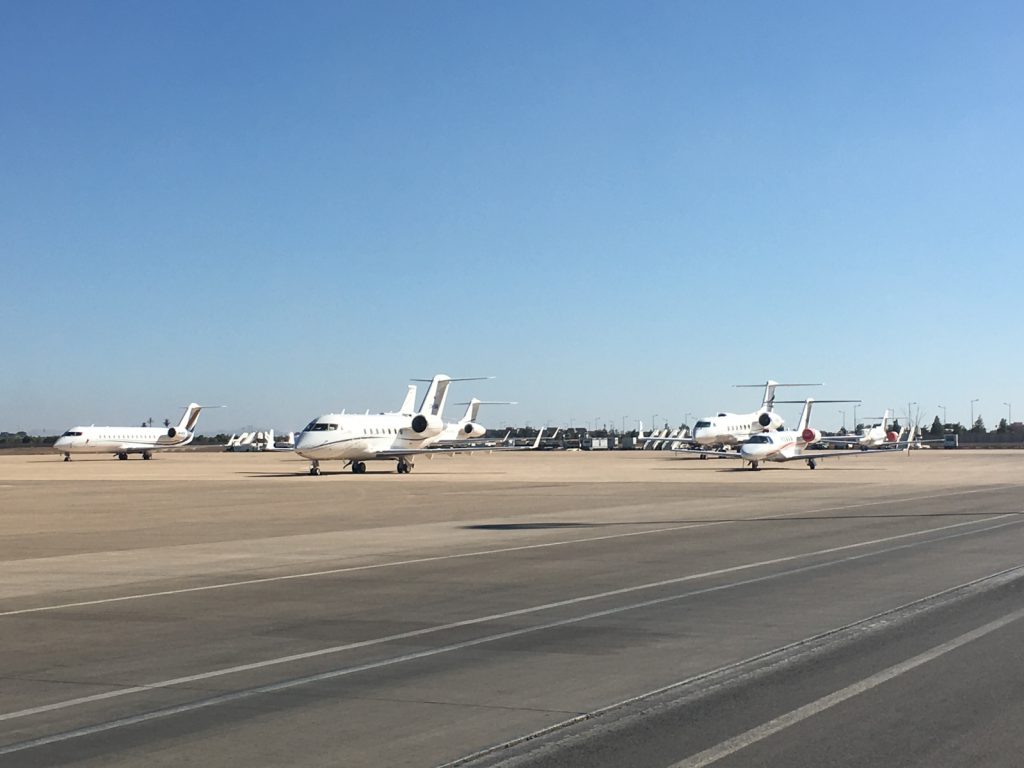 And we were happy to find him back in an excellent state.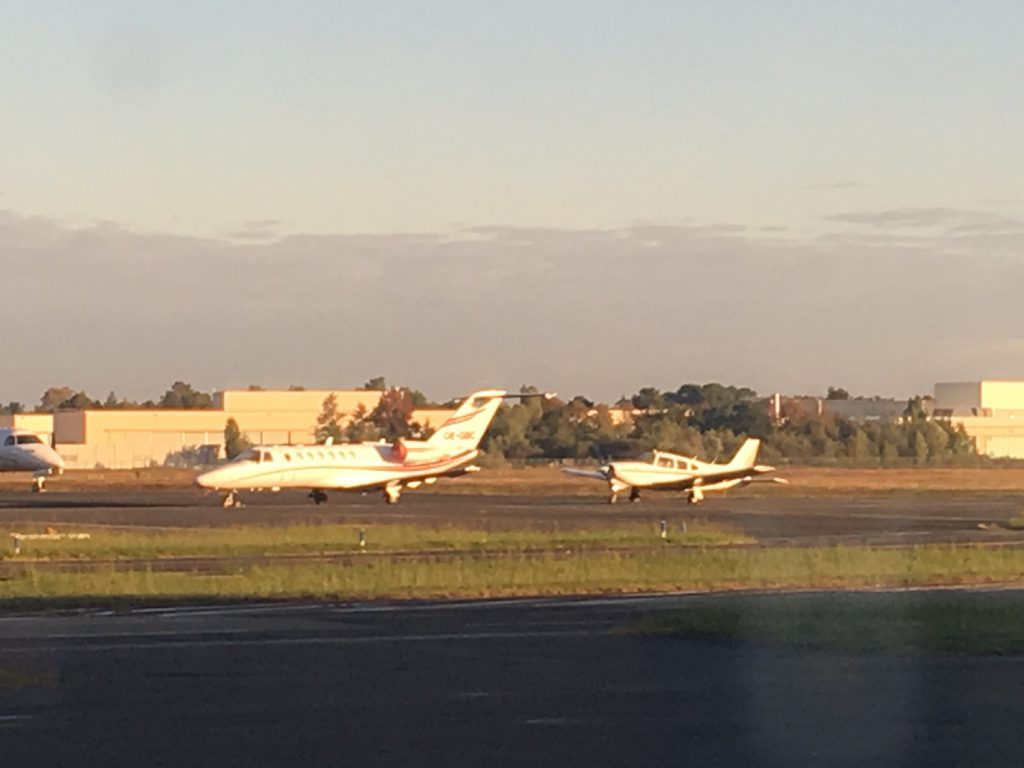 So I took off from runway 10, and started our zigzag in north Marocco, avoiding Casablance, Rabat and the military zones.
All photos taken by Fred by the way, thanks !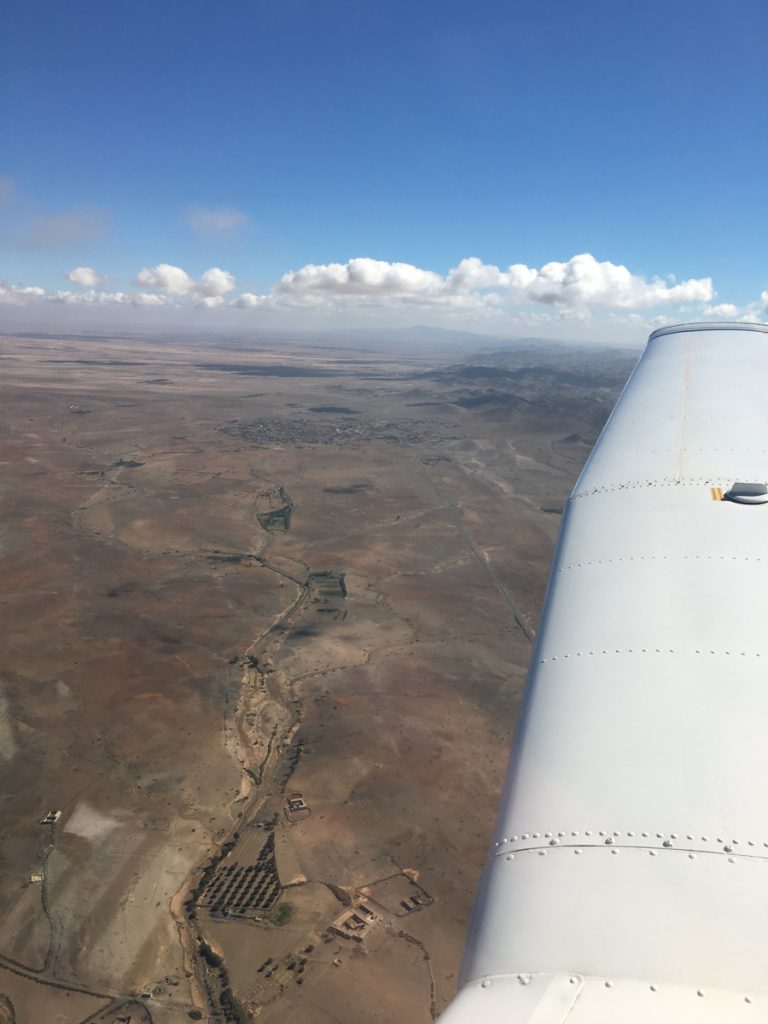 Even north Marocco is dry !
The only thing we couldn't really avoid was bad weather. And that is the exact problem with those prescribed VFR routes: they look good on paper, but it cuts back flexibility when weather is not good.
Around Tanger, we were forced to do some *very* special VFR flying.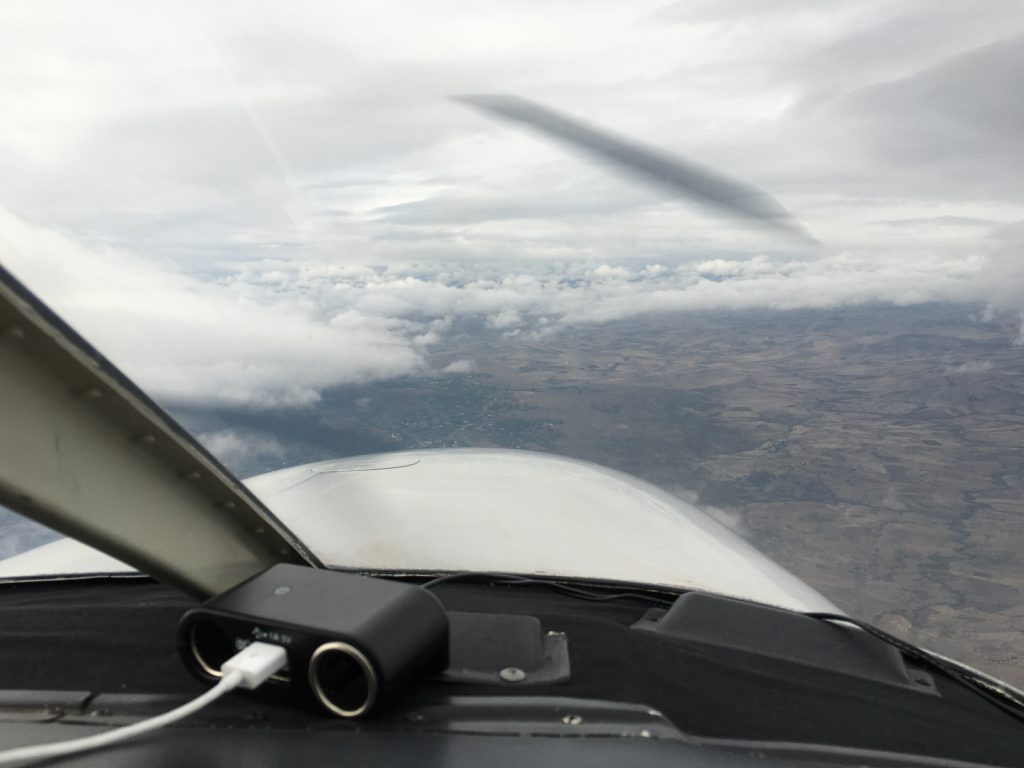 We deviated to the coast, away from the VFR route, and there the weather was luckily much better. Tanger Tower cleared us to cross the active runway all the while a Ryanair 737 was landing. He rolled out when we passed the extended centerline. I don't consider this a very safe clearance. Is this common at all?? Imagine the jet had to do a go-around with us passing overhead …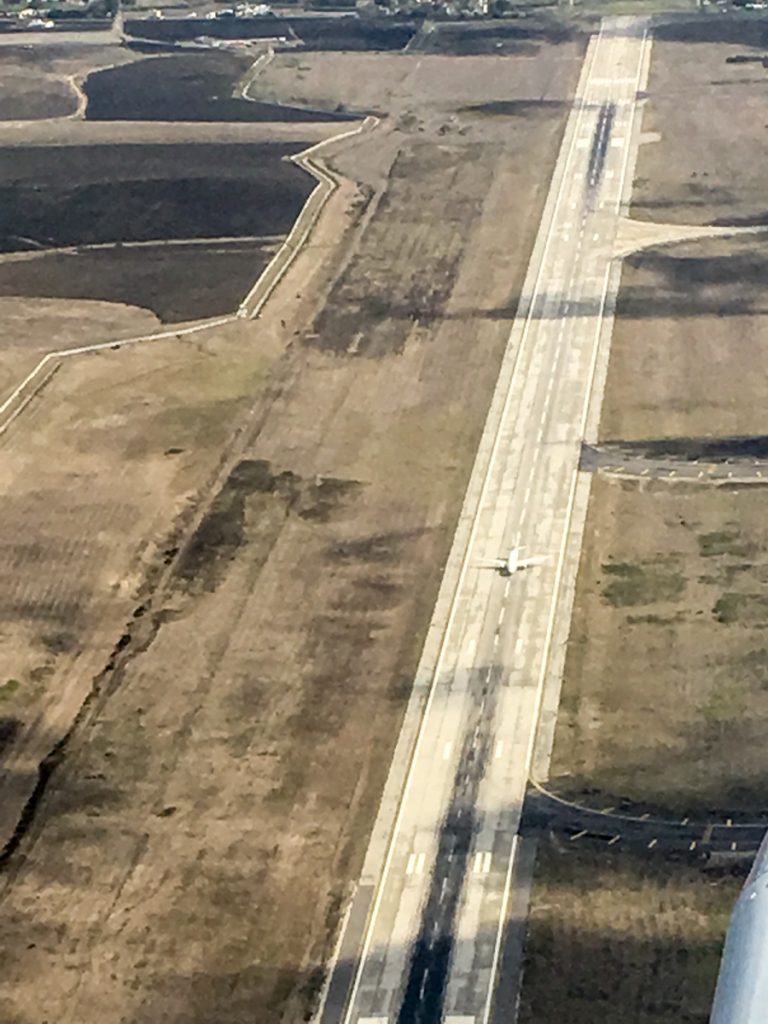 This turned out to be our VFR trip in north Marocco: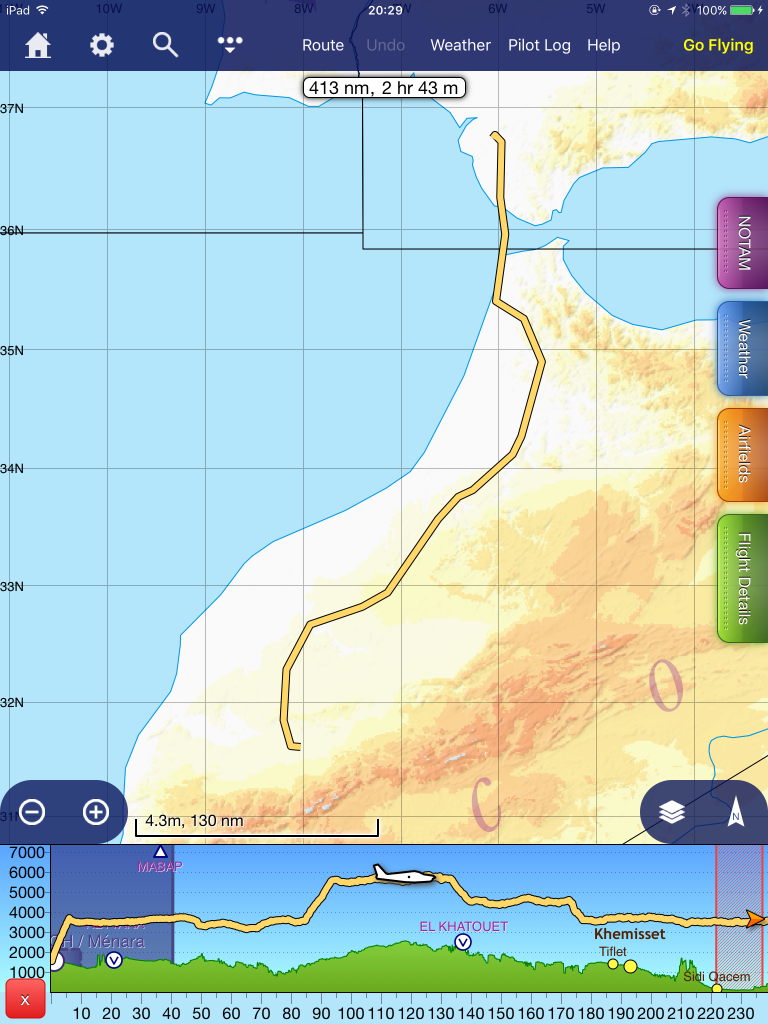 At the tip of Tanger, Africa ends. Africa turns into the water of the Gibralta Strait, and on the other side Spain awaits. We crossed the short strip of water and the weather improved: this must be Spain !
We started talking to Sevilla Approach, and she made us make contact with Jerez Tower. We were cleared to point E, 1000 ft … which was actually very low over the ground. There was also a lot of traffic at Jerez: a mix of students and commercial airliners.
We touched down and we devided the workload: Fred took care of the Police and the refuelling. I took care of the next flightplan and the landing taxes. We took the decision to fly IFR to Biarritz in the southwest of France.
When I was taking care of customs and landing rights, Fred explained me that Biarritz was not accepting our flight because of lack of parking space. So we decided to change our plan to Bordeaux-Mérignac. This would become a IFR night flight. And it only took me 15 minutes to prepare it with Autorouter, JeppView, SkyDemon and Aeroplus … ah those modern tools rock !
We had not accounted for Ryanair though. In Europe, Ryanair is everywhere … even in Africa. And everywhere they take precedence over us, lower grade airplanes. So we had to wait at least 20 minutes in the taxihold before we could take off…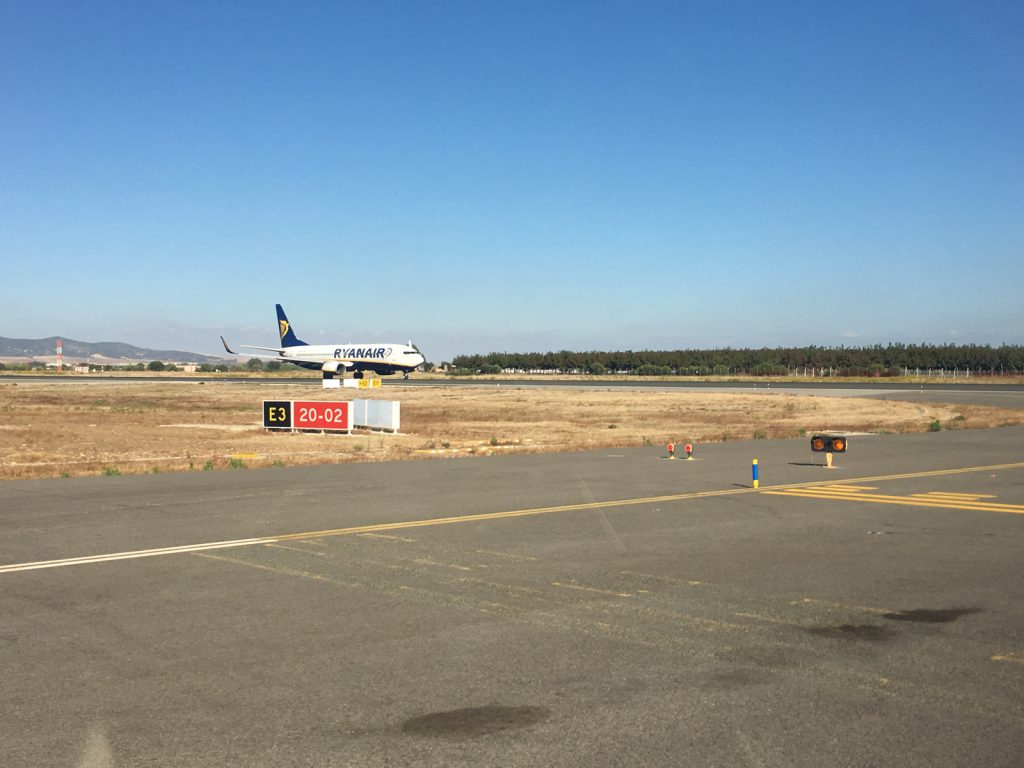 The IFR flight was totally standard. We lost radio contact twice, but we remained in contact due to airliners, who are flying higher, relaying our messages to and from ATC.
We got some IMC weather, but nothing serious.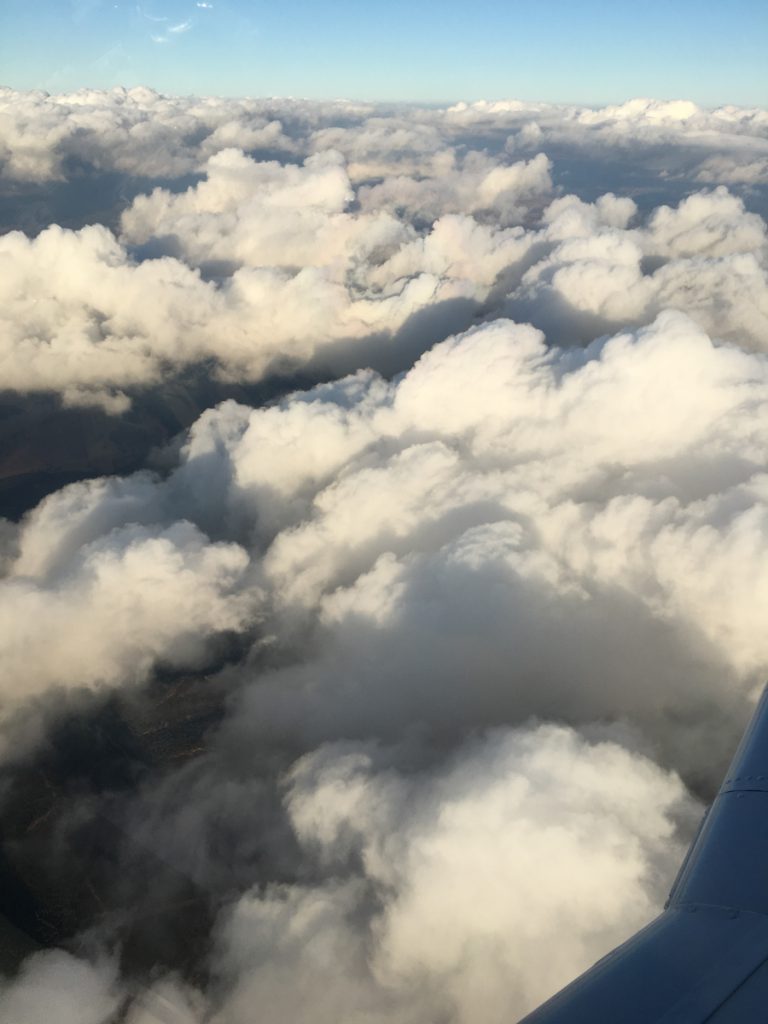 At around Madrid, the sun was starting to set and it was getting dark. ATC also had me climb to FL100. So we put on our our lights, and our oxygen.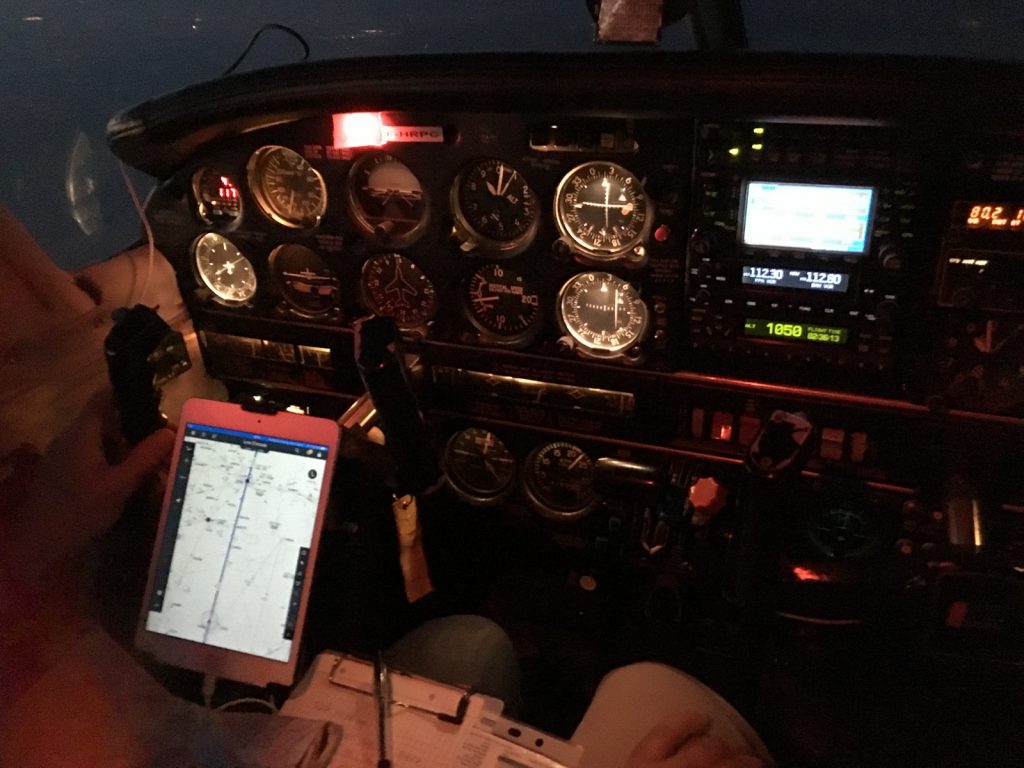 It was dark when we passed Pamplona. Next we crossed the western part of the Pyrenees mountains and crossed the border into France. We could smell home ! Papa Charlie continued humming happily as if he could do this for many more hours.
We got in contact with Acquitaine Approach, and she vectored me nicely in between many other traffic to the ILS of runway 23. I was asked to keep up the speed.
We found out that my landing light was not working. This was no problem for the landing, but it made taxiing difficult. Eventually we parked at parking L, and were helped by handling from Aviapartner to a nearby hotel. We were tired but satisfied.
Tomorrow we fly back home to Lille.
---