"Sometimes miracles happen" – "Yes Perks still exist", please choose your favourite opening line…
I was offered a VIP card to the Spotter's Day of the 2009 Nato Tiger Meet. This is an annual airforce exercise with primarily European airforces. This year it was held from Belgium's Kleine Brogel airforce base in Limburg. And our company was asked to offer some equipment in exchange of VIP cards. So I obtained an entry card (thank you !!). Apart from the continuous flow of food and drinks, there was a constant jet activity in the air and on the airfield. It was truely amazing: that day more then 100 operations were conducted, and to add to the treat: some birds came flying in and training for the Sunday's Sanicole Airshow already. Airplanes were asked to taxi in front of the spotters crowd, a great treat for the thousands of visitors.
The best was kept for last … but before I touch upon that, you must sample with me through the following aircraft.
To begin with a static old Lockheed F-104 Starfighter in tiger's colors: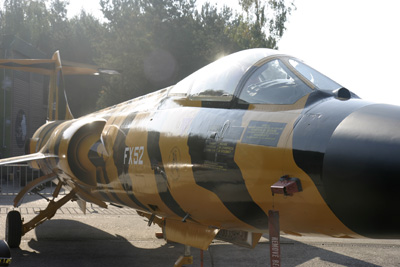 A Spanish F/A-18 Hornet landing on runway 5L at Kleine Brogel: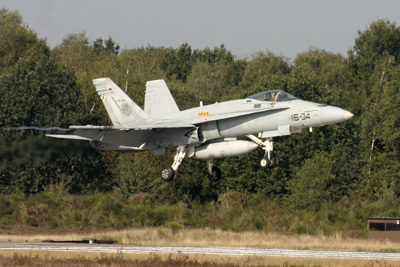 Afterburner take-off of a Belgian F-16: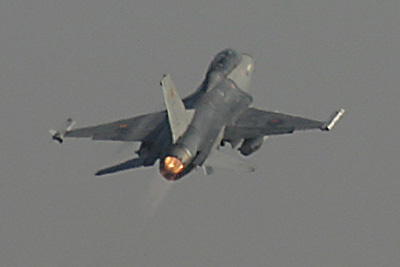 Two Belgian F-16s breaking over the airfield. I was actually surprised about how military aircraft make their approach to an airfield: they come flying towards the active airfield, I guess at 1500ft AGL. Halfway down the runway, they turn in a continuous descending turn towards downwind and further to final to land, always keeping the threshold at their right. When they approach in formation, they break one after the other, leaving just enough space to not conflict on the runway itself.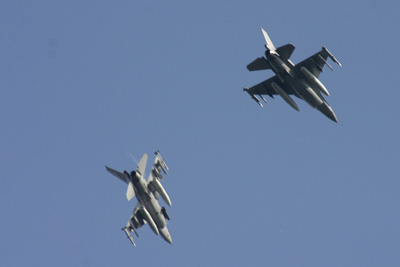 Swiss Hornet landing. Look at the Tiger fuel tank: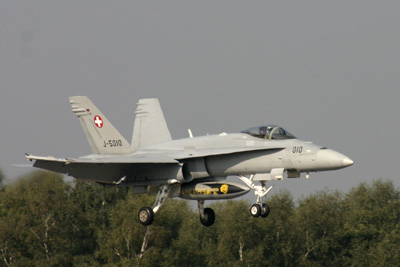 French Mirage 2000 with Tiger tail art: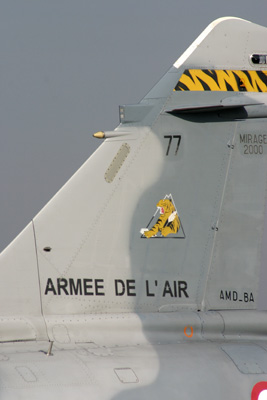 Another Mirage 2000 making its landing: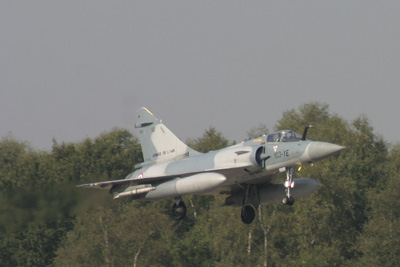 Does life get better then this ??? A flock of 11 Tiger aircraft in formation over the field: Hornets, Fighting Falcons, Rafales, Tornados, Gripens, Mirages, … the whole lot !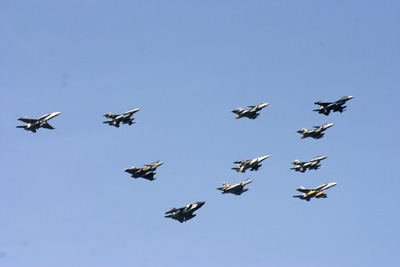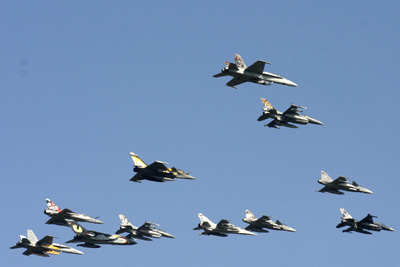 Tiger Hornet landing: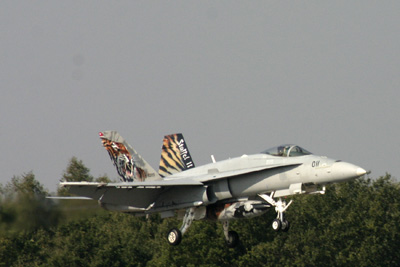 Norwegian F-16 with Tiger tail: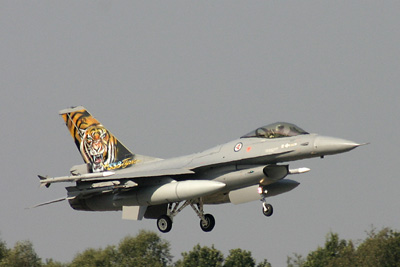 A French Rafale landing. Look at the great angle of attack: stubby wings don't help when slow …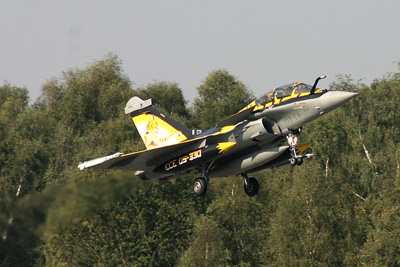 A beautifully painted German Tornado: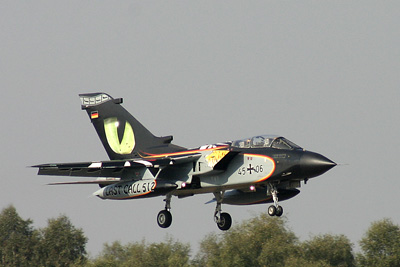 A Swedish Saab Gripen landing: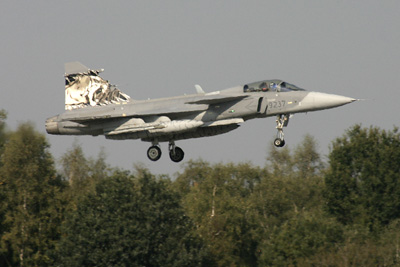 The Spanish Mirage F-1 in landing: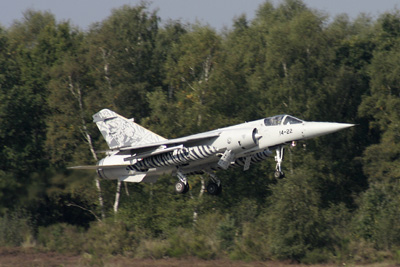 The Belgians, being at their own turf, elected to do a go-around. On this picture, they are full throttle again, retracting the gear: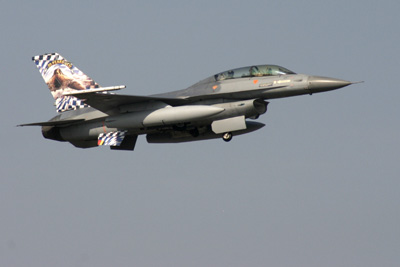 The cute French Mirage 2000 taxying back to its lair: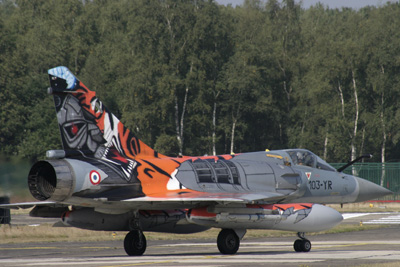 Helicopter time: two Belgian Agustas A-109 in formation: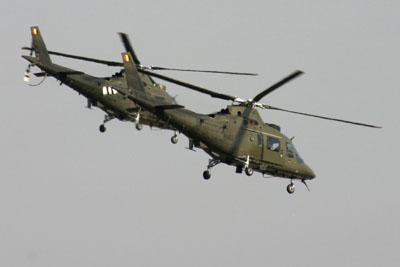 Tiger F-16 in landing: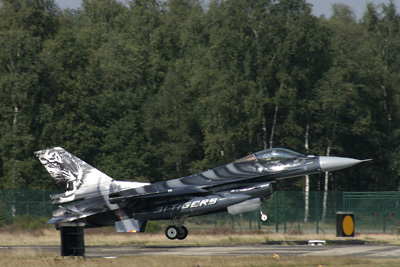 Very interesting formation of the Marchetti SF-206 (the yellow prop plane), that is used as a trainer in the Belgian airforce, with a F-16. Note the difference in angle of attack: Marchetti at full speed, AoA almost 0°; the F-16 slow at an AoA of about 15° !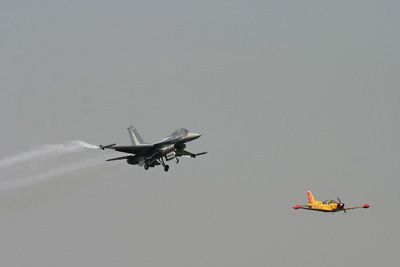 Loong nice demo of a Belgian F-16: great stuff !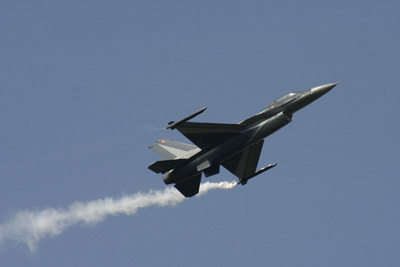 Tiger tail art of the Swiss hornet: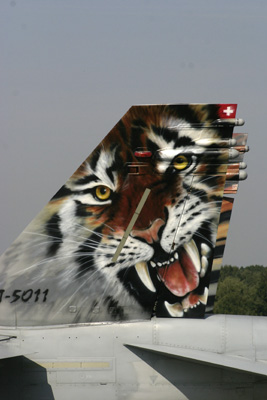 Good old Italian UH-1 Huye, populated by a tiger ! Check this out !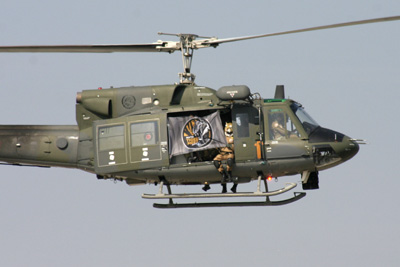 Czech Mi-24 Hind – a monster helicopter – heavy and deadly. I remember that I used to virtually shoot them down in one or another helicopter simulator PC game in the nineties !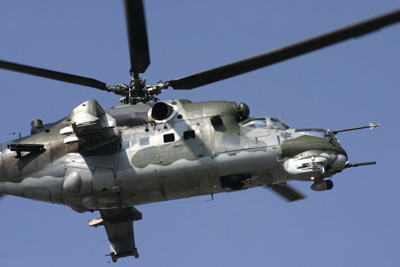 Belgian and Dutch F-16s: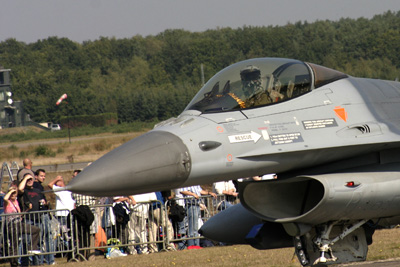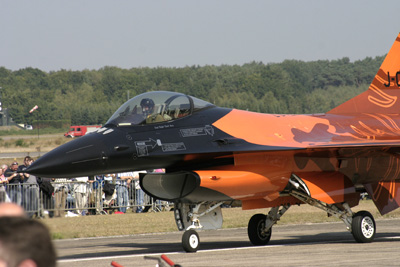 A P-51 Mustang "Old Crow" taxying to go train for the Sanicole airshow later in the weekend: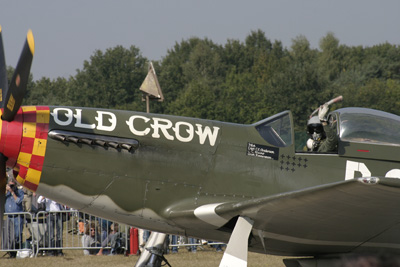 A Belgian dual-seater F-16 having a crewmember from another nation on board: this is the Tiger Spirit !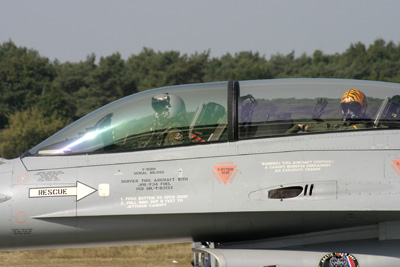 Beautiful tail art of the venerable Tornado: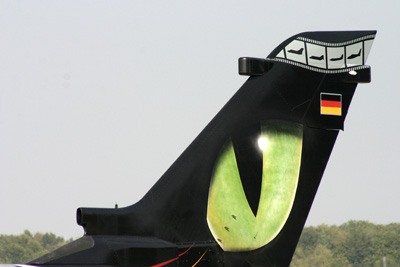 And finally a EH-101 Merlin coming to train for Sanicole: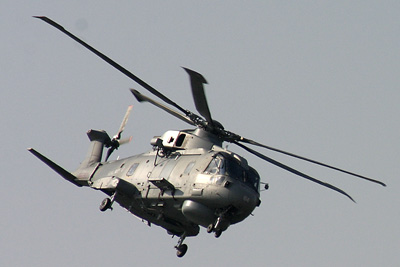 At that moment in the day, I was drooling aviation liquids – choose your grade. This was undoubtely the best airshow I had ever witnessed, yet it wasn't really an airshow, it was a normal training day for the various airforces. On top, it was sunny as ever in de Kempen.
As if we hadn't had enough already, the Commanding Officer ("CO") of Kleine Brogel, Kol. Poesen, came by to say hello to thank you for our sponsoring. He invited us along to visit the briefing room of the pilots where our equipment was used !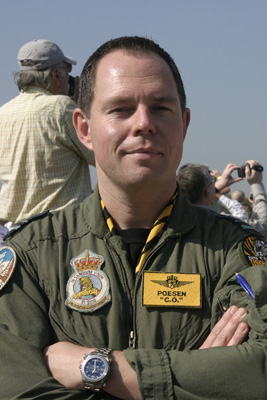 We got into his Mercedes and were ushered past all security posts to the Tiger's Lair !!! There was a lot of activity: pilots and staff were busy preparing and reviewing training flights, airplanes were being taxied, things discussed.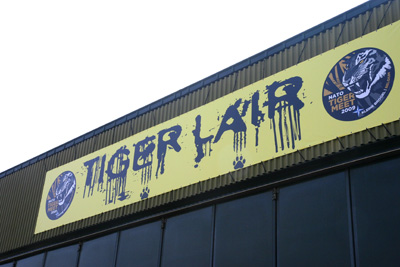 In case you don't believe me, here is the proof. Check it out: we found the real Tiger's Lair !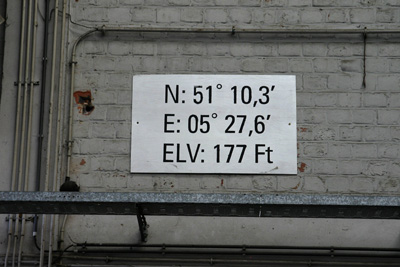 "Gizmo" (left) gave us a personal briefing and explained what, how and when was being done during a normal training day at the Lair… but due to security reasons, I better not post the details here ;-). The NATO Tiger Association's slogan is "Hard to be Humble" : they are allowed to get away with that now … I had an utterly professional impression of this organisation.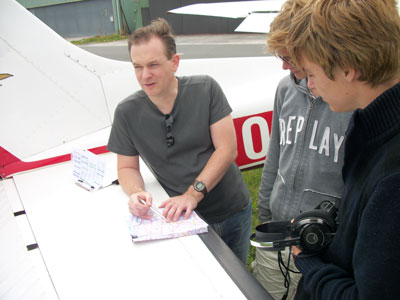 A perfect day ! Thanks again to all who made it happen. Any tips on how to remove Aviation Drool from my face, please mail !