April is the month of my yearly pelgrimage towards Las Vegas. This year we promised to ourselves to be a tad smarter and gather with all amateur-pilots, join costs and fly together. Well, that was plan … eventually we ended up with two pilots sharing the experience … And sure it was a hell of an experience … or let's call it aviation-heaven !
Like last year, I had prebooked the Piper Arrow at Mojave Aviation / Monarch Sky at Henderson Executive Airport (KHND). I had good experiences with this flight school, and my renter's insurance was still valid. My flight buddy Frank would join up so we had two pilots at hand and could do lots of hours. A couple of days before the flight, Mojave told me that the booked Arrow had made a belly-up landing and that we had to select another airplane … Frank had experience with Diamond Star DA-40, so for some extra dollars per hour, we selected this slim queen. With its G1000 navigation system, we had picked the best looking girl in the class: N764DS !
Check-out Flights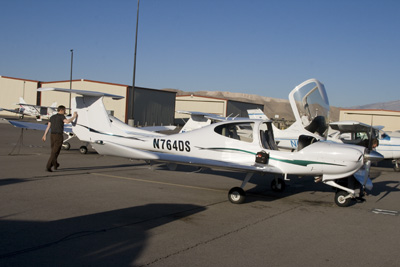 The idea was to fly many hours in this aviation-friendly country, so we dreamed together an eastbound trip from Las Vegas over Zion National Park, Bryce Canyon National Park, Monument Valley, Meteor Crater, Grand Canyon and so on … Sectional charts were checked, dummy flights plans prepared, POHs read … oh yeah baby … we were prepared.
We both needed to be checked out on the Diamond Star and we had booked Josh, the local flight instructor, to help us with that. For the checkout we flew to Jean (0L7), an airfield just south of Henderson and Las Vegas, near the state border between Nevada and California. I flew the going leg, did some steep turns, stalls, slow flight and landed 4 or 5 times at Jean. I had troubles doing a good landing as I still had the Mooney in my fingers. Frank flew back, did the same maneuvers and did a couple of flawless landings. What a great machine this Diamond is !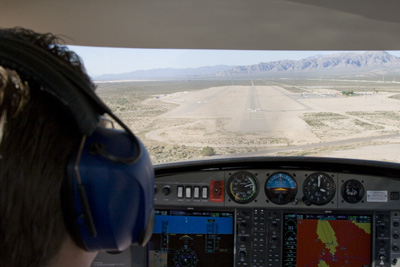 At Jean I noticed the Piper Arrow of last year: a wounded bird with a bent prop and shaven belly … not a pretty sight. It makes you think about your hobby and the dangers thereof. Actually it was not the first wounded bird which I had flown, that I saw. In Malaysia I had once discovered to my awe that an airplane was broken. Sad sad sad.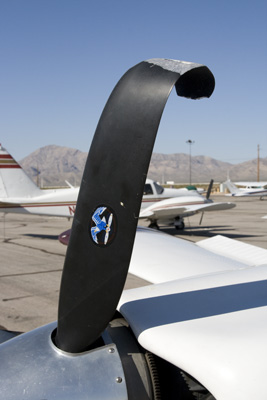 Check out below the (HD!) video shot and edited by Frank of my checkout flight. Note the terrain warning of the G1000 system on the baseleg into Jean: a bit too sensitive to my liking. The problem is that you get used to the warning, making you less sensitive to it when it would really matter.
And this is Frank's checkflight video: back from Jean with some touch-and-goes to Henderson. It includes the same terrain-terrain-pull-up message. But also, the traffic warning comes up on short final, most probably because the system 'sees' itself …
Flight Henderson – Bryce
Once back at the FBO in Henderson, we had to pass some sort of written exam to complete our flight check. Then we started preparing our flight to Bryce Canyon (KBCE). On the map we saw we would pass over Lake Mead and Zion National Park – a fantastic promise ! I called Weatherbriefing (1-800-WX-BRIEF) to learn the weather, NOTAMs etc which was all uneventful – CAVOK we say in Europe !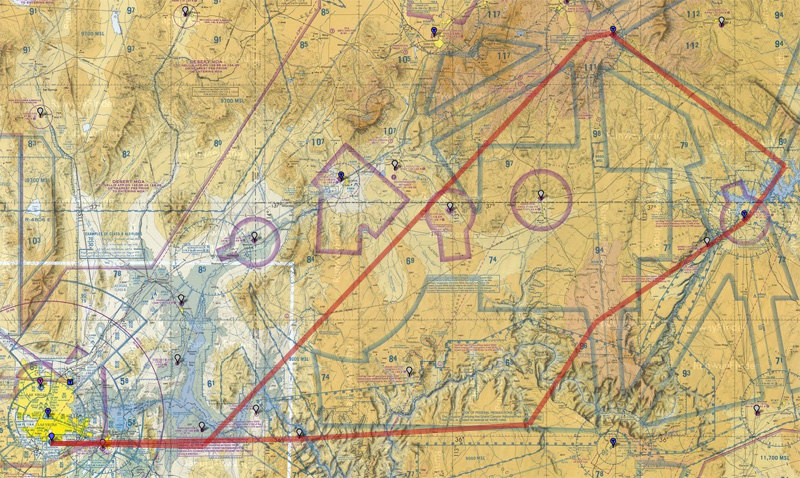 I did the first leg as pilot flying. Frank did the radio and the navigation. Man, we were so pro ! As soon as we left the Henderson area, Frank contacted Las Vegas Approach to obtain flight following, and they vectored conservatively away from the Class B area of Vegas. Once clear, we turned northwest direct towards Bryce VOR. Soon Las Vegas disappeared behind us.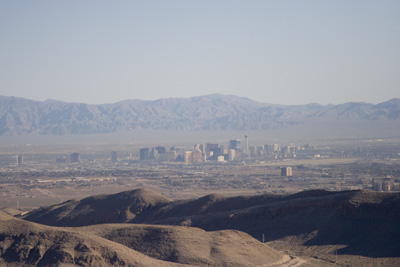 Like I remember from last year, the scenery was breathtaking ! All kind of desert colors appeared around us, painted on strange three dimensional shapes that could be called hills, cliffs, canyons, beddings, dry lakes, whatever…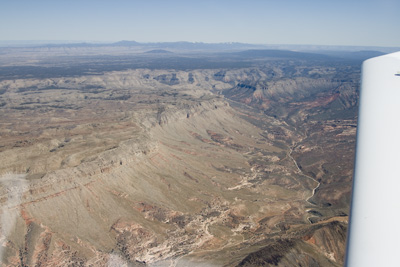 The snowed mountains we saw from afar creeped closer and when I checked the map, I noticed that we were approaching Zion National Park.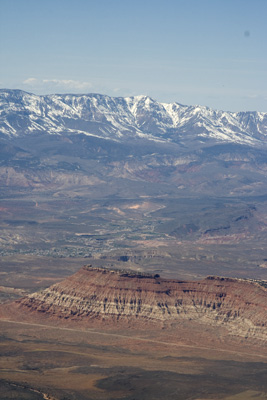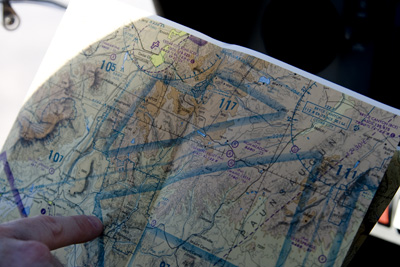 Zion is like a block of multicolored rock, carved deeply with a sharp knife and then rounded with sandpaper. You get a warm mix of sharp and soft, round and hard, but when you check the roads, they lay deep and far in the valleys. And the cars are smaller then matchbox cars. Yes, we were at 9500 ft, but the valleys were very deep too !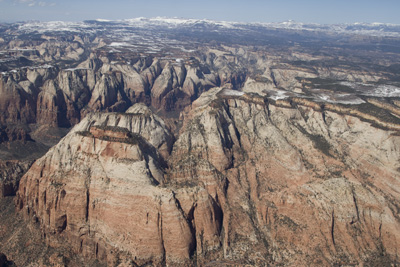 Zion is the gate to the highlands. Behind it, the plateau rises to 7000 ft, and the Bryce Airport sits at 7590 ft. Below us the first tries of god to create Bryce Canyon, became visible. He didn't go all the way yet, but it offered a glimpse of what we were looking forward to.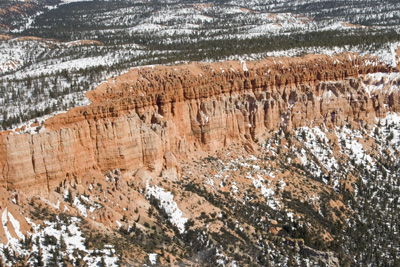 After that ridge, Bryce Airport was looming, and we switched to the Bryce Traffic. The runway there is almost 7'500 ft long (2.2 km). That is needed due to the high altitude: airplane engines and wings catch less air, so you need a longer landing and take-off run. I joined the downwind for runway 21 and we were over a moon / snowlandscape : absolute magic and a very strange feeling.
Here's the video of that flight:
We parked our Diamond Star on the ramp and walked out in the cold of the snowy plateau. Complete silence, yet there was something in the air: Bryce Canyon was so close now !
On the airport there is a huge wooden hangar with 'Bryce Canyon Airport' painted on the roof. These letters are not discernable in Google Earth and I believe that this is a pity … In the airport we met a French couple with kids who had booked a scenery flight. A placard warned again of the high altitude (and hence high density altitude) making your performance calculations critical. This is the highest airport I ever landed on. There was a courtesy phone to Ruby's Inn, the closest hotel, so we called them and asked for a car ride. 15 minutes later they came to pick us up: USA = Service !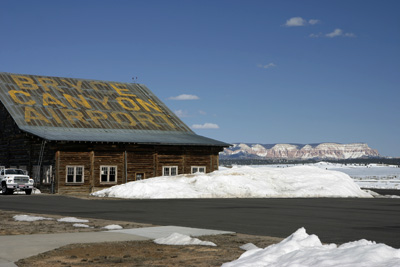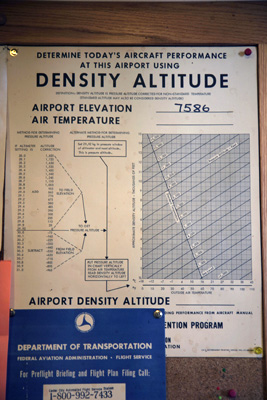 Visit to Bryce Canyon
Ok, so there we were having lunch at Ruby's Inn, a couple of miles from Bryce Canyon National Park. How would we get there? We asked a friendly lady at the reception and she said:
"Take your car …, duh".
We: "But ma'm, we don't have a car."
She: "Huh, how did you get here then?"
We: "Well… by airplane…"
She: "Ah, I see… You can rent a car across the road."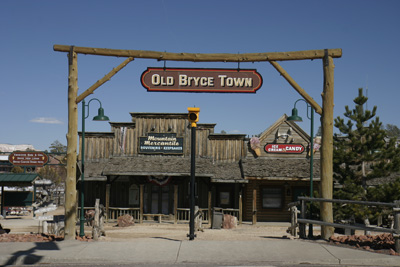 So we walked across the road and there they told us it would be $50 without taxes for a day, and "No we cannot rent by the hour, what do you think we are !?" $50 is hefty! So we returned to the lady of the reception.
We: "There is no car to rent for a couple of hours"
She: "So why you don't take my car then !?"
We: "Hallelujah !"
She: "My boyfriend will help you out. But be careful with the car, please …"
We: "Sure ! Remember: we're pilots 😉 "
So we used that couple's car to drive to America's most unique and cutest nature wonder: Bryce Canyon ! For $25 we entered the National Park. There were a couple of viewing points, and due to our limited time, we visited the best selection.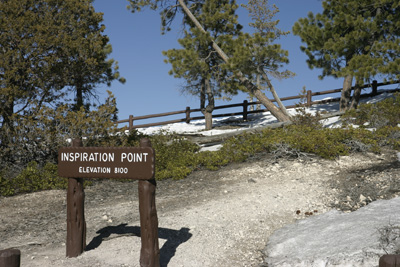 Bryce is soft, cute, rough, small and wide. There is no description possible. You just have to see it… We were lucky with the weather and the sun helped us taking some magnificient pictures!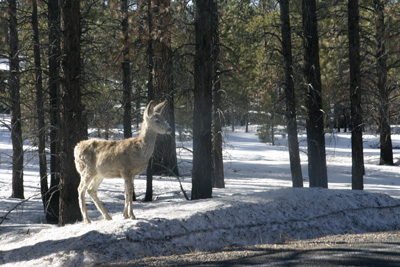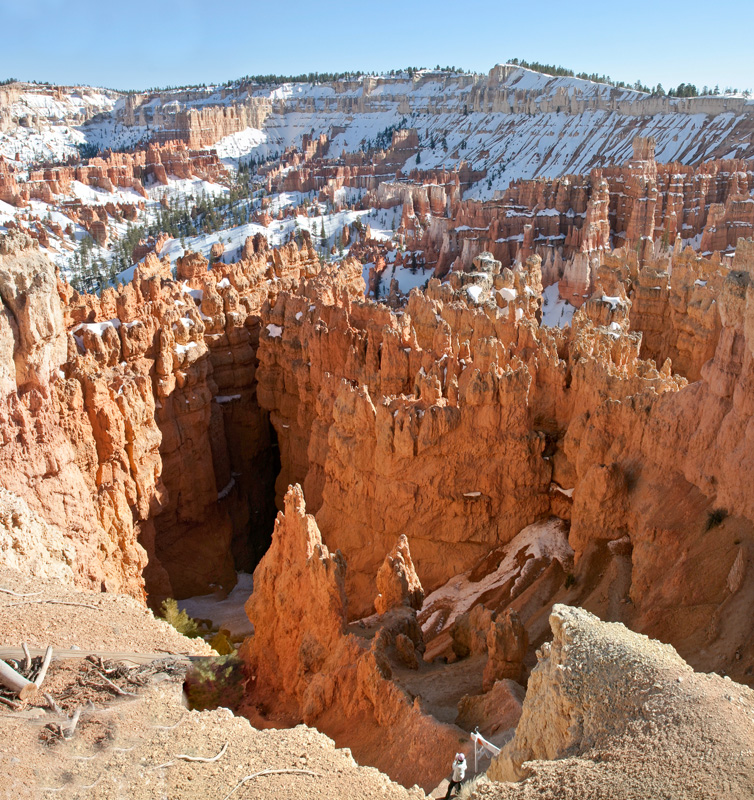 Totally in awe, we returned the car, got back to the airport. We filed a flight plan to Page over the RCO (remote communication outlet) at Bryce. The US is aviation paradise!
Flight Bryce – Page
This leg was flown by Frank. I was on the radio, cameras and nav. Did I tell you already that we use our Attenuator to capture the audio with the video? We both built our own and we inspired each-other on the design. It worked flawlessly !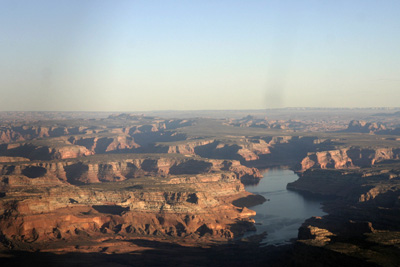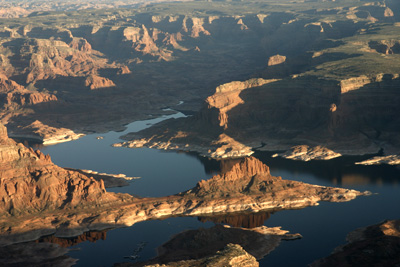 It was later at the day and the sun was tired. It threw long shadows shadows and showed its reddest hues. Over the canyons and valleys between Bryce and Page it created aviation / photography miracles !
We made a detour east over Lake Powell / Glen Canyon Recreation Area. The contrasts between the deep blues of the water helt by the Glenn Dam in between the red rocks was plainly awesome. We were so happy to have chosen the Diamond Star: its visibility and easy of use (including the G1000) made us savour the precious moments even better.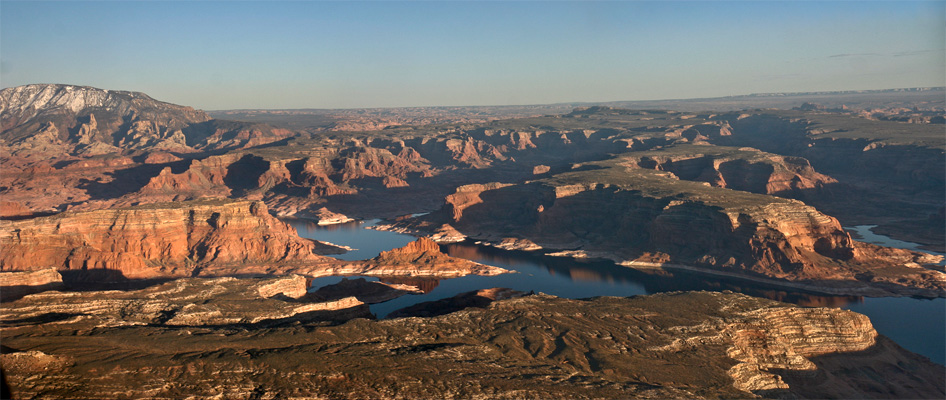 We navigated to Rainbow Bridge National Monument but we failed to find from altitude. Then we set a westerly heading toward the Page Municipal Airport (KPGA). Page sits at a meander of the Colorado River and it's principal attraction is tourism around Lake Powell and its water dam. The airport's main activity is scenic flights and the sheer number of Cessna 206s on the ramp clearly showed that this was a good business !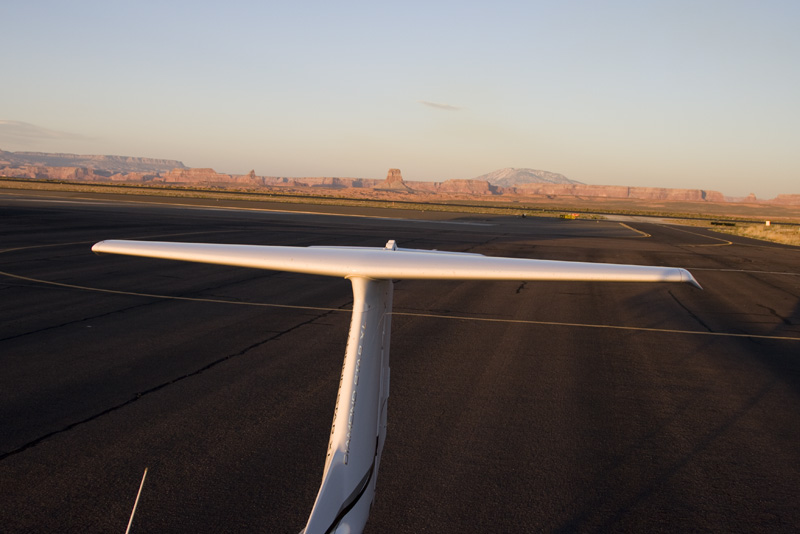 We were hosted very friendly by a lineman who had stayed after his official working hours so he could 'assist us'. He brought us by van to a nearby hotel. His payment was a full tank of Avgas the next morning.
Food was great at the Dam Bar & Grill. And the sleep was deep !
Flight Page – Henderson over the Grand Canyon
The next morning we woke up with our head full of dreams of flying in between the monoliths at Monument Valley, but when we checked the weather at our hotel's PC, we noticed that the winds would pick up quite strongly over the complete southwestern area of the USA. Whatever TAF or airprot we checked, the was no escape to the forecast very gusty winds, and with our limited experience in the Diamond, we both realised that it was decision time. We stored our dreams in the back of our heads (good for next year ?) and decided to fly back to Henderson before the winds became too gusty. A pity, but a normal decision process that we got used to in aviation.
We were picked up by the FBO again, topped up the fuel, filed a flight plan with the nearest Flight Service Station (FSS) and took off. As soon as we were in the air, the Colorado river and its associated Lake came into view and we forgot immediately about Monument Valley… We turned left towards the west. On our left-handside we could see the Glen Canyon Dam under our wing. Beyond that the Marble Canyon started its meanders towards the Grand Canyon.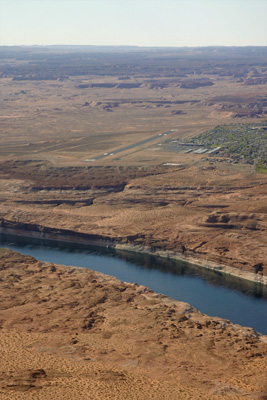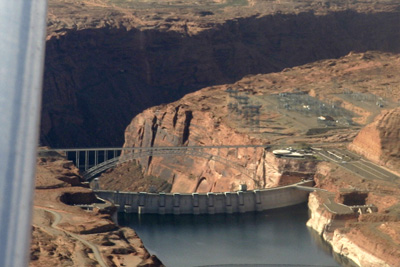 I contacted Los Angeles Center to obtain Flight Following while Frank kept the airplanes outside the restricted area around the Grand Canyon. Then we turned southeast towards the northern entry point to the Fossil Canyon Corridor. Normal traffic above the Grand Canyon is restricted to certain corridors and certain altitudes. We stayed at 10'500 ft and gradually descended when the chart allowed us to.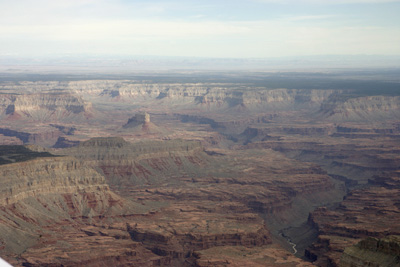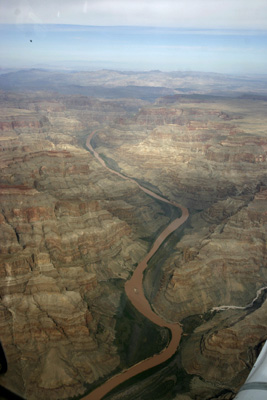 The Grand Canyon was beautiful again ! It was stricking that the water of the Colorado River was brown. Last year, it was blue / greenish, yet I flew here around the same time of the year. We saw the Dome, the Twin Peaks, dozen of canyons and subcanyons … There was no ending and no escape to their World Wonder !
After about 45 minutes, we crossed the west rim of the Canyon. Somewhat north of the Grand Canyon West airport (1G4), we could see the Skywalk: a glass structure over the cliff so people can look below their feet into the abyss.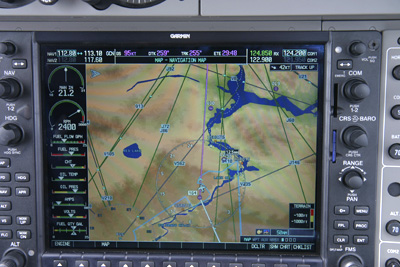 Alongside Lake Mead and in the meanwhile under radar vectors we flew to the Hoover Dam (now with a completely new bridge !). We had a 42 knots crosswind ! Las Vegas approach released us and we contacted Henderson Tower. Winds were in the axis, but we could feel them strengthening. Yes: we had made the right decision to turn back home …
When we vacated the runway at Henderson, the Controller told us that the Flight Service Station had contacted them already to check if we were fine. Apparantly I had miscalculated the time that it would take to fly back home and we had significantly exceeded our estimated time as given in our flight plan I radioed to FSS in Page. This triggered their 'finding' process. Henderson Tower had advised them that we were approaching, so they closed the flight plan. Again: what a service … and how stupid of me not to calculate it to the minute …!
Anyway, what a beautiful flight experience this was again !
I would like to thank Frank for the (co)-pilotage, most pictures, the videos and their editing.