The Author & this Blog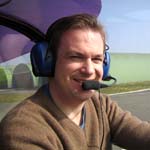 I am an instrument rated private pilot based in the western part of Belgium. I fly from Kortrijk (EBKT) and Lille Lesquin (LFQQ).
All my flying is purely for hobby and strictly non-commercial. I try to keep a high level of safety by flying many more hours than the legal minimum and by regular recurrent training beyond the legal requirement. My Instrument Ratings should also make my flying safer. I started flying in June 2001 in Malaysia and currently have more than 500 hours of flying time. I was the first European to convert my FAA instrument rating into an EASA one through the new CB-IR route.
This blog was started in 2007 to document my flying experiences in word, pictures and videos. It was updated to WordPress format end 2014. I added posts before 2007 to document my basic training and some earlier stories.
This blog is mainly written in English to accommodate to a wider international audience. Some articles are in Dutch so my local friends and family can read along.
Licenses

Member of Aeroclubs & Rental Companies
Copyright
© This website and text are copyright of, and the URL www.abeam.be is owned by Steven Luys, Belgium. All pictures and movies are copyright of Steven Luys, his friends or family.
Disclaimer
The information contained in this web site should not be used as sole information for flight preparation or training. This information might not be correct, accurate, complete, objective or up to date. The author has no instructor rating and is by no means an authority in the field discussed. The author of this web site accepts no liability or responsibility for the usage and correctness of the information, pictures or tips in this web site.
---