You have probably heard the dreadful news about the pending closure of "the Mother of All Airports". Yes, the Berliners have not shown enough voting support to their oldest and most history-laden airport: Berlin Tempelhof … Closure of this downtown airport is foreseen in October 2008, so it was my wish to land there and visit it before it would not be possible anymore. The fact that I haven't been able to do that in Kai Tak, Hong Kong, still infers nightmares in me ;-). Check out Tempelhof's wiki pages on the reasons why such a visit might be worth the money and time.
From my place in Belgium or Northern France to Berlin Tempelhof (EDDI) is a rather long flight (> 400 NM) – at least to my standards. As the aircraft that I wanted to use, the Piper Cherokee Archer N3987X, is now temporally based in Arras (LFQD), a grass airport south of Lille, the trip would even be longer. So I split the trip into two parts: Arras – Dortmund (EDLW) and Dortmund – Tempelhof. Of course, I planned this trip was planned in accordance to instrument flight rules so I could make use of my recent rating, and gather experience in the crowded European airways system. Doing an Arras-Berlin in one go would have been legally OK, but I would have been left with a level of fuel that is below my personal 'minimums'.
During a family party I brought up the plan, and my brother Thomas and his brother-in-law Brecht were immediately enthusiastic to join. So we found ourselves in the car driving to Arras airfield on a nice Sunday morning in August. I was thoroughly prepared with all Jeppesen approach charts from all airports close to my planned routing. I had even bought new VFR sectional charts along the route … you never know you need them, and I like to err on the conservative side when flying. Weather & notams were obtained, nothing special, except a lingering occluded front over the Berlin area, but prospects were OK.
The first routing called for LFQD DCT VEKIN A5 ADUTO N873 HELEN L179 MEVEL Z841 DOMEG STAR EDLW and was filed at FL090 (see purple routing on chart; the blue routing was for the way back). There was a leg over Dutch airspace which called for an MEA of FL100, so flight-planned that while considering to remain at FL090 by asking ATC.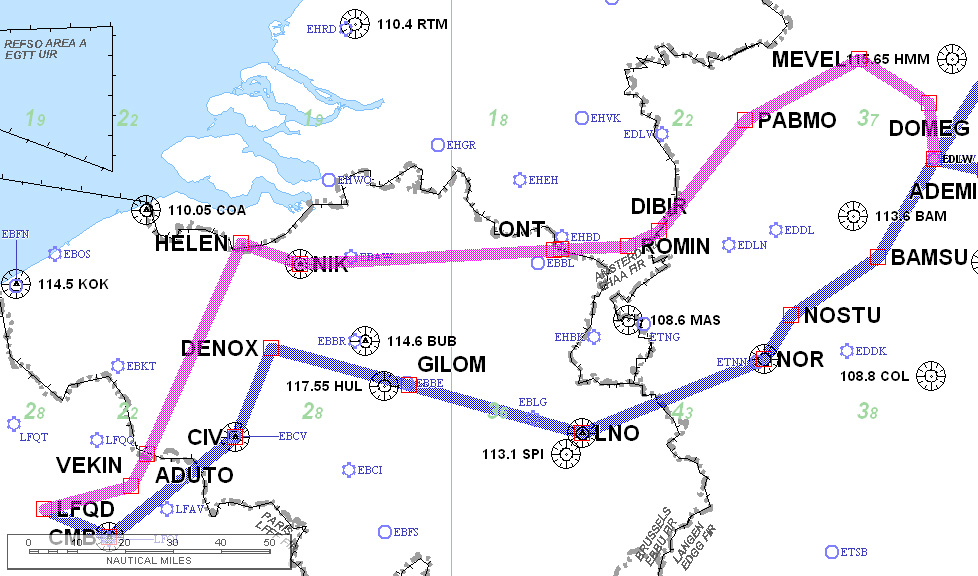 We hardly received any shortcut, except at the very end near Dortmund. Brussels Radar was extremely busy, yet they granted me staying at FL090 above Dutch airspace. Most of the time we were above clouds, so weather wasn't a factor. In fact, we had tailwinds all the way. The plane did well, except the heating system didn't function properly. We had brought some coffee to keep us warm, but the passenger riding in the back was freezing cold.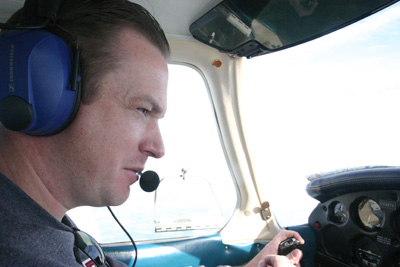 The ILS for runway 24 brought us into Dortmund. Dortmund Wickede airport is small and big at the same time. The airport is situated along a ridge, which makes that the runway sits considerably lower than the apron and the GA terminal. So you have to taxi up a slope in a curved way, much alike how you climb a hill with a car. Luckily a "Follow-me" showed up showing us the way to taxi via Bravo-Lima-Kilo to the GA apron.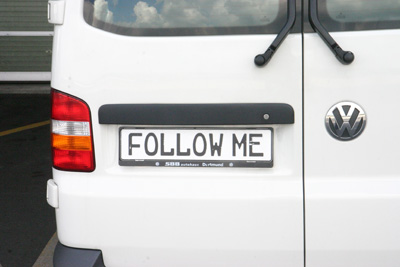 We fueled up. A nice guy approached me to ask when this Piper would be stationed back in Dortmund. Indeed, before N3987X was based here. I, however, hope it will remain based in the north of France so I'd had it available for future flights.
This leg, I had filed EDLW SID OSN L980 DLE T207 BATEL STAR EDDI.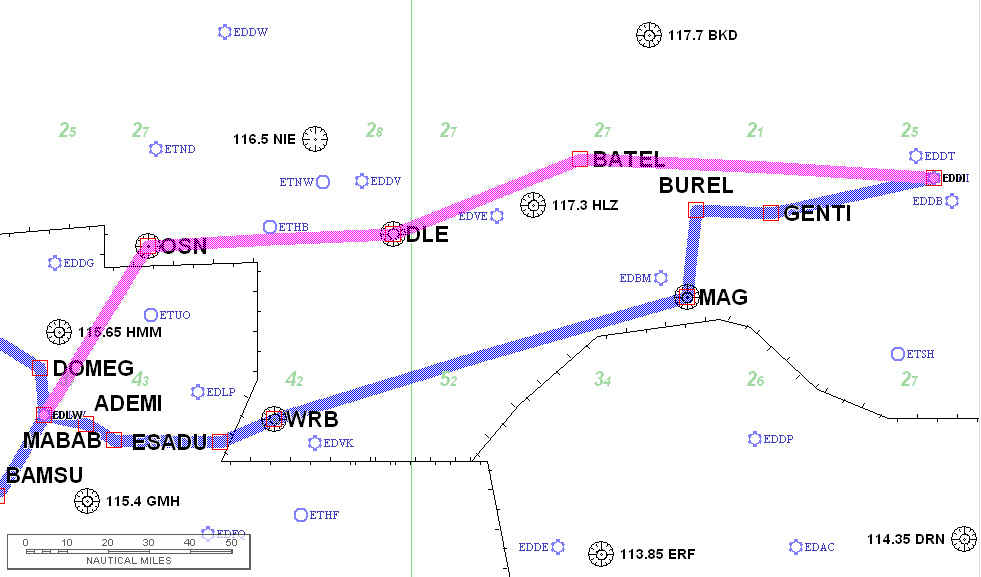 Instead of the charted OSN-1U standard instrument departure, I was given a VFR departure as there were a flock of gliders in the way. Soon we were direct OSN in the IFR system, followed by a direct BATEL: a very sweet long shortcut ! BATEL is the first point of the SID into Tempelhof. Weather deteriorated below us when approaching Berlin. The Tempelhof ATIS called for light rain and BKN600 ceiling … wow: real IMC conditions and a low approach to be expected. On top, the ILS for runway 27L is tagged 'non-standard' on the Jeppesen approach chart, most probably because of the steep 3.5° glideslope. Bremen Radar vectored us north of Berlin towards the east for the ILS approach. We were in the midst of the rest of the occluded front: heavy rain, turbulence and above all fully engulfed into nasty looking cloud. Not that it was inherently dangerous; I am just a low time IFR pilot that needs such experience to improve my skills. I knew at that moment that my approach had to be spot-on.
I intercepted the ILS about 10 miles out, ran over the checklist and descended the steep glideslope. The headwind (with almost no cross component) lowered my groundspeed, allowing for more easy corrections in altitude, track and speed. I switched to the tower frequency (temporarily 118.1 MHz), and they told me that it would take a while before I'd come visual as a low cloud lingered over the approach side of runway 27L: I answered "I'll be sharp" for lack of better ICAO-speak…
It lasted about a century before we broke out of cloud in rain: airport elevation is 167 feet, minimums 416 feet, and we broke out at about 500 feet: nicely within the specs, but still 'interesting' as it was real IMC with real wet rain and real obscuring cloud. I looked up from the instruments and I saw a very inviting approach light system in between the raindrops on the windscreen, welcoming me to Berlin Tempelhof.  We found ourselves flanked by apartment buildings on both my left- and right-hand side at about the same altitude as my wheels… All together a pretty interesting experience and a genuine IFR morale booster!
We touched down on the damp runway, just like thousands of airplanes, small and big, civil and military have done in this airport's 90 years history. I was proud to be one of them.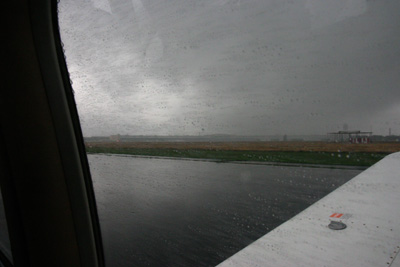 We taxied to the gigantic apron and a bus picked us up in drenching rain. I was able to book three places in the next day's Berlin Tempelhof Guided Tour with Air Service Berlin. We took the U-bahn to our hotel. It was about 4pm.
My brother had picked up some guidebooks on Berlin from the public library, and he and Brecht had prepared what to visit during our short lay-over. Brecht also turned out to be an amateur historian and a civil engineer by profession: his comments on Berlin's architecture and war-time history would spice up the visit.
Of course, we had to see the Wall, or what is left of it. Few parts are still standing upright. Where there is no wall, cobblestones track its former position criss-cross through Berlin's streets.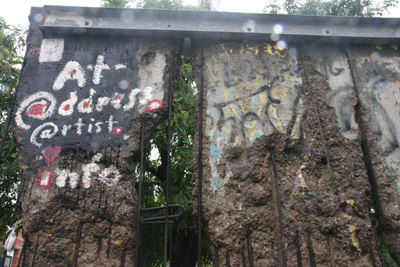 Air Service Berlin also offers helium balloon rides from the center of Berlin (see picture below). They also operate a DC-3 "Rosinenbomber" (Candy Bomber) on which you can book historic rides much like what happened during Berlin's Airlift. This Airlift was organised by the Americans, French and Brits when West-Berlin's access was blocked at the end of the fourties by communist Russia. They flew over food, coals etc to keep the population alive and warm. Tempelhof handled at peaks an aircraft every minute at that time … impressive!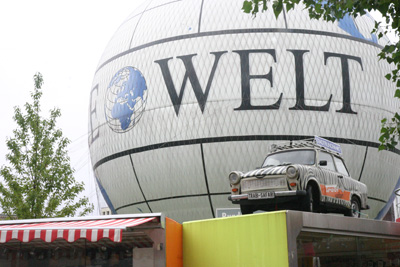 After the wall, we bumped almost automatically into Checkpoint Charlie, the former boundary where Berliners could cross over from the American sector to the Russian sector. The inverse, apparently, was much more difficult, and to some desperate East-Berliners, deadly.
For a Euro you can have your picture taken with two actors, which was promptly done by my two passengers (see below). It was there that it took us longer to find a place where we could drink a decent cold beer, then it took us to fuel the Piper…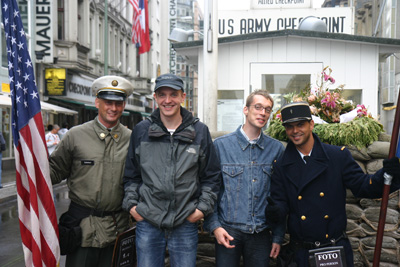 A little walk followed by a stroll over 'Unter den Linden', brought us at the foot of the nicely restored Brandenburger Tor, symbol of unified Berlin. The Wall used to block access to this 19th century monument. We also toured around the restored Reichstag, but the very long queue at the entrance, deterred us to visit it.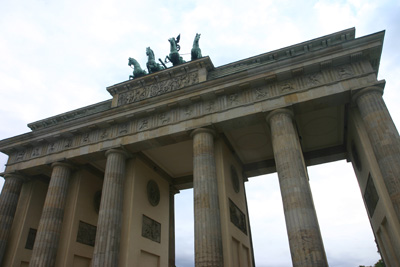 Berlin and its people carry a huge and heavy history with them: East vs. West, Hitler, Gestapo, Nazis, Wall, Unification, … The biggest block of history weighing down on Berlin is the Holocaust. In the middle of historic Berlin is a vast piece of land that in a normal city would have been taken to build offices or government institutes. It has recently been turned into a monument to remember the Jews murdered by the Nazis. Walking through the straight narrow streets in between huge concrete blocks, which all tilt a little, has left a big impression onto us.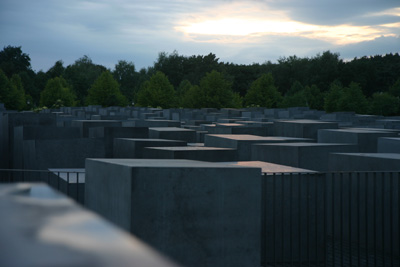 Our mood changed our mood drastically into one of admiration when we did the short stroll to Potzdammer Platz. During the last 20 years, huge nice skyscrapers have mushroomed into the sky. The whole venue is now turned into a place of nightlife and fun. So in the good tradition of Berlin, we opted to have dinner in … an American Diner ! After dinner, we got to bed quickly.
Having been prewarned that at the airport itself, there were no facilities to check the weather for the return flight, nor any fax or computer to submit flightplans. So I prepared all of that in the hotel the next morning. Later we split into two groups: I went back to the airport to prepare the aircraft for a 2pm sharp departure so we could be back home before dark, while Thomas and Brecht visited another museum.
The Berlin Tempelhof airport terminal building is the world's third largest building, after Ceaucescu's palace and the Pentagon. Hitler had it built and it was designed to last until the year 2000. On that plan he was pretty correct. It's called the "Mother of all Airports" as it was the first building to be very specifically designed to deal with thousands of passengers, and tens of aircraft a day. Below you see the main check-in hall, which is today really only served by a Lufthansa regional carrier and by Brussels Airlines.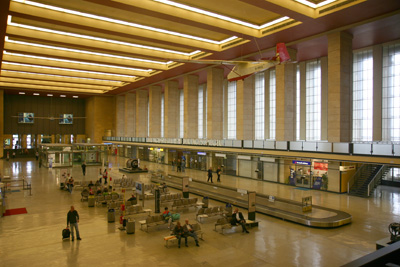 Brussels and Graz are the only international destinations left … sad …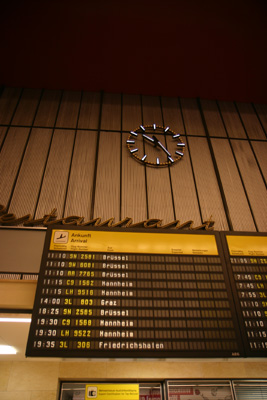 We joined the guided tour. Thirty-five people showed up ! This shows great support for the history of this building. Below you see the view from the top of the building. Our Piper is parked amongst the other GA airplanes on the right.

This is how Tempelhof looked in its glory days: US Airforce and US Army machines and personnel populating the building and the apron. During the Cold War many of them looked and listened to the East, prepared to do ugly things, just like the other side of the Iron Curtain.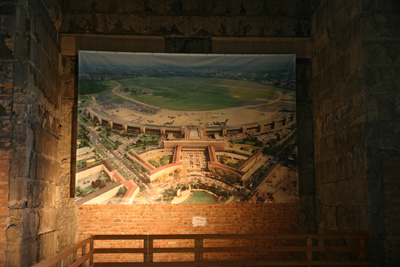 Below a nice American painting indicating all the good things they brought through the airport to Berlin. Smells a bit like propaganda, but it still gives a good overview. Now I understand the link between the US and Berlin (think Kennedy's speech amongst others …).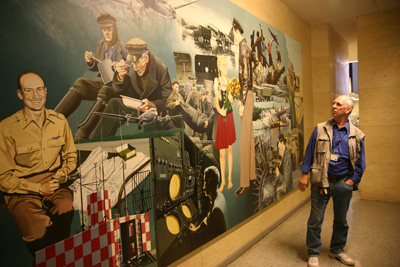 We left the interesting tour on this dying airport for the planned 2pm sharp departure to Dortmund, and onwards to Arras. The flight was very uneventful, albeit longer than the day before due to headwinds. The Piper behaved perfectly (except its heating system …and no hot coffee this time).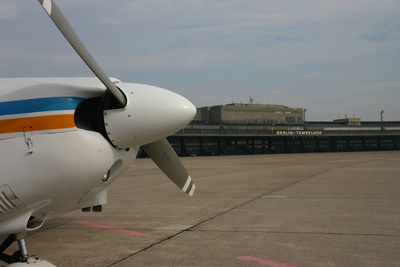 10 hours of IFR flight on my logbook and a good impression on Berlin, its heavy history and its refreshing new architecture. A worthwhile trip!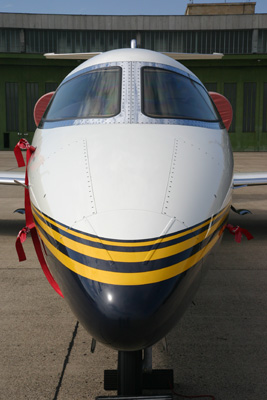 A last look over our right shoulder to say goodbye to Tempelhof, forever … How could people hate airplanes and airports so much that they want to do away with them?